Vegan Globetrotter is supported by our audience. When you purchase through one of our links, we may earn a small affiliate commission.  As an Amazon Associate I earn from qualifying purchases. Your cost is not affected.
==================
Immune Booster: Carrot Ginger Turmeric Smoothie
Is your immune system in need of a boost? Or are you looking for refreshment yet nutritious that will help your body get stronger? I wanted to try something new and came up with this Carrot Ginger Turmeric Smoothie. This zesty drink has the perfect balance of ingredients to get you moving! That is, at least, my wish. Carrot ginger turmeric smoothie is made with seven plant-based ingredients: ginger, carrot juice, pineapple, banana, and turmeric. This smoothie is immune-boosting, and an anti-inflammatory smoothie is ideal for a snack or as a breakfast.
COVID cases are on the rise in various parts of the world today, and we can't deny it. That is why any virus that has entered our body must be cleaned as soon as possible. So, we need more natural healthy smoothies than store-bought energy drinks.
This smoothie is for you if you like somewhat sweet-tart smoothies with a ginger kick!
If you want some ginger and carrot recipes you might want to try these:
Air fryer Vegan Carrot Cake: It is easy to make and also made with plant-based ingredients. They are perfect for any occasion.
Carrot-Ginger Dressing: Jazz up your favorite vegetable salad with this vegan dressing.
Is there anything hippier than brewing your own carrot juice? I don't believe so! Make your mother proud by doing it on your own. If the smoothie's color and flavor notes aren't enough, consider the following health benefits:
Carrot
Carrots are a popular and adaptable root vegetable. It is high in antioxidants and has numerous health advantages. The following are the benefits:
Help your eyes healthy.
They can reduce your cancer risk.
These are beneficial to your heart.
They help to strengthen your immune system.
Constipation can be relieved with them.
They may aid in diabetic management.
Can help you build stronger bones.
Ginger
Ginger is a well-known home treatment for a variety of ailments. Below are some health benefits and treatments:
Can be used to treat a variety of nausea symptoms, including morning sickness. Cold and sore throat.
Contains a compound that may aid in cancer prevention.
Lowering cholesterol levels may be beneficial.
Menstrual pain may be reduced greatly.
Treatment for chronic indigestion
Lowering blood sugar levels and improving risk factors for heart disease
Helpful for osteoarthritis.
Weight loss may be possible.
Pineapple
Pineapple is a sweet and nutritious tropical fruit. It's chock-full of antioxidants, minerals, and other beneficial nutrients. Here are some of the advantages of eating pineapple.
Good source of manganese, vitamin C, minerals, antioxidants, and other vitamins.
Can help to reduce diabetes, heart disease, and cancers.
Helpful for digestion problems.
It may help to fight against COVID-19 by improving your immune system.
Can help to relieve arthritis pain and it provides anti-inflammatory.
Provides healing after injury or surgery.
A great addition to your diet meal.
Banana
Banana is a delicious and easy source of several essential nutrients. This tropical fruit has been farmed since ancient times, and has health benefits:
Provides calming effect and may reduce bloating.
Reduces blood pressure and prevents cardiac problems by regulating heart function and fluid balance, both of which are important factors in blood pressure management.
For those who suffer from heartburn, this could be a beneficial addition to their diet.
Enables to provide a quick but long-lasting energy boost.
Helps with relaxation, mood enhancement, anxiety reduction, and overall happiness.
Turmeric
Turmeric is a yellow spice. They are also a member of the ginger family. It contains anti-inflammatory and antioxidant effects, and:
Can help to improve your cognitive or memory. Useful for treating Alzheimer's patients.
Improving heart function -can support your heart problems.
Can help to prevent cancer.
It may provide healing to arthritis symptoms.
Beneficial to fight against depression.
Ready to pulse your blender? This carrot ginger turmeric smoothie contains seven plant-based ingredients that will give you energy day by day. But remember if you want to jazz up your smoothie read this: Best Superfoods to Add to Smoothies.
Carrot Ginger Turmeric Smoothie You'll Love!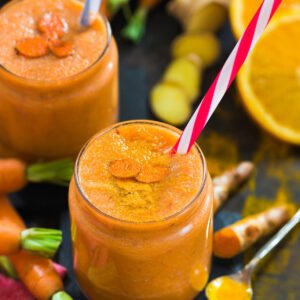 Carrot Ginger Turmeric Smoothie
This pleasant and delectable Carrot Ginger Turmeric Smoothie includes ginger, carrot juice, banana, pineapple, and turmeric. A refreshing, sweet, and tangy nutritious drink. This anti-inflammatory smoothie can help you enhance your immune system. Ideal as a snack or breakfast.
Ingredients
For The Carrot Juice:
2-3

cups

carrots

8-9

oz

water

filtered, or coconut water
For The Smoothie:
1-2

large

bananas

ripe, frozen, sliced, and peeled

8

oz

pineapple

fresh or frozen

1

tsp

ginger

fresh, peeled

½

tsp

turmeric

ground or replace cinnamon

4

oz

carrot

juice

1-2

tbsp

lemon

juice

8

oz

almond milk

unsweetened

4

oz

orange

juice (optional)
Instructions
For The Carrot Juice:
In a high-speed blender, add the carrots and water. Blend till smooth and pureed. Add more water, if necessary.

In a clean dish towel, pour the juice then squeeze and twist till the carrot juice is out over the mixing bowl. Set them aside.

Place the carrot juice in a preferred jar. Keep for several days for the best result. If preferred.
For The Smoothie:
In a blender, add all the smoothie ingredients. Blend till smooth and creamy. If necessary, add more almond milk and carrot juice.

Season to taste by adding extra pineapple and banana, ginger, turmeric, and ginger as needed.

Pour in the glass. Best serve when fresh. Enjoy!
Nutrition
Calories:
449
kcal
Carbohydrates:
105
g
Protein:
8
g
Fat:
5
g
Saturated Fat:
1
g
Polyunsaturated Fat:
2
g
Monounsaturated Fat:
2
g
Sodium:
565
mg
Potassium:
2108
mg
Fiber:
20
g
Sugar:
62
g
Vitamin A:
62153
IU
Vitamin C:
181
mg
Calcium:
481
mg
Iron:
3
mg
For More Energy Booster Smoothie
This carrot ginger turmeric smoothie is excellent as your energy booster or immune booster. It's filled with antioxidants and anti-inflammatory plant-based nutrients.
If you make this Carrot Ginger Turmeric Smoothie share with us your experience and tag us on our social media pages: Facebook, Twitter, Pinterest, Instagram, and subscribed to our YouTube Channel.
READ MORE:
'Thel Dala', Sri Lankan Stir-Fry