Vegan Globetrotter is supported by our audience. When you purchase through one of our links, we may earn a small affiliate commission.  As an Amazon Associate I earn from qualifying purchases. Your cost is not affected.
==================
Do you want to get healthy and lose weight? If so, a Nutribullet Pro 900 blender might be just what you need. This powerful machine makes nutritious smoothies and juices that are perfect for jumpstarting your healthier lifestyle journey. In this article, we'll review the Nutribullet Pro 900 and tell you what we think about it. So read on to find out if this blender is right for you!
The Nutribullet Pro 900 is a powerful blender that guarantees healthy smoothies fast. It promises to break down soft and tough fruit and vegetable ingredients and mix them. That would be to create nutritious drinks without breaking a sweat. Yet does it perform as well as it should? In this review, we'll take a closer look at the unit and see how well it does. We'll talk about what makes it good and otherwise. So read on to find out more about it.
It's okay to be skeptical but stay intrigued. Could this blending machine make smoothies with the right consistency and nutrients? Check this article to see why people are saying it's a worthy investment.

This unit is what many consider to be one of the best smoothie blender models due to its functionality. It does a good job of processing fruits, vegetables, and other flavorful ingredients on the go. After trying it, the product was consistent in delivering tasty drinks with speed. Blending was possible through plugging the unit for power and a push and twist operation. Plus, it only took a few seconds to have all components processed. So it's easy to say that it's dependable when it comes to getting speedy smoothie creation.
Mixed with water, it blended whole and sliced veggies like kale, carrots, and ginger with ease. The green smoothies it yielded often gave consistent earthy tastes with smooth texture. Crushing nuts like almonds, pecans, and cashews with milk produced thick beverages. They had a thick and buttery taste to them. But, for dealing with tough ingredients, blending involved more than one extraction cycle. This wasn't an issue since one cycle takes only a minute. Also, food processing with this machine often requires a few seconds only.
There needs to be water or any beverage in either of the cups to produce shakes, juices, and more. But, with liquid inside, the Nutribullet Pro 900 can even crush ice to make cold drinks for warm or summer days. So, even if there are new models by Nutribullet and other companies, this one continues to sell.
Customers continue to appreciate its basic yet dependable attributes. Thus, this item remains as part of the best smoothie blender products on the market. It is an upgrade of the Nutribullet's first blender and does well when it comes to express blending. Folks who aren't looking for so many features keep using it. Besides, it's a product that isn't requiring intricate and extensive assembly. So it makes sense to choose it for one's food processing needs too.
Base Motor and More
Its base part does not have any button to press or dial to turn. So there are also no settings to adjust. Using the Nutribullet Pro 900 starts with plugging the motor into an electric outlet. After that, it's time to mount on the base unit the cup with ingredients and the extractor blade attached. Pressing it down and turning it turns on the blending mechanism. With 900 watts of power at 20,400 RPM, it delivered quality smoothies with consistency. Thus, with its operational simplicity, folks who are after speed find it appealing.
Its extractor cross blade is dull yet gets hard ingredients pureed or liquefied. It is easy to see why it's safe to handle and wash plus gets the job done. The six blunt edges crush through ice and break down chunks of fruits and veggies. Yet, from experience, components need dicing to contain them and for better smoothies. Plus, to connect the blade and remove it from a cup, the piece requires screwing and unscrewing only. It can even serve as a lid somehow. This Nutribullet Pro product review emphasizes that the entire product has quality parts. Thus it is no mystery why folks who can afford it don't hesitate to get one to use.
Cups and Extras
Research revealed that there are different Nutribullet Pro 900 sets. It must be since this best smoothie blender has unique demands on the market. But, for the most part, each one has cups of varying sizes with lids and lip rings. The BPA-free containers for the ingredients often allow for many servings. These cups can accommodate at least 32 ounces of food items with liquid. With them, people won't have to repeat chopping, blending, grinding, and the like anymore. In that way, using the blender with them makes drinking a lot of smoothies convenient.
Plus, covering these containers is easy with their screw-on lids and rings. The to-go lids helped a lot with the storage of the blended drinks. After all, it's not always that you consume what you blend. Also, the plastic lip rings and also those with handles are there to help with immediate drinking. Thus we can say that Nutribullet thought of user comfort before releasing the 900 series.
Given that its dimensions are 12.01″ x 7.72″ x 15.94, it can be the best smoothie blender on anyone's countertop. It means that it doesn't take up a lot of space and is possible to store in areas such as a cupboard. Either of the cups doesn't have to be on the base motor too. At 4.7 lbs, we say that it's a lightweight blending machine the majority can carry. Still, though there is no compartment for keeping it, it comes with a power cord that is a little over 3 feet long. Having used it, the wire length makes it very movable. This Nutribullet Pro product review emphasizes its portability as one that provides ease. Thus it can be for home use, cater to families and friends, and transported at any time.
The product doesn't look cheap at all with its finish. Getting a model with one of the classic colors provided an item that matches the kitchen. Websites say that the 900 series comes in 4 matte options and 7 classic metallic shades. Matte colors include black, white, soft pink, and gray. It's metallic white, champagne, blue, green, red, silver, and rose gold for the latter. These choices make it possible for buyers to select the right hue to complement a space. So, with it, you have a decorative unit that helps process foods to puree or liquid.
Using it wasn't hard at all since there was no need for complicated assembly and adjustments. After opening the box that contained it, it was simple to determine how to assemble it. On inspection, you can tell its straightforward function. It was only that the need to push it down and twist it wasn't clear at first. Also, using it required a flat surface for stability despite the rubber at the bottom of the motor base. Yet it kept on making express smoothies without issues. So, as an uncomplicated item, it's clear why many say it's the best smoothie blender.
The reading materials that come with the package are easy to understand. There are only a few technical terms and vivid illustrations are available. It's only that adjustments may be necessary when trying out the recipes. It's because the availability and sizes of ingredients may vary from place to place. This Nutribullet Pro product review was possible after trying the smoothie directions.
Cleaning the Nutribullet Pro 900 was a breeze. The cups and other parts, except for the motor, only needed rinsing with water. Soap was necessary for cleaning once all the blending was over. Sticky ingredients from the blending needed brushing to remove, but it didn't take long to get rid of them. So, even if some of its parts are dishwasher safe, it doesn't demand a lot of cleaning.
Unit Advantages And Disadvantages
As with any product, this one has several arguments for and against it. After all, it may be useful but it is not without its flaws. This Nutribullet Pro product review has a few of them and they are as follows.
Pros
The product makes quality and speedy smoothies and juices.

It doesn't occupy a lot of space and is portable.

It comes with a manual and recipe book to guide. They make product assembly and usage plus smoothie making easy. The quick start and user guides give adequate yet simple details about the unit. The recipe book includes specific ingredients and instructions.

The unit can accommodate whole and chopped fruits and veggies with different liquids. It also works when adding thick or even crystalline powders.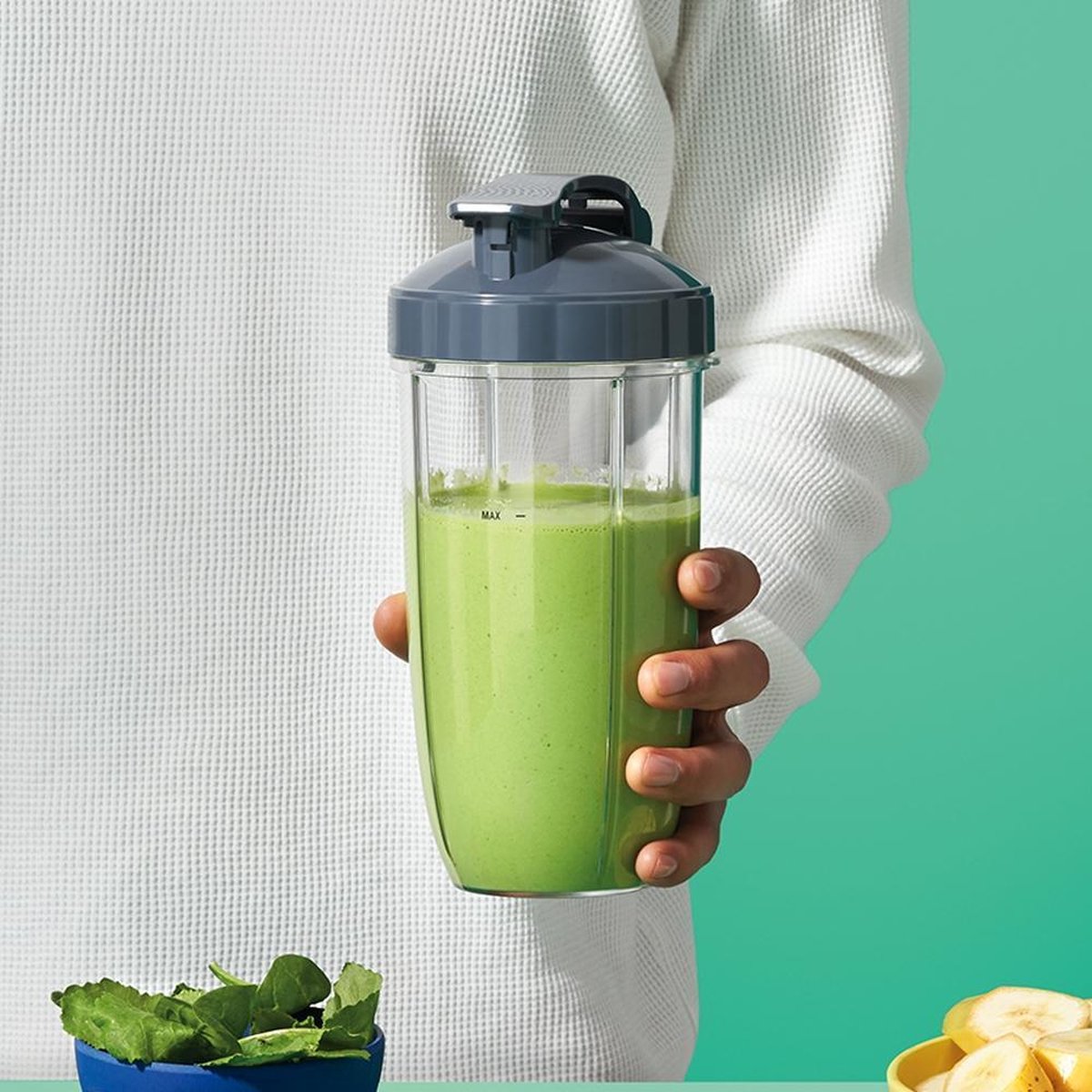 Cons
The Nutribullet Pro 900 may take several nutrient extraction cycles for some ingredients. That is to say, some food items don't turn liquid right away when processed. Blending nuts may produce sticky textures too. Such may need tapping and shaking to loosen from the sides and bottom of a container.

It may be powerful but creates noise during nutrient extraction. Yet the blending sounds don't last long since operation usually takes a few seconds per cycle.

The device only allows for 25% of the ingredients to be ice since its primary function is not to break down ice cubes. Also, it cannot break down ice alone since it needs water to do that.

The blades need handwashing.
I love my Nutribullet Pro 900. While I wish it had more metal and less plastic, for its price point, it is a powerful machine that makes smoothies quickly and efficiently. When I want to make a large batch of ingredients or crush more ice, I use my Vitamix 5200 Blender.  It's made for those bigger tasks.
But for a smoothie for one or two, the Nutribullet Pro 900 takes less than a minutee and cleans like a breeze. It's my "go-to" for quick jobs.  
The Nutribullet Pro 900 is a superb personal blender that sports some amazing features. What sets it apart from other machines is its design and ease of use. Because of them, there is no doubt why folks consider it the best smoothie blender available, even when matched against pricier options. It is perfect for someone who's starting to live a healthier lifestyle. You'll enjoy better nutrition in no time with plenty of instant smoothies. Thus it is a quality blending machine to meet personal blending needs.
Like other products, it is not free from drawbacks. This Nutribullet Pro product review showed that. Yet, in all, this is a great addition to any kitchen or home. The benefits it offers outweigh its disadvantages. So, when you're looking for a high-powered personal blender, consider this one.
Do you own or have you tried the Nutribullet Pro 900 series? What can you say about it? Leave us comments below to let us know what's on your mind.
Read More: