==================
A Caveat and Affiliates
First off, a little caveat: within my articles you will find affiliate links, meaning if you buy them, I get a small commission. Your cost is not affected. In addition, I am an Amazon Associate and I earn from qualifying purchases on Amazon.
And yes, if I say that I recommend a product here, it means I truly believe it is a good product. I refuse to recommend any product that I have not researched and believe to be a good value. Even better, I provide you with a very clear picture of the product, it's use, and the probable value. Earning your trust is important to me. I run this website myself and the commissions and donations help support the site. Sound reasonable and fair enough? Let's continue to the article.
==================
Nutribullet Pro Blender Review
Many times, the most straightforward products are the best ones. This Nutribullet Pro Blender review describes a simple yet trustworthy personal blender. It's now a mid-level product since many blender models succeeded it. Yet, up to this day, Nutribullet continues to produce it. Thus it's worth the attention and even praise.
This write-up about it or the NB9-1301 aims to show how well it does in functioning as a blender. It also discusses its features, along with the experiences while using it. This covers what is great and somehow unfavorable about it. Of course, included are some ideas that might make the product better.
Nutribullet Pro Blender Review Of Specifications
What makes it different than its modern counterparts is its simplicity. But, even if it's not the newest, it's an upgrade of the original Nutribullet blender. It's as effective as its predecessor in blending ingredients. Yet it delivers more power and has some other positive attributes that make it worth getting.
Below are some details about the product and what happened after trying it.
The Nutribullet Pro Blender Review Blending Performance
It shredded fruits and veggies into puree or emulsions after a few seconds. Leafy and even dense vegetables like cauliflowers got pulverized well. Using cold or frozen fruits like apples and bananas wasn't a problem. It was successful even when there was some ice inside the cup. So blending ingredients with liquid using the Nutribullet Pro Blender does guarantee smoothies.
From crushing almonds with water, it produced a sticky yet spreadable kind of nut butter. But it felt like at temperature and was free of chunks. It might have taken several rounds to get the right smoothness but it got the right consistency.
After using it a few times, it's safe to say that it delivers what it promises. Yet there are times when it wasn't able to get the perfect texture right away. For that, it requires removing the cup and shaking it a bit to get everything blended. This goes for the 24 oz and 32 oz cups.
The Nutribullet Pro Blender Review Of Features
It's less powerful than the new Nutribullet Rx and Blender Combo models. Both have 1700 and 1200 watts and faster RPMs. Yet it is stronger than the original that has a 600-watt motor with its 900-watt power. Plus, it is easy to carry and isn't bulky. It's about 5 pounds only with its dimensions of 12.01 x 7.72 x 15.94 inches. Wrapping its 1-meter power cord is not a problem too. Thus it's easy to put on top of kitchen counters and other standard tables.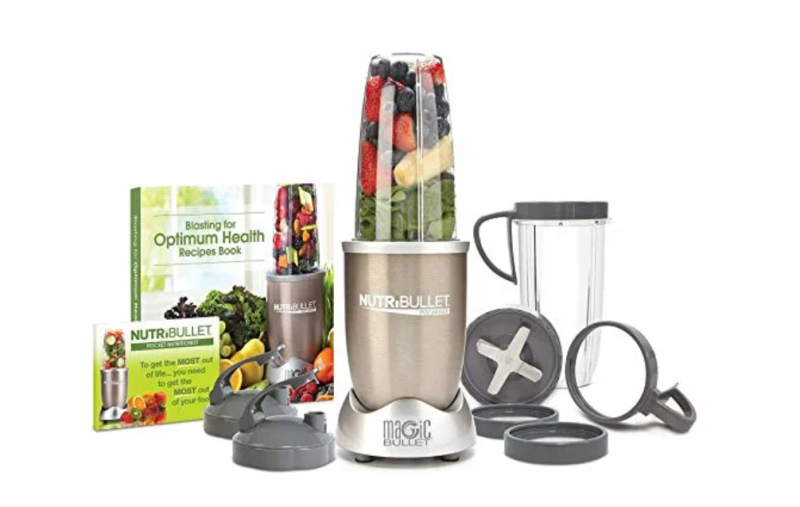 Here is a list of things that you could get after unboxing.
Basic Parts
The build of the motor is aluminum that rests on plastic. The other parts like the cup and lip ring are plastic. So they are somehow durable but might be prone to cracks from drops. Also, the plastic looks like it will break in the long run after prolonged use. Still, if you're careful then you should have nothing to worry about the parts. Besides, there are replacements for sale.
They are easy to identify and use. They are as follows:
900-watt Motor Base with 1-meter power cord

1 Nutribullet Cup

Extractor Blade

Cup Ring

User Guide

Recipe Book
Extra Components
These parts are for making several smoothies at a time. The cup rings with handles can even reduce your contact with the plastic cups. Thus they help keep the integrity of the containers intact.
Spare Cup Ring

Two Cup Ring With Handles

Two To-Go Lids
Difference Between Sets
Many Nutribullet Pro Blender review articles online showed set options. They are likely to address the need for many smoothie servings. These are the options available.
9-piece has one of the 24 oz and 32 oz cups 

13-piece contains two 32 oz cups

15-piece comes with two 24 oz and one 32 oz cups
Color Variations
Matte Black, White, Soft Pink, and Gray

Classic Metallic Champagne, Metallic White, Blue, Green, Red, Silver, and Rose Gold
Blender Usage
The NB9-1301 has an easy installation. To make it work, all you need is a place where it could have level and adequate space and the right power from an outlet. Since it's very lightweight, it was easy to transfer. So you can use it and then store it somewhere after. Besides, its cord is long enough to reach outlets with ease.
As for its operation, you only need to add ingredients to a cup. The user guide emphasized the need for a liquid base and it's understandable why. So included during the blending sessions were water and plant-based milk. It was easy to put on the extractor blade since it required screwing only for a tight seal. After that, there was only plugging in the unit and turning the cup upside down. The blending started after pushing and twisting the downturned cup.
Cleaning didn't take time at all because the plastic cups were dishwasher-safe. The blade needed handwashing but it wasn't difficult to remove leftovers from it. Soap and warm water were what helped with the cleaning.
Positives and Negatives
As with anything, there are also pros and cons in this Nutribullet Pro Blender review.
Pros
Lightweight and compact. Easy to transport.

Blends thick greens. Examples are celery, ginger, and whole nuts.

Ideal for making vegan smoothies and protein shakes.

The 6 blades of its extractor blade are dull and safe to handle.

Delivers a consistent speed of 20,400 RPMS during operation.

Quick to create single-serve smoothies and shakes.

Uses BPA-free cups.
Cons
Can only handle small amounts and pieces of ice.

Has no switch to switch the unit on or off nor a dial to control the speed.

Dropping some of the plastic parts may cause them to crack or break.

Does not offer an option for silent operation.

Requires pushing down and twisting for pulse mode.
Cost and Rating
Most sellers on websites like Amazon and eBay offer the 13-piece set of this blender for around $90 or more. That is excluding taxes. Used models often sell for cheaper prices online too. But, for a new one, the Nutribullet official website has its base price of $109.99.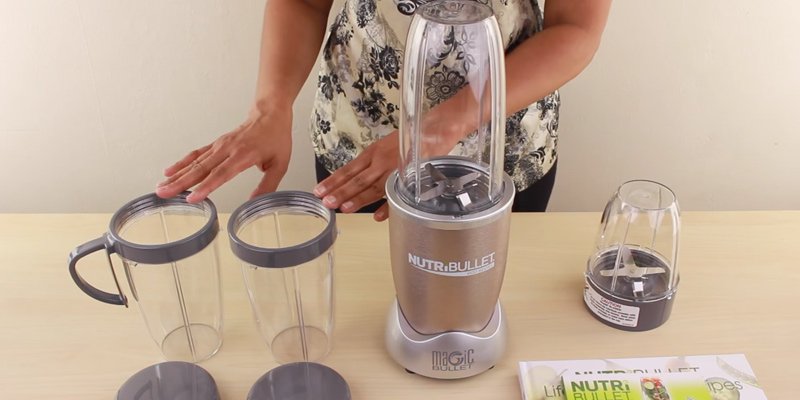 Ratings for this blender vary. For instance, RTINGS.com gave it 7.2 over 10 stars. CNET gave a 6.9 out of 10 stars. Still, the 14K product reviews about it on Google resulted in a rating of 4.4 over 5 stars, at the time of this writing. Thus, from what people are saying, many are very much in favor of it.
Nutribullet Pro Blender Review Side Notes
Upon browsing the reading materials, it is easy to find the assembly guide for the product. It is in the recipe and quick start guides. Also available are the smoothie building method and suggested ingredients. So, with it, it's easy to decide what and how many of some things you ought to use.
It is easy to see the portions of ice, immune boosters, greens and veggies, nuts, fruits, and liquid to use. Yet trusting in the guides might not be enough for great nutrition. It's not only that many fruits and veggies are low in calories. After all, people still need their nutrient intake specifics. That is not to end up having more carbs and other nutrients than necessary.
Product Overview
This Nutribullet Pro Blender review gives details about the NB9-1301 model. This 900-watt blender has solid parts and features that make superior blending possible. It allows for quick and quality shakes, smoothies, and nut butter. Its components make drinking convenient and tasty too. The design of the product targets people pursuing a healthy and active lifestyle. So it's clear why many say that it ranks as one of the top blenders in the market today.
Its design makes it possible to pulverize some of the toughest fruits and vegetables. But it's also great for kitchens because of its look plus lightweight and compact build. The NB9-1301 has the classic metallic tint yet there are other color options to choose from. Its accessories are easy to use, clean, and store. The unit itself is very portable and quick to assemble. In this way, it makes for a practical blender.
About The Maker Of This Nutribullet Blender
Part of this Nutribullet Pro Blender review discusses the maker of the blender. The Nutribullet and Magic Bullet product lines come from Homeland Housewares, LLC. Since the early 2000s, it has been distributing all sorts of kitchen products. Some of their goals are to make nutrition easy and efficient appliances available. Thus we can say that the NB9-1301 is a product of a trustworthy company.
Conclusion
It is clear from this Nutribullet Pro Blender review that this item is still worth getting. It might not have the modern features of its successors but has what it takes to deliver the right blends. Whether it's smoothies, nut butter, or shakes that you're after, this has you covered.
It comes with containers that can hold 24 to 32 ounces of ingredients and liquid. The motor can blend a lot in seconds too. Even if it may not do well for business use, it is suitable for serving medium-sized households.
Even if it does have aluminum components, it does have a plastic exterior. Other parts are also made of plastic. So taking care of it while using is important. Dropping it may cause cracks or breaks to appear.
Read More:
Kitchen and Dining Products We Love