==================
A Caveat and Affiliates
First off, a little caveat: within my articles you will find affiliate links, meaning if you buy them, I get a small commission. Your cost is not affected. In addition, I am an Amazon Associate and I earn from qualifying purchases on Amazon.
And yes, if I say that I recommend a product here, it means I truly believe it is a good product. I refuse to recommend any product that I have not researched and believe to be a good value. Even better, I provide you with a very clear picture of the product, it's use, and the probable value. Earning your trust is important to me. I run this website myself and the commissions and donations help support the site. Sound reasonable and fair enough? Let's continue to the article.
==================
Do you love risotto but dread the lengthy process it takes to make it? Have no fear, this pumpkin risotto-comforting meal is a quick and easy alternative that will still leave you feeling satisfied. Packed with Fall flavors, this dish is perfect for those chilly evenings when you want something comforting and nourishing. Plus, it's perfect for colder weather months when you're craving something comforting and hearty. Give it a try today!
Pumpkin Risotto: Comforting Meal
The weather is cooling down and the days are getting shorter. This can be a difficult time for many people, as it can be hard to get out of bed in the morning when it's still dark outside. For me, this time of year always makes me crave comfort foods. There's just something about a warm, hearty meal that makes everything feel better.
One of my favorite comfort foods is pumpkin risotto. It's creamy, flavorful, and filling. Plus, it's packed with nutrients that will help you get through the colder months. Here's why pumpkin lentil risotto is a great choice for a comforting meal.
1. It's Packed with Nutrients
Pumpkin risotto is full of vitamins and minerals that are essential for veganism, such as iron, zinc, and vitamin B12. It's also a great source of protein and fiber. This means that it will fill you up and keep you feeling satisfied for hours.
2. Comforting flavors
This dish is full of comforting flavors like pumpkin, sage, and thyme. Pumpkin is not only delicious but it's also full of vitamins and antioxidants that are good for you. Sage has been shown to have anti-inflammatory properties. And thyme contains compounds that can boost your immune system.
3. It's Easy to Make
Another great thing about pumpkin risotto is that it's easy to make. You can make it in one pot on the stovetop in less than an hour. This means that it's perfect for busy weeknights or lazy weekends.
If you're looking for a comforting meal that is packed with nutrients and easy to make, look no further than pumpkin lentil risotto. So next time you're craving something comforting, give pumpkin risotto a try – you won't be disappointed!
Pumpkin Lentil Risotto: Ingredient tips
Well, you have come to the right place, making this pumpkin lentil risotto is required easy-to-find plant-based ingredients. In this recipe blog post, you will learn the tips for some of the ingredients in this comforting meal.
Arborio rice: It is used to make risotto, also you can substitute Brown rice but it takes too long to cook.
Pumpkin puree: Either homemade or storebought. If using a store-bought choose puree not filling.
Butternut squash or pumpkin: You can use fresh or frozen but I always use fresh.
Vegetable broth: To make this vegan use vegetable broth not chicken broth.
Dried thyme and rosemary or sage: Use for authentic flavor so do not forget to add this as your organic seasoning.
Onion and garlic: This is the powerhouse flavor in this recipe.
Salt: To balance the taste adjust if needed.
Of course, there is an additional ingerdeints for topping these are optional but they a great addition to this recipe.
Lemon juice: A spirit of this lemon juice adds a tangy and zesty flavor. If not preferred, substitute white wine vinegar.
Vegan parmesan cheese: This serves as your toppings make sure it is dairy-free to keep this vegan.
Parsley: I highly suggest using a fresh to have an earthy flavor.
Coconut milk: It soothes the ingredients so it gives a creaminess to this comforting meal. Also, any plant-based milk will work.
Fear not, this recipe is versatile and adaptable you can top or pair this pumpkin risotto with your favorite garnish or toppings. Make sure that you are using plant-based ingredients to keep this healthy.
If you have those ingredients that we needed let us make this vegan recipe right away! So let's get cooking!
Let's get cooking, a quick overview!
Best of all, this comforting meal is easy to make, with no fuzz just a clean table. This dish is just done within 20 minutes but still nutritious that's why you will love this pumpkin risotto on your colder autumn days.
So go ahead grab the ingredients and let's get cooking. Below is a quick overview of how to make this dish.
Saute the garlic and onions in a vegetable broth.
Boil the arborio rice and season with dried thyme and rosemary.
Add the pumpkin puree and simmer for at least 10 minutes.
For more flavors add all the additional toppings.
Serve while warm or hot alongside bread, salad, or roasted veggies.
Recipe Note
For the leftover, store in an airtight container for up to 2-3 months. When reheating, add tbsp of water.
Good news! This pumpkin risotto is an oil-free recipe you will just need to saute the onion and garlic in the vegetable broth. I'm sure this comforting and hearty meal is a great addition to your autumn days that you will want to make this over and over again.
Looking for more vegan fall recipes to add to your vegan diet?
Well, satisfy your tastebuds with our healthy and delicious: Mini Pumpkins Cream Puffs, Pumpkin Alfredo Pasta Recipe, Vegan Maple Pumpkin Overnight Oats, Vegan Pumpkin Pie Smoothie, Apple Cranberry Crisp, Pumpkin Alfredo Pasta Recipe, Butternut Squash Pancakes, 20-minute Pumpkin Soup, Air fryer Cinnamon Rolls, Delicious Dairy-Free Pumpkin Spice Latte Recipe, Pumpkin Spice Fudge, Sweet Potato Pie Cupcakes with Cinnamon Frosting, Autumn Salad, Apple Cinnamon Waffles, Autumn Pizza with Vegan Gouda Cheese, Pumpkin Spice Fudge, Delicious Dairy-Free Pumpkin Spice Latte Recipe, Vegan Butternut Squash Curry with Chickpeas,  Teriyaki Tofu-Tempeh Casserole, Butternut Squash White Bean Kale Stew, Vegan Spaghetti Squash with Marinara Sauce, and Sweet Potato Shepherd's Pie Casserole.
They are completely plant-based and ideal for your vegan meal, and some of these recipes are perfect for thanksgiving day, and on winter season. Enjoy! 🧡
And if you try them we are happy to hear from you how these recipes turn out for you. Share your photos and experience in the comment section below. 😉
Still, drooling your mouth with this hearty and comforting meal? Why not give this recipe a try you won't be disappointed with how nutritious and delicious this pumpkin risotto is. After making, rate this recipe by giving the recipe a star on the recipe card.
A hearty and comforting meal in one pot!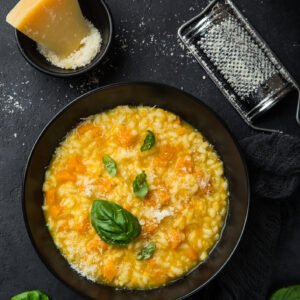 Vegan Pumpkin Risotto
This delicious vegan pumpkin lentil risotto is perfect for a cozy autumn meal. It is simple to follow, and the end result is a hearty, comforting dish that everyone will love. So get out your pots and pans, and let's get cooking!
Ingredients
Plant-based ingredients:
1

cup

butternut squash

or pumpkin, diced and cubed

2

medium

onion

finely diced

3

cloves

garlic

minced

1 1/2

cup

arborio rice

see note 1

1

can

pumpkin puree

not filling

3-4

cups

vegetable broth

2

tsp

Rosemary

dried

2

tsp

thyme

dried

1

kosher salt

adjust if needed
Additional but optional:
1

tbsp

lemon

or alternatively use white wine vinegar

½

cup

parmesan cheese

for toppings

¼

cup

parsley

for garnish, fresh, chopped,

2

oz.

coconut milk

feel free to use cashew milk
Instructions
A comforting meal in one pot!
In a nonstick pot over medium-high heat, add vegetable broth then add the onion and garlic for 5 minutes and or until the onion and garlic softened.

Add the arborio rice, pumpkin puree, and butternut squash. Season with rosemary and thyme. Adjust to taste if needed.

Over medium-high heat, cook them for 15 minutes or until the arborio rice and butternut squash becomes soft.

Once cooked, transfer into a bowl then add the additional (optional) toppings. Serve warm!

Serve warm alongside bread, roasted veggies, steamed veggies, or fall salad. Enjoy!
Notes
Recipe Note
For the leftover, store in an airtight container for up to 2-3 months. When reheating, add tbsp of water.
Nutrition
Calories:
1677
kcal
Carbohydrates:
311
g
Protein:
47
g
Fat:
28
g
Saturated Fat:
20
g
Polyunsaturated Fat:
1
g
Monounsaturated Fat:
5
g
Cholesterol:
34
mg
Sodium:
3672
mg
Potassium:
1761
mg
Fiber:
26
g
Sugar:
30
g
Vitamin A:
69503
IU
Vitamin C:
72
mg
Calcium:
832
mg
Iron:
23
mg
For More Vegan Recipes
The vegan recipes I've suggested below are all vegan and made entirely of plant-based ingredients. They are also an excellent addition to any vegan meal. Non-vegetarians will enjoy these as well!
To Wrap It All Up
That's all there is to it! This pumpkin lentil risotto is a hearty and comforting vegan meal that can be made in one pot. Whether you're looking for an easy weeknight meal or something special to impress your guests, this dish is sure to satisfy you. Thanks for joining us today, we hope you give this recipe a try soon.
Connect With Us
If you tried this pumpkin risotto, take a 📸  and tag us on our social media: Facebook, Twitter, Pinterest, and Instagram, and subscribed to our YouTube Channel.  I'd be delighted to see it!
To make sure you don't miss any recipes, remember to subscribe to our email newsletter which will be delivered to your inbox every week. 📩
Read More
What Type of Rice is Healthiest?
Cutting Boards for Vegan Kitchen Use
Autumn Budget-Friendly Activities
Must-have Fruits and Veggies-Fall Season