Vegan Globetrotter is supported by our audience. When you purchase through one of our links, we may earn a small affiliate commission.  As an Amazon Associate I earn from qualifying purchases. Your cost is not affected.
==================
Herbed Fingerling Potatoes
Herbed Fingerling Potatoes are lovely colorful potatoes fresh from the farm. Eye-catching and easy to make with simple ingredients. Serve with a fresh herbed or dried herbed. But fresh herbed is most commonly used to make this healthier. Cooked potatoes with skin are healthy too. You don't need to peel them. When serving this, sprinkle more fresh herbs so that will look presentable that everyone will love in no doubt. If you are fond of eating potatoes this one might be your favorite. These are perfect for your vegan diet and your finger food night thingy. You will enjoy eating this with your family, friends, and kids. I am sure one serving is not enough when they taste this recipe.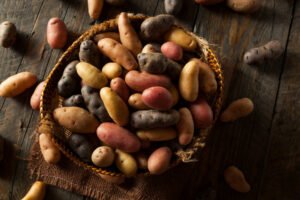 This is vegan-friendly it can be a substitute for french fries if you want your potatoes healthier than you thought. There are two versions to prepare them; roasted fingerling potatoes and boiled fingerling potatoes. You can serve them both during St. Patrick's Day. Roasted potatoes are a popular dish. But in this article, I want to share with you how to make Boiled Herbed Fingerling Potatoes. Let me first discuss first with you what is Fingerling Potatoes.
What is Fingerling Potatoes?
Fingerling potatoes are a relative of yellow potatoes. They are also known as Ruby Crescent, Russian Banana, and Purple Peruvian. It has a finger-shaped type and they are small-bites. You can cook them with potato skin with their thin skin texture. They are also healthy rich in vitamins, potassium, and antioxidants.
Are you excited to treat your whole family? What are you waiting for? Why not try! Listed below are the ingredients and instructions for these colorful fingerling potatoes.
Herbed Fingerling Potatoes Recipe: 
Herbed Fingerling Potatoes
This recipe is filled with fresh herbs or dried herbs. It can be roast or boiled. Make them unique using all the required herbs.
Ingredients
Ingredients:
1 1/4

lb

fingerling potatoes

scrubbed

8

oz

vegetable broth

1

g

marjoram

fresh

3-4

g

thyme

fresh

1-2

g

rosemary

fresh

2

tsp

onion flakes

⅓

tsp

garlic powder

powder

sea salt

to taste

black pepper

ground, to taste

2-3

tbsp

chives

fresh
Instructions
Instructions:
On medium-high heat, boil the potatoes for 20 minutes or until the potatoes are tender.

Meanwhile in a saucepan, add broth, marjoram, thyme, rosemary, onion flakes, and garlic powder. Mix well till the potatoes are cooked.

Strain the potatoes and sliced them into halves.

In medium-high heat, boil the broth then add the potatoes. Stir well, until the broth is soaked by the potatoes.

Dust with salt, pepper, and chives and serve them warm.
Nutrition
Calories:
124
kcal
Carbohydrates:
28
g
Protein:
3
g
Fat:
1
g
Saturated Fat:
1
g
Polyunsaturated Fat:
1
g
Monounsaturated Fat:
1
g
Sodium:
236
mg
Potassium:
655
mg
Fiber:
4
g
Sugar:
3
g
Vitamin A:
253
IU
Vitamin C:
32
mg
Calcium:
36
mg
Iron:
2
mg
READ MORE:
Can You Lose Weight On a Vegan Diet?
Another name of fingerling Potato