Vegan Globetrotter is supported by our audience. When you purchase through one of our links, we may earn a small affiliate commission.  As an Amazon Associate I earn from qualifying purchases. Your cost is not affected.
==================
Dublin Coddle with Sausage
Dublin Coddle with Sausage a Leprechaun style is an oven-slow-cooked traditional Irish potato and sausage stew. It's perfect for St. Patrick's Day or any other day when you're in need of some comfort food! Many of you will be celebrating St. Patrick's Day with corned beef and cabbage, and no offense to you (I love corned beef and cabbage, too), but you should be having this Dublin coddle instead. It's hearty, simple, and delicious, and it's a more authentic way to celebrate Ireland than corned beef, according to my research.
Sausage, potatoes, onions, parsley, and bacon are among the standard ingredients in coddle. Making vegan Dublin coddle was as simple as substituting vegan sausage for pork and omitting the bacon, though I did add a little Liquid Smoke to the broth to compensate for the bacon flavor. After that, the coddle is slow-cooked (or "coddled") until the vegetables are tender; adding apple cider (instead of a dark beer) near the end adds authenticity and depth to the dish.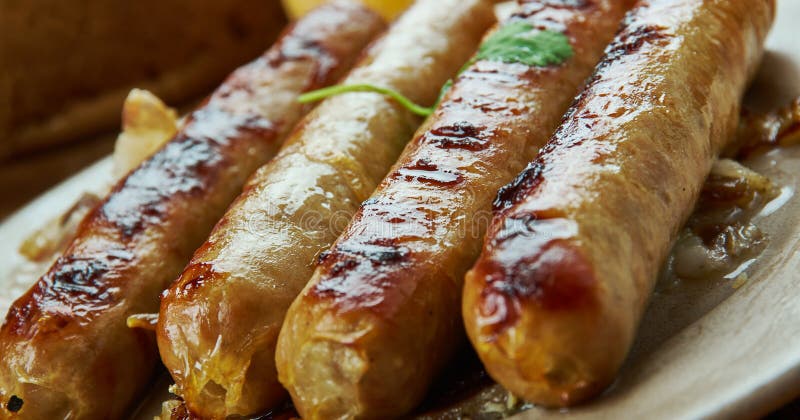 What Is Irish Coddle?
The Irish version of beef stew is Dublin coddle. Bacon, pork sausages, onions, and potatoes are simmered in a thick brown gravy for hours. This is the kind of meal that can sit in the oven for hours while you're at work and still taste delicious.
Our Beer Substitution
Yes, traditional (non-vegan) coddle uses Guinness, a dark beer. But we want a healthy substitute! You'll find that the apple cider gives it a deeper flavor and adds some nutrients, too. Did you know that cider is apple juice, but not filtered? Yes, that apple cider is actually better for you than apple juice, but then, apples with all their fiber still intact are better still.
If you are concerned with the juice factor, consider using either a vegan beef broth or, our favorite, a mushroom gravy! Mushrooms in their water sauté provide that deep flavor this dish appreciates.
With these substitutes, no one will miss the Guiness!
Dublin Coddle With Sausage Recipe:
Dublin Coddle with Sausage
This potato and sausage stew scream "comfort food" to me!
Ingredients
Ingredients:
12

oz

sausage

vegan Irish fauxsages

4

medium

baking potatoes

cut into 1/2-inch slices

1-2

large

onions

sliced

2-3

tbsp

parsley

minced

kosher salt

to taste

pepper

to taste

12

oz

vegetable broth

⅔

tsp

liquid smoke

flavoring

6

oz

apple cider

or use brown gravy or mushrrom gravy
Instructions
Instructions:
In a nonstick skillet, brown the sausages. Layer the ingredients in this order in a large oven with a heavy lid: potato, onion, parsley, salt and pepper, breadcrumbed sausage, remaining parsley, and remaining onions.

Pour the Liquid Smoke over everything after mixing it into the broth. Bring to a boil, then cook for an hour or until the potatoes are soft.

Add the apple cider and cook for another 15 mins. Ladle into bowls and serve hot with Irish Soda Bread.
Notes
It could actually be achieved in a slow cooker; for best results, double the recipe and cook on low for 8 hours for large saute pans.
Beer is included in the nutritional information below. If it is left out, the calorie count will be lower.
Nutrition
Calories:
465
kcal
Carbohydrates:
45
g
Protein:
18
g
Fat:
23
g
Saturated Fat:
8
g
Polyunsaturated Fat:
3
g
Monounsaturated Fat:
10
g
Trans Fat:
1
g
Cholesterol:
61
mg
Sodium:
898
mg
Potassium:
1176
mg
Fiber:
3
g
Sugar:
4
g
Vitamin A:
416
IU
Vitamin C:
18
mg
Calcium:
48
mg
Iron:
3
mg
In coddle, what kind of sausage do you use?
Irish sausages/Irish Fauxsages are the best used in Dublin Coddle. They are sweet and mild, not smoky nor spicy, I completely changed the spices in my Irish variation to reflect traditional Irish sausage recipes. They resembled cooked gimme flex in texture and color, and I think they'd make good breakfast sausage.
Traditional Irish Sausages are difficult to come by in the United States, I recommend using any high-quality pork sausage you can find. In this recipe, I've rounded up vegan sausage with good results.
Irish Vegan Sausage Recipe:
Irish Fauxsages (Vegan Irish Sausages)
Don't be put off by the long list of ingredients; the majority are spices that give these sausages their distinct flavor.
Ingredients
Ingredients:
1

bouillon

vegan

1-2

sliced

whole wheat

4

oz

vital wheat gluten

2-3

tbsp

nutritional yeast

onion powder

black pepper

marjoram

thyme

ground sage

ground

¾

tsp

ginger

⅔

tsp

nutmeg

1

tsp

flaxseed

ground

8

oz

water

cool

3

cloves

garlic

minced

2

tsp

cashew butter

1-2

tbsp

soy sauce
Instructions
Instructions:
Combine the "beef bouillon cube" with 2 tablespoons hot water and 1 piece of bread in a food processor.

Toast the bread until the brown color, then process it until it's perfect crumbs.

In a large measuring cup or bowl, combine the bouillon mixture with the cool water, then add the garlic, cashew butter, and soy sauce.

Blend with a hand blender or stir until all of the ingredients are evenly distributed.

In a large mixing bowl, combine the bread crumbs with the remaining dry ingredients, wheat gluten through flax seeds, and stir well to evenly distribute the seasonings.

Pour the wet ingredients into the dry and stir just until the dry ingredients are evenly moistened. Add a little more water when dry.

Combine 1 cup gluten and 1/2 cup water in a mixing bowl.

Form into a rough tube, cover with aluminum foil.

Roll the tube back and forth, gently pressing it into an even shape with your hands.

Cover and steam for 35 minutes with all of the sausages on the top of a steamer.

Remove them from the heat and set them aside to cool until they are safe to handle.
Nutrition
Calories:
117
kcal
Carbohydrates:
6
g
Protein:
20
g
Fat:
2
g
Saturated Fat:
1
g
Polyunsaturated Fat:
1
g
Monounsaturated Fat:
1
g
Sodium:
212
mg
Potassium:
116
mg
Fiber:
1
g
Sugar:
1
g
Vitamin A:
1
IU
Vitamin C:
1
mg
Calcium:
41
mg
Iron:
2
mg
I look forward to hearing from you. Please leave a rating and a comment, or tag us on our Social Media.
READ MORE:
Pasta Carbonara – Italian Comfort Food
Brief History of Dublin Coddle
Why Irish Sausages are Special?