Vegan Globetrotter is supported by our audience. When you purchase through one of our links, we may earn a small affiliate commission.  As an Amazon Associate I earn from qualifying purchases. Your cost is not affected.
==================
Caesar Salad Dressing
This caesar dressing recipe is just as super garlicky, zesty, and savory, and it goes great with fresh, simple salads as the traditional version, but without the dairy, anchovies, or eggs. They are totally vegan, so it's best suited for everyone. This simple Caesar salad dressing, on the other hand, has all of the flavors without the fish. There is no mayonnaise in this recipe; instead, Dijon mustard, garlic, lemon, olive oil, and a vegetarian Worcestershire sauce are used. Check the Worcestershire sauce descriptor to see if it's vegetarian, as some brands contain fish and thus aren't vegan.

Variation of Serving
This Caesar dressing isn't just for salads. Use it in a variety of salad recipes, vegan bowls, or even as a vegetable dip!
Use it as a marinade for chicken that has been baked or grilled.
Pour it over a sheet pan of vegetables for a delicious side dish.
Use it to dress a fresh salad, or use it to make a delectable potato or pasta salad!
It's great in sandwiches, wraps, and even on top of a vegan or standard burger.
Tips for Storing
Refrigerate this creamy vegan caesar dressing for up to 5 days in an airtight container. If the sauce is too thick when you take it out of the fridge, simply add a little water and thoroughly mix it.
Additional Vegan Dressing
Sauces and dressings are where it's at when it adds extra flavor to meals. You'll be licking your plate after trying these flavorful plant-based recipes:
Here you'll discover all of our delectable sauces and dressings. Follow the simple instructions below!
Try Our Caesar Dressing Recipe: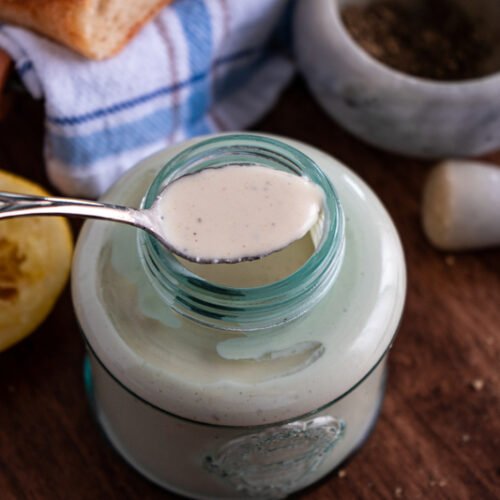 Caesar Dressing
You'll never make a better vegan caesar plant-based dressing recipe! This creamy, easy vegan caesar salad dressing is nut-free and packed with flavor lemon juice and a dash of dijon mustard. It's great in side dishes, veggie bowls, and other recipes.
Ingredients
2-3

cloves

garlic

2

tsp

lemon juice

1-2

tsp

Worcestershire sauce

vegetarian

1

tsp

onion

powder

1

tsp

Dijon mustard

4

oz

olive oil
Instructions
In a food processor put all the ingredients excluded the olive oil.

Press the processor till the salad dressing is creamy and smooth, then slowly drizzle with olive oil.

Toss your salad vegetables with the caesar dressing.
Nutrition
Calories:
256
kcal
Carbohydrates:
1
g
Protein:
1
g
Fat:
28
g
Saturated Fat:
4
g
Polyunsaturated Fat:
3
g
Monounsaturated Fat:
21
g
Sodium:
30
mg
Potassium:
23
mg
Fiber:
1
g
Sugar:
1
g
Vitamin A:
2
IU
Vitamin C:
2
mg
Calcium:
6
mg
Iron:
1
mg
I hope you will enjoy this recipe Caesar dressing! If you try it, feel free to comment and a rating so that I can see how you enjoyed it.
READ MORE:
Raspberry Vinaigrette Dressing
Where Did Caesar Dressing Originate?