==================
A Caveat and Affiliates
First off, a little caveat: within my articles you will find affiliate links, meaning if you buy them, I get a small commission. Your cost is not affected. In addition, I am an Amazon Associate and I earn from qualifying purchases on Amazon.
And yes, if I say that I recommend a product here, it means I truly believe it is a good product. I refuse to recommend any product that I have not researched and believe to be a good value.
Even better, I provide you with a very clear picture of the product, it's use, and the probable value.
Earning your trust is important to me. I run this website myself and the commissions and donations help support the site.
Sound reasonable and fair enough? Let's continue to the article.
==================
Teriyaki Tofu and Broccoli, always a favorite!
Longing for an Asian favorite that comes together quickly and features dynamic flavors? This teriyaki tofu and broccoli might be just the dinner you seek! In fact, our family considers this dish to be among our favorites. As a bonus, it's not only delicious, it's also filled with nutrients!
For those who prefer a little lower oil content, you have a couple of choices. To keep the crispy texture, use your oven to bake the tofu pieces first, rather than stir-frying them.
Alternatively, if a softer, yet still meaty texture works for you, consider using a little vegetable broth instead of oil. If you choose this option, omit the cornstarch dusting on the tofu cubes, too. Truly, they don't need them using the saute method. And you will save some oil (aka fat) calories.
While this dish seems a perfect match with brown rice, some people prefer it with their favorite Asian-style noodles. To pack in nutrition and keep the calories lower, try it over lightly cooked mung bean sprouts or even cauliflower rice.
We use Swerve brand sweetener now, but have used maple syrup in the past. Always use the real maple syrup, not the sugar water often masked as "maple-flavored syrup".
Looking for more nutrients? Just increase those veggies! Yes, the tofu easily stretches to serve 6 or even 8 people if you add more veggies, either the same types or another, to the mix. Depending on your veggies, you might need to increase the sauce slightly, too.
Try this delicious version of teriyaki tofu and broccoli. We are pretty sure your family will ask for it again soon!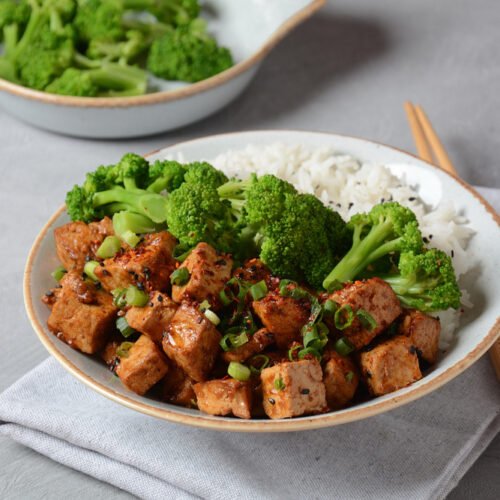 Crispy Teriyaki Tofu and Broccoli
An easy teriyaki tofu dish that comes together quickly but is oh so flavorful!
Ingredients
Tofu
16

oz

tofu

one block, about 16 oz, extra firm, frozen, thawed, pressed, and cut into cubes

4

tsp

olive oil

1

tbsp

soy sauce

or coconut aminoes

2

tsp

cornstarch

or arrowroot powder
Broccoli
4

cups

broccoli

florets

8

mushrooms

sliced

1

small

onion

thinly sliced

2

tsp

olive oil
Sauce
⅓

cup

soy sauce

or coconut aminoes

¼

cup

water

2

tbsp

Swerve

or sweetener of choice

2

tbsp

rice vinegar

1

clove

garlic

minced fine

½

tsp

ground ginger

2

tsp

cornstarch

whisked into 2 tsp water
Instructions
Preheat 2 tsp olive oil a wok or large skillet over medium high heat.

Put the tofu cubes in a large bowl. Drizzle with 2 tsp olive oil and the 1 tbsp soy sauce. Add the cornstarch and toss lightly to coat completely.

Brown the tofu cubes in the wok, allowing one side to brown before turning. Brown on all sides. Remove from wok and set aside.

Add the 2 tsp olive oil into the wok with the onions. Stir to saute onion until softened.

Add the broccoli and stir fry until crisp tender, about 5-7 minutes.

Toss in the mushroom slices and cook for an additional minute.
Sauce
While the broccoli cooks, whisk together the sauce ingredients, except for the cornstarch, in a saucepan.

Bring to a boil, then add the cornstarch and water mixture.

Reduce heat to medium. Continue whisking until sauce thickens, about 2 minutes.

Toss the tofu, broccoli mixture, and the sauce together and stir lightly to coat.

Serve hot over rice or noodles. Garnish with sesame seeds, if desired.
Read More