==================
A Caveat and Affiliates
First off, a little caveat: within my articles you will find affiliate links, meaning if you buy them, I get a small commission. Your cost is not affected. In addition, I am an Amazon Associate and I earn from qualifying purchases on Amazon.
And yes, if I say that I recommend a product here, it means I truly believe it is a good product. I refuse to recommend any product that I have not researched and believe to be a good value. Even better, I provide you with a very clear picture of the product, it's use, and the probable value. Earning your trust is important to me. I run this website myself and the commissions and donations help support the site. Sound reasonable and fair enough? Let's continue to the article.
==================
I'm excited to share my experience with the Nuwave Gold Precision Induction Cooktop! I've been using this amazing appliance for a few weeks now and I absolutely love it. This cooktop is incredibly versatile and provides precise temperature control for all types of cooking. I've been able to cook everything from stir-fries to vegan omelets with perfect results every time. The induction technology also heats up food quickly, so I can get dinner on the table in no time. I highly recommend this cooktop to anyone looking for a top-of-the-line cooking experience!
.
My Product Review: Nuwave Gold Precision Induction Cooktop
.
Welcome to my personal review of the Nuwave Gold Precision Induction Cooktop. I am excited to share my experience with this product and how it has helped me in my daily cooking routine. I've been using the Nuwave Gold PIC for a few weeks now, and I am extremely happy with my purchase. This is a very versatile cooktop that is perfect for any type of cooking. It has an adjustable temperature range from 100F to 575F, allowing me to cook a variety of foods with ease. The cooktop has a digital touchpad that allows me to easily control the temperature and timer settings. The cooktop also has a child lock feature which is great for safety.
The Nuwave Gold Precision Induction Cooktop heats up quickly and efficiently, so I am able to get my meals prepared in no time. The cooktop is also very attractive with a sleek design, so my kitchen looks nice. Overall, I really enjoy using the Nuwave Gold PIC and would definitely recommend it to others!
.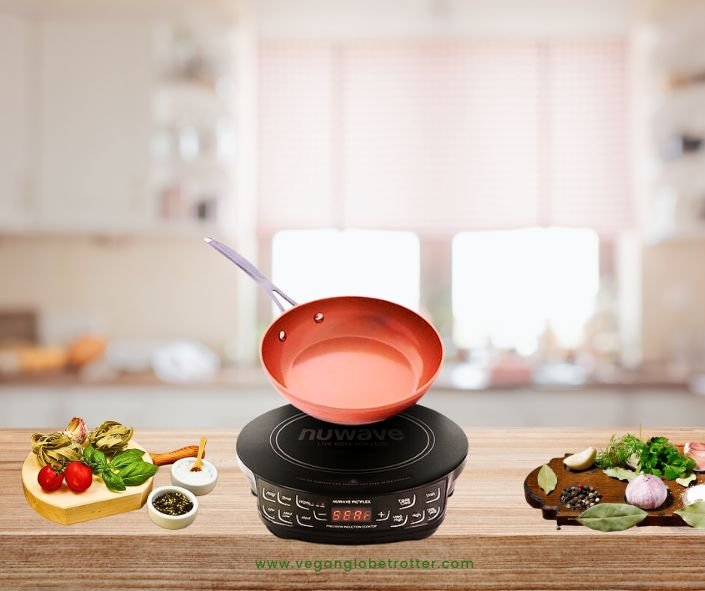 .
Getting To Know The Nuwave Gold Precision Induction Cooktop
.
Welcome, readers! I'm really excited to introduce you to the Nuwave Gold Precision Induction Cooktop. In this post, I'm going to give you a detailed review of this amazing kitchen appliance. First of all, let's talk about the features of this device. The Nuwave Gold PIC is an incredibly versatile and easy-to-use device. It comes with a variety of temperature settings that range from 100 to 575 degrees Fahrenheit, allowing you to cook almost any type of food with ease. It also has a timer, allowing you to set the cooking time to your specific needs. In addition, the Nuwave Gold PIC contains an induction-ready 10.5-inch Duralon Blue Frying Pan which is an ultra-non-stick pan. You'll also be pleased to know that this device is incredibly easy to clean and maintain, which is something I'm always looking for in appliances.
.
Specifications
.
Brand: Nuwave
Dimension: 13.88″D x 12.38″W x 2.62″H
The large size is perfect for my kitchen and gives me plenty of room to cook multiple dishes at once, making it ideal for stir-frying, sautéing, and deep-frying larger amounts of food.
Weight: 9.13 pounds
The weight of the cooktop is only 9.13 pounds, making it very easy to transport from one kitchen to another. It is a lightweight yet durable kitchen tool, making it easy to maneuver and handle.
Material: Ceramic
I am very impressed with the quality of the ceramic material used to make it. The ceramic is extremely durable and heat resistant, which makes it great for both cooking and cleaning. The surface is also very smooth and non-stick, so I don't have to worry about food sticking or burning on the cooktop.
Special Feature: Induction
Induction cooking is a more efficient, faster, and safer way to cook than traditional stovetops. The Nuwave Gold PIC provides an even heat distribution across the cooking surface, making it easier to cook with precision.
Included Components: Non-stick Frying Pan
The non-stick frying pan is made of a high-quality material that is both durable and easy to clean. It cooks food evenly and quickly, and the non-stick coating ensures that food does not stick or burn. Clean-up is a breeze – just wipe it down with a damp cloth or paper towel.
Video Credit: @QVCtv
.
Features of the Nuwave Gold Precision Induction Cooktop
.
Advanced Induction Technology
The 1500-watt Nuwave Gold Precision Induction Cooktop is made with a series of magnetic induction coils located on the cooking surface. Amazingly, these coils create magnetic fields that generate heat in steel and iron-based cookware. It's like magic! I can cook with minimal kitchen heat while still achieving delicious results.
Precise Temperature Controls
The Nuwave Gold PIC is an induction cooktop like no other. It not only allows me to heat my food quickly at high temperatures up to 575°F, but also provides great precision and control in the cooking process. I can even keep sauces warm at a low temperature of 100°F- all on the same unit! Getting precise temperature control with the digital controls of this cooker, allowing adjustments in 10° increments. It's even better equipped with a massive 100 hours of memory that lets me store my favorite cooking processes and initiate them conveniently with its delay function!
Safe and Efficient
I have experienced convenience and energy efficiency with the Nuwave Gold Precision Induction Cooktop! Cooking my food quickly and easily with this revolutionary appliance that wastes virtually no energy when in use, allowing me to save up to 90% on my energy bill. Utilizing only 1500 watts, it's a great way to both conserve resources and reduce costs. With Nuwave Gold PIC, I don't have to worry about open flames or hot coils. Plus, the area around the cooktop stays pleasantly cool. This ensures maximum safety in the kitchen and reduces accidents and fire risks significantly.
.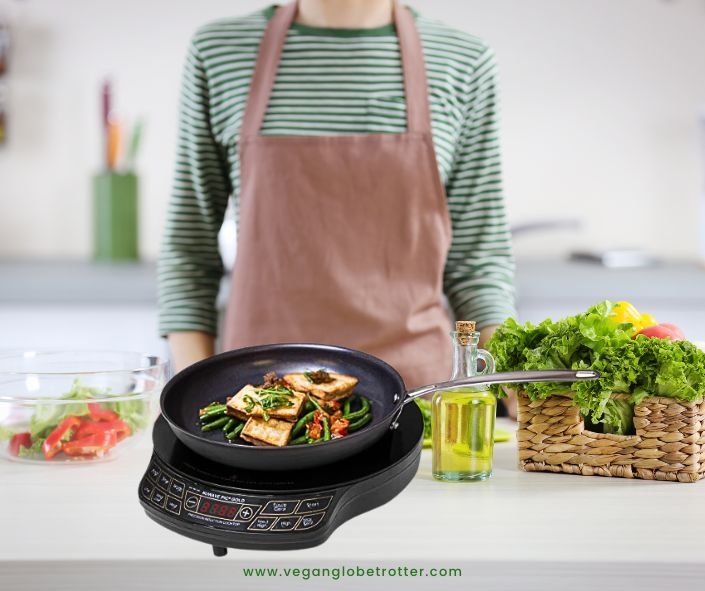 .
Nuwave Gold Precision Induction Cooktop Pros and Cons
.
As a passionate home cook, I am always on the hunt for the latest and greatest kitchen gadgets to add to my collection. Recently, I decided to give the Nuwave Gold Precision Induction Cooktop a try. After using it for a few weeks, I can confidently say that it has its pros and cons.
.
Pros
.
Power and Speed
The Nuwave Gold Precision Induction Cooktop heats up quickly and cooks food faster than traditional gas or electric stovetops. This means that I can prepare meals in a shorter amount of time, which can be especially helpful whenever I have a busy schedule.
Precision Temperature Control
It features temperature controls that allow me to cook food at specific temperatures, ensuring that my dishes are cooked to perfection every time. Additionally, because this cooktop uses electromagnetic technology, it heats only the cookware and not the surrounding area, making it a safer option for families with children or pets.
Safety Features
Since the Nuwave Gold Precision Induction Cooktop uses induction technology, the surface stays cool to the touch even when the cookware is hot. This greatly reduces the risk of burns or accidents in the kitchen, making it a great option for families with young children.
.
Cons
.
Pricey
A minor disadvantage is the high price point compared to other stovetop options. While it may be worth the investment for serious home cooks, it may not be the best choice for those on a tight budget.
Suitability
One of the main concerns with this cooktop is that it requires specific types of cookware to work effectively. Only cookware made from magnetic materials, such as cast iron or stainless steel, can be used on this cooktop. This means that if you have non-magnetic cookware, you may need to purchase new pots and pans.
Overall, the Nuwave Gold Precision Induction Cooktop is a reliable and efficient cooking appliance that can make your life in the kitchen easier. However, it's important to weigh the pros and cons before making a purchase decision to ensure that it meets your specific needs and preferences.
.
Let's Wrap It Up: Our Nuwave Gold Precision Induction Cooktop Verdict
.
In conclusion, the Nuwave Gold Precision Induction Cooktop is an excellent choice for those looking for a quality induction cooktop. It is easy to use, efficient, and offers a wide range of temperature settings. The safety features are also a great bonus, ensuring that the cooktop will not get too hot and cause any potential danger. The sleek design of the cooktop also ensures that it will look great in any kitchen. With all of these features, as well as a reasonable price, the Nuwave Gold PIC is certainly worth considering for your cooking needs. Overall, this cooktop is an ideal choice for anyone looking for a reliable and efficient kitchen appliance.
.
FAQs
.
What kind of cookware is compatible with the Nuwave Gold Precision Induction Cooktop?
The Nuwave Gold Precision Induction Cooktop is a revolutionary kitchen appliance that allows you to cook your food quickly and efficiently. It is compatible with a variety of cookware, including stainless steel, cast iron, aluminum, and copper. With the right cookware, you can take advantage of the precise temperature control and fast heating capabilities of this induction cooktop. In this article, we'll explore what kind of cookware is compatible with the Nuwave Gold PIC so you can make the most out of your cooking experience.
Are there any special features included with the Nuwave Gold Precision Induction Cooktop?
The Nuwave Gold Precision Induction Cooktop features advanced induction technology that helps you cook faster and more accurately than ever before. With its special features, such as its adjustable temperature settings, precise temperature control, and automatic shut-off feature, the Nuwave Gold PIC is sure to make your cooking experience easier and more efficient. Whether you're a beginner or an experienced chef, this induction cooktop will help you create delicious meals with ease.
How easy is it to clean the Nuwave Gold Precision Induction Cooktop?
Cleaning the Nuwave Gold PIC is surprisingly easy. With its non-stick surface, spills and messes are a breeze to clean up. All you need is a damp cloth and some mild soap and water for most daily cleaning needs. For tougher messes, like burned-on food, you can use a non-abrasive scrubbing pad with some warm soapy water to get the job done quickly and easily.
.
Must-Read Articles
.
Below are the must-read articles. You will enjoy them reading as they are full of information and helpful tips. Read them and share your thoughts!
Best Types of cookware for induction cooking
Induction Cooking Pros and Cons: Induction Cooktops
Top Tips in Seasoning Carbon Steel Pans
Induction Cooktop Vs Electric: Which is better?
Induction Cooking Health Hazards:
.
Connect With Us
.
If you tried using this Nuwave Gold Precision Induction Cooktop, take a 📸  and tag us on our social media: Facebook, Twitter, and Pinterest, and subscribe to our YouTube Channel. I'd be delighted to see it! Also, to make sure you don't miss any recipes, remember to subscribe to our email newsletter which will be delivered to your inbox every week. 📩 In addition to this, if you are looking for delicious baking recipes visit Best Baking Tips they also published a lot of healthy baking recipes!
.
Read More
.
I've provided a list of vegan dishes that are all made completely of ingredients from plants. Additionally, they make a wonderful addition to any vegan dish. These are tasty even for meat eaters. And for more vegan recipes, subscribe to our newsletter!
Sweet Potato and Kale Quesadillas
Mom's Vegan Spaghetti and "Meatballs"