Vegan Globetrotter is supported by our audience. When you purchase through one of our links, we may earn a small affiliate commission.  As an Amazon Associate I earn from qualifying purchases. Your cost is not affected.
==================
Is Ninja a good blender? Yes, and this is why this Ninja Mega Kitchen System review is here. The Ninja BL770 is a great, high-performance, and versatile machine. It crushes ice into snow, blends greens into smoothies, and does other kitchen tasks with ease. For only a few seconds, it can already make beverages, dough, dips, and more. So, it's one of the most reliable appliances that are worthy of a place on one's kitchen counter.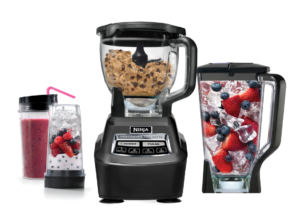 Cooking at home or for business takes time and can be tiresome. It involves a lot of meal planning and doing repetitive tasks. This kitchen tool makes it easy to have quick drinks and meals for nutrition and enjoyment. Cleaning it is a breeze too. Thus, it comes as no surprise why people buy it.
Specifics of the Ninja Mega Kitchen System Review
Today, we're going to talk about this machine and know what makes it dependable based on what it has and can do. In this review, I'm going to show you what makes it a special blender. It's when compared to other models. There are so many kitchen blenders, mixers, and food processors in the market right now. But there are things about the BL770 by SharkNinja that make it worth the attention.
Performance
Is Ninja a good blender when it comes to execution? Of course. Using either of the blending modes on the dashboard produces exceptional results. Even if the operation does make lots of sounds, the device does deliver quality blends. That is in flavor and consistency.
Crushing Ice and More
That is to say, after trying it out, it crushed small blocks of ice and converted them into slushy crystals. It took only a few seconds for this to happen. It's thanks to the 72 oz. blender pitcher with a 6-blade assembly. Also, the thorough crushing is from pressing the #3 button on the dashboard that says "crush". Even together with some fruits, the ice inside the pitcher still turns crystalline. So, it is great for having cold smoothies to serve without delay. This part of the Ninja Mega Kitchen System review alone shows that it is suitable for use in food service.
The blocks of ice had a snow-like consistency after using the big pitcher for blending. But the ice with the greens resulted in a foamy or grainy texture. Yet this isn't a big deal at all since the output tasted great and the pulse button helps with the pulverizing.
Blending
Using the "blend" mode or #2 button with the "pulse" control, the device also created a smoothie. In under a minute, the device blended slices and cubes of fruits and veggies. That would be after testing the blend mode with the 64 oz. food bowl with the 4-blade or chopping assembly. The result showed that the appliance may be ideal for making soups, dips, and sauces too. It's likely that during the blending there wasn't a lot of air which made the smoothness possible.
Single Serve
The single-serve button on the machine was able to make simple drinks from bits of fruits and veggies too. Indeed, the machine was able to deliver the right blend for one of the 16 ozs. Nutri Ninja Cups. The machine's blade rotation through the single-serve mode didn't cause too much movement. It got the consistency of the blended greens right for one serving. The output was very smooth, free of chunks, and tasty.
Product Features in This Ninja Mega Kitchen System Review
Blender
The main unit looks pretty solid. Using it is also easy to understand at first glance. Its build has indicators to show what they are for. So, it wasn't intimidating at all to try.
It comes with different speed settings, using 1500 watts of power. Its slowest rate is 3,200 RPMs and its fastest is 4,500 RPMs. A speed dial might have given better control yet it could be that the presets guarantee the best speeds. In either setting, the sounds still reach 95 dB. So, noise may be an issue for some users.
Speed Controls
#1 or Dough

#2 or Blend

#3 or Crush
Other Buttons
On/Off Switch

Pulse or Turbo Mode
Parts
Pitcher with lid

Two extra glasses

Blades

Power cord
Other Items Included
Manual

Quick Guide

Booklet With Recipes
Most of the items of the product in this Ninja Mega Kitchen System review are dishwasher safe. Aside from the reading materials, the accessories of the main unit are easy to clean. Using the product does not require thorough cleaning of the motor itself. But it would have been great had there been a compartment to stow the power cord after use.
Convenience
The dimension of the product is 9.5 x 8.25 x 17.75 inches with a weight of almost 10 pounds only. Its dimensions and weight of a little over a gallon of water made carrying and installing it easy. Plus, it has a power cord that is two feet long which makes reaching outlets effortless. Yet it is tall and looks bulky. Some homes may need to have the space to store it.
It has a dashboard with various buttons with labels to press. So, making it work was pretty straightforward. Connecting and removing parts was painless too. All it took was putting in and taking out the unit's components in order. After usage, all it needed for sanitation was to wash the whole thing with clean and soapy water.
Additionally, the machine has a non-slip base with a lever to control the suction cups. The feature makes the unit stable and thus it supports the hands-free operation. This Ninja Mega Kitchen System review recommends it because of the ease it provides.
Overview
With this product, you get a powerful yet lightweight machine with several functionalities. It works as an ice crusher, blender, and food processor for mixing, kneading, and more. Pressing buttons can already let you switch from one function to another. So, it's like you get many devices in one kitchen appliance that you can change with ease.
Is Ninja a good blender? In design, performance, and maintenance, indeed. It's because it has plenty more to offer. It comes with containers and their respective lids, spouts, and blades. These components are detachable, easy to clean, and for food handling and service. Thus, it's easy to see why this can be for home and even restaurant use.
In its box is also the manual for directions, startup guide, and booklet for food suggestions. So you get everything you need in one package.
About the Maker of the Ninja Blender
The Ninja brand or SharkNinja company made the blender model and has been around since 1993. It's been providing homes with the best kitchen appliances available. Most of what they sell are blenders and food processors. Other things they offer are indoor grills, ovens, pressure cookers, and tea makers. So, we can say that the BL770 comes from a trusted name.
The Ninja Mega Kitchen System Review Pros and Cons
Here are the summarized points about what makes this product good. Also included are factors that may be disadvantageous about this item. It's important to have a look at them before buying to at least make an informed decision and use your resources wisely.
Pros
Has many functions as a stand-alone tabletop kitchen appliance.

Gets crushing and blending done in a matter of seconds.

The dashboard provides effortless operation.

Secure because of the lock-in lids for the containers.

Stable due to the suction cups beneath it.

Has removable parts that are easy to clean and dishwasher safe.
Cons
Can appear bulky.

Noisy operation.

Only available in black.

Needs space for storage and lacks a compartment for its power cord.
Conclusion
This Ninja Mega Kitchen System review came after the experience of using the product itself. Trying it out made it possible to see how compact and practical it is to use. Not only does it have many modes for pulverizing ice and food ingredients but also quality parts. It's great for personal use and in serving others. Plus, it allows for diverse food options. Thus, it's a versatile machine that is worth getting. 
So, if people were to ask again, "Is Ninja a good blender?" The answer would be yes, followed by a recommendation of the BL770 model.
Related Articles