Vegan Globetrotter is supported by our audience. When you purchase through one of our links, we may earn a small affiliate commission.  As an Amazon Associate I earn from qualifying purchases. Your cost is not affected.
==================
Tomatillo Salsa Verde
Mexican food encompasses a mixture of spicy, fresh, sour with a slight sweetness. To be sure, Tomatillo Salsa Verde, also known as Mexican Green  Salsa represents that flavor combination well.
You will find this Mexican Green Salsa on most tables in Mexico. In fact, Mexicans consider it as common as salt and pepper. Used as a flavor enhancer and a salsa, it also helps prevent foods from drying out. Mexicans use Tomatillo Salsa Verde in preparing many dishes, too.
You will find this recipe quick to make and easy enough for teaching new cooks the basics. Of course, most salsas come together easily and quickly.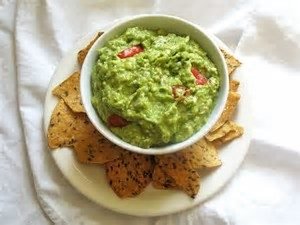 Mexican Green Salsa Recipe
Ingredients
 12 Tomatillos, about a pound (select green and hard tomatillo)

1 Jalapeno Pepper, use more if you prefer spicy

1/4 of a white Onion 

1 Garlic clove

5 Coriander sprigs

Pepper to taste
Directions
Finely chop 2 coriander sprigs and set them aside.
Put tomatillos and jalapeno pepper in a saucepan
Add enough water to cover all ingredients.
Bring to a boil over high heat.
Cook for about 5 minutes, just until the tomatillos lighten in color.

Be careful not to overcook as it will create a bitter flavor.

Put the tomatillos and pepper in a blender
Add remaining ingredients, except for the minced coriander
Blend to desired consistency
Pour into a bowl
Top with minced coriander
Mix well and serve.
Mexican Green Salsa with Avocado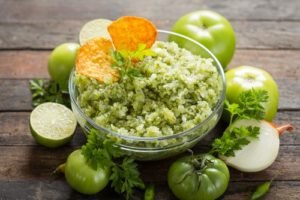 Mexicans enjoy making Tomatillo Salsa Verde with their own variation. Indeed, one that stands out adds avocado to the basic salsa recipe.
To make this variation, start with the basic recipe for Tomatillo Salsa Verde given above.
After step 9, scoop out the pulp of one avocado into a separate bowl.
Mash to a slightly chunky consistency.
Stir into the Mexican Green Salsa base.
Add minced coriander
Stir to mix well, serve.
Adding avocado gives a bit more texture and flavor. Additionally, it adds to the bright green coloring.
Enjoy it as you would other salsas. Also, try it as a companion to more substantial entrees.
Consider making a trio sampler!
Although they share similarities, each salsa hosts a unique flavor. Additionally, the colors offer a variety that showcases the Mexican theme, too. By all means, try serving a sampling to your family and friends. The colors and flavors will surely add to your dinner or appetizers!
Read More: