Vegan Globetrotter is supported by our audience. When you purchase through one of our links, we may earn a small affiliate commission.  As an Amazon Associate I earn from qualifying purchases. Your cost is not affected.
==================
I am beyond excited to share this applesauce spice cake recipe with you all! Not only is it vegan and gluten-free, but it's also incredibly delicious. The cinnamon and nutmeg create a warm and cozy flavor that pairs perfectly with the applesauce. Trust me, you'll love this cake! Applesauce Spice Cake is a cake that uses applesauce as a principal ingredient. If someone wants a spice cake recipe with no applesauce, that person missing something. The applesauce may be combined with other fruit juices, or it may be the only liquid used in the cake. Applesauce Spice Cake is usually flavored with cinnamon, nutmeg, and allspice.
Warm Gooey Applesauce Spice Cake
What's not to like about applesauce spice cake? It's vegan, warm, gooey, and full of spices. Here are a few reasons why this treat is so enjoyed by many.
The wonderful thing about applesauce spice cake is that it is a tasty combination of several spices. This includes cinnamon, nutmeg, and allspice. Together, they give the cake a unique flavor that is hard to resist. The great thing about these spices is that they can be used in other recipes as well.
Example
For example, nutmeg goes well with applesauce oatmeal while cinnamon can be used in baked goods such as pies and pastries. Allspice can also be used to add flavor to stews or soups. In addition to the spices, the applesauce itself is also a key ingredient in this cake recipe. Not only does it add sweetness, but it also helps to moisten the cake. This is important because a dry cake can be quite crumbly and difficult to eat.
Another reason why this cake is so enjoyable is that it can be eaten as a snack or for dessert. It is perfect for times when you want something sweet but does want to eat a slice of cake. The small pieces are also easy to grab and take with you on the go. That's why applesauce spice cake is a versatile treat that can be enjoyed by everyone.
Be prepared to say goodbye to your favorite cake with cream cheese frosting. If you have never had applesauce spice cake before, then you are missing out on a real treat. This cake is full of flavor and perfect for snacks or desserts. If you are looking for a unique recipe to try, then this one should definitely be at the top of your list. You can try this at home, innovate it and make a homemade spice cake recipe.
A real treat for everyone!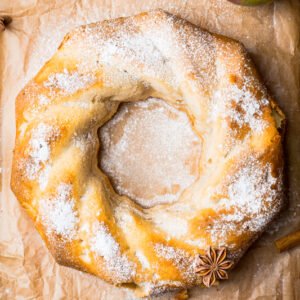 Applesauce Spice Cake
AUTHOR – GENA HAMSHAW PRINT RECIPE PIN RECIPE
Ingredients
Dry ingredients:
1

tbsp

all-purpose flour

1 1/2

cups

confectioners' sugar

1

tsp

baking powder

1/2

tsp

baking soda

2

tsp

cinnamon

1

tbsp

ginger

ground

1/2

tsp

cardamom

1/4

tsp

cloves

ground

1

tsp

kosher salt

8

oz.

raisins

regular or golden
Wet ingredients:
4

tsp

flaxseed

stir into 3 tbsp of water

16

oz.

applesauce

2/3

cups

vegetable oil
Instructions
Bake the apple spice cake:
Preheat the oven to 350°Fand grease the non-stick bundt pan.

In a medium bowl, combine all-purpose flour, confectioners' sugar, baking powder, baking soda, cinnamon, ginger, cloves, cardamom, and kosher salt.

In a separate bowl, mix the flax seed mixture, applesauce, and vegetable oil. Stir well.

Whisk together the all-purpose mixture and flaxseed mixture then add the raisins. Mix them well until fully combined.

On a prepared bundt pan, pour the mixture and bake for 60 minutes or until the toothpick inserted comes out clean.

Sprinkle with powdered sugar (white or brown sugar), slice, and enjoy!
Nutrition
Calories:
141
kcal
Carbohydrates:
27
g
Protein:
1
g
Fat:
10
g
Saturated Fat:
1
g
Polyunsaturated Fat:
5
g
Monounsaturated Fat:
2
g
Trans Fat:
0.1
g
Sodium:
211
mg
Potassium:
148
mg
Fiber:
2
g
Sugar:
3
g
Vitamin A:
9
IU
Vitamin C:
1
mg
Calcium:
25
mg
Iron:
1
mg
For More Vegan Holiday Recipes
I've provided a list of vegan dishes that are all made completely of ingredients from plants. Additionally, they make a wonderful addition to any vegan dish. These are tasty even for meat eaters, and for more vegan recipes subscribe to our newsletter.
Crock Pot Applesauce (no added sugar)
Healthy Double Chocolate Brownies
Try This Spice Cake Today!
Applesauce spice cake is a warm, gooey treat that is perfect for any occasion. If you are looking for a delicious, easy-to-make cake, this is the recipe for you!
Connect With Us
If you tried this applesauce spice cake takes a ?  and tag us on our social media: Facebook, Twitter, and Pinterest, and subscribed to our YouTube Channel. I'd be delighted to see it!
To make sure you don't miss any recipes, remember to subscribe to our email newsletter which will be delivered to your inbox every week. ? In addition to this, if you are looking for vegan baking recipes visit Best Baking Tips they also published a lot of healthy baking recipes
Read More