==================
A Caveat and Affiliates
First off, a little caveat: within my articles you will find affiliate links, meaning if you buy them, I get a small commission. Your cost is not affected. In addition, I am an Amazon Associate and I earn from qualifying purchases on Amazon.
And yes, if I say that I recommend a product here, it means I truly believe it is a good product. I refuse to recommend any product that I have not researched and believe to be a good value. Even better, I provide you with a very clear picture of the product, it's use, and the probable value. Earning your trust is important to me. I run this website myself and the commissions and donations help support the site. Sound reasonable and fair enough? Let's continue to the article.
==================
There's nothing like the smell of chocolate brownies baking in the oven. And these healthy double chocolate brownies are no exception! They're packed with antioxidants, fiber, and protein, making them a guilt-free treat you can enjoy any time. Plus, they're easy to make and only require a few simple ingredients. So what are you waiting for? Try this delicious recipe today!
Healthy Double Chocolate Brownies—YUM!
Who doesn't love a good brownie? Rich, chocolatey, and decadent – what's not to love? But traditional brownies come loaded with sugar and unhealthy fats. Not so with these healthy double chocolate brownies! Made with white wheat flour, cocoa powder, applesauce, and Swerve, they're packed with antioxidants and healthy nutrients. In fact, you can indulge without feeling guilty. So go ahead – dig in!
Scroll down to see the video
Enjoy Them as is or top with your favorite topping!
Sharing Tip
Many people need to reduce their simple carbohydrates, including sugars. This recipe makes an easy way to share delicious treats with neighbors and friends, without causing more health issues for them. Have a diabetic friend? They will especially appreciate this special treat!
In fact, these travel well to your next school or church bake sale, too! Include a list of ingredients to assure the takers that they are diet friendly.
Brownies and Ice Cream- The perfect duo!
Like Chocolate? Try our Chocolate Banana Nice Cream Recipe!
Fun Facts
Brownies are thought to have originated in Boston, MA in the early 1900's.
Most believe that Fanny Farmer adapted her own chocolate cookie recipe into this bar cookie.
Brownies are classified as a bar cookie, rather than a cake, because they are eaten as a finger food. Cake is traditionally enjoyed with a fork.
Brownies may be made either "cake-like" or "fudgey" according to personal preference.
Many legends and stories feature the origination of the brownie. One common one is that a cake fell flat and was then eaten as the first brownie.
A blondie brownie is a brownie without chocolate or cocoa.
National Brownie Day is celebrated on December 8th, each year.
Let's Gather Our Equipment First
Next, gather your ingredients.
So many people want to just start mixing, grabbing the ingredients as they go. Yes, I've done that, too. The problem? What if you are missing an ingredient? Even if you have everything, it's just quicker and easier to gather, measure, then mix.I do sometimes measure as I go along but I always gather the ingredients first. It saves time and frustration.
You can use these little ramekins for pre-measuring, if you like. I find they save me some time and a little of the last-minute mixing mess. We have several sizes from 2 oz to 16 oz. We use them for cooking and baking, but also for dipping sauces and gravies. Very handy to have!
And now, our Healthy Double Chocolate Brownies Recipe.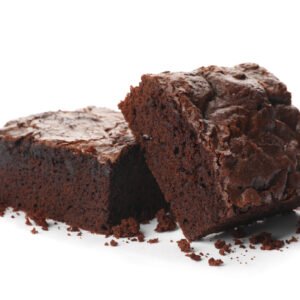 Double Chocolate Brownies
Double up on the chocolate, use a natural sweetener, and create brownies that disappear quickly! these delicious brownies remind me of those that my Grandma and Mother both made. I've modified to make it healthier and plant-based. I am pretty sure they would approve of my vegan version.
Equipment
Magnetic Measuring Spoons

Stainless Steel Bowls

Silicone whisks and spatulas
Ingredients  
4

tbsp

flax

ground

½

cup

water

½

cup

applesauce

substitute vegan butter, mashed banana or mashed avocado if you prefer

2

cup

Swerve

half brown sugar and half granulated or other preferred natural sweetener

1½

Tbsp

vanilla extract

1

cup

flour

we use white wheat

½

tsp

salt

1

tsp

baking powder

1

cup

unsweetened cocoa powder

1

cup

chocolate chips

vegan (non-dairy)
Instructions 
Make the flax eggs
In a small bowl, stir together the ground flax and the water. Set aside and allow to thicken.
Prepare your baking pan
Line a 7 x 11 pan with parchment paper. You may use an 8" square or 9" square pan but the baking time will be slightly longer.
Mix the batter
In a large bowl, whisk the applesauce and the sugars together.

Add the flax eggs and the vanilla. Whisk until well-combined.

In a separate bowl, sift together the flour and cocoa powder. Add the salt and baking powder and mix well.

Mix the flour mixture into the sugar mixture. Stir just until well-combined. Do not over-mix.

Fold in half the chocolate chips.

Pour the batter into the prepared pan, smoothing it with a spoon.

Sprinkle the remaining chips over the top of the batter.

Bake for 35-40 minutes. If using a square pan, allow extra time.

Do not over bake. They continue to firm up as they cool.

Remove from the oven and cool in the pan for about 15 minutes.

Use the parchment paper to lift the brownies from the pan and allow to cool for another 20-30 minutes. Slice and enjoy!
Notes
Notes:
I've made these with a bit less sugar, sometimes half as much, with good success. Let your tastebuds be your guide.
Some have asked about using coconut oil in place of the applesauce. We find it gives a more oily texture than what we like. If you want to try, I'd suggest maybe mixing half applesauce or banana and half coconut oil on the first try.
For a more cake-like brownie, add an addition 1/2 cup of flour to your recipe.
Variations:
Swirl in a nut butter such as peanut butter or almond butter.
Add a swirl of raspberry puree before topping with the remaining chips.
Frost with your favorite vegan icing or vegan whipped topping.
Nutrition
Calories:
97
kcal
Carbohydrates:
38
g
Protein:
2
g
Fat:
4
g
Saturated Fat:
2
g
Polyunsaturated Fat:
1
g
Monounsaturated Fat:
0.4
g
Cholesterol:
2
mg
Sodium:
104
mg
Potassium:
118
mg
Fiber:
3
g
Sugar:
5
g
Vitamin A:
2
IU
Vitamin C:
0.1
mg
Calcium:
30
mg
Iron:
1
mg
Read More