Vegan Globetrotter is supported by our audience. When you purchase through one of our links, we may earn a small affiliate commission.  As an Amazon Associate I earn from qualifying purchases. Your cost is not affected.
==================
As a vegan, you may often find yourself wondering if certain foods are vegan-friendly. Chocolate cake is a dessert that many people enjoy, but is it possible to make a chocolate cake without using dairy or eggs? This blog post will show you how to make a delicious and vegan-friendly chocolate mini-cake. The recipe is easy to follow and only requires simple ingredients that can be found at most grocery stores. So why not give it a try? Your taste buds will thank you!
Love at first bite with these decadent mini cakes!
This Chocolate Mini Cake is the perfect bite-sized dessert for any occasion! These mini cakes featured baking ingredients, cranberry, and vegan dark chocolate, they are bursting with flavor. And also, they are so easy to make, you'll be tempted to bake them all the time! Just mix together the dry ingredients, and wet ingredients, then bake in a mini muffin tin. In just minutes, you'll have irresistible Chocolate Mini Cakes that are layered with cranberry chia jam and coated with dark chocolate. This dessert will sure to impress your friends and family. So what are you waiting for? Get baking!
Chocolate Mini Cakes: FAQs Answered
This festive mini cake is the perfect way to enjoy them. Here are some frequently asked questions about this delicious dessert.
What flavors are in a chocolate cranberry mini-cake?
This cake contains rich chocolate cake, cranberry chia jam filling, and a sweet dark chocolate coating. The cake is then topped with fresh or frozen cranberries.
Where can I find a chocolate mini-cake?
You can find this cake at most bakeries during the holiday season. If you're having trouble finding it, no worries Vegan Globetrotter is the solution below is the recipe card so that you can make these mini cakes at your home; you can save it and pin it.
What pairings go well with a chocolate mini-cake?
This cake goes well with coffee or tea. If you're feeling adventurous, you can also try it with red wine.
I hope these frequently asked questions will help you. If you have any clarifications about these mini cakes don't hesitate your thoughts with us by leaving a comment below. So go ahead and try these chocolate cranberry mini cakes at your home. Enjoy and share them with your family and friends! #Happy Baking
Mini cakes with great taste!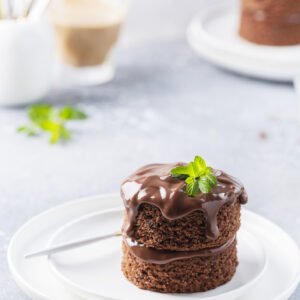 Chocolate "Christmas" Mini Cake (with Cranberry)
Delicious and moist, this Chocolate Mini Cake is the perfect holiday dessert! Made with fresh cranberries, dark chocolate, and a hint of orange, it's sure to please everyone at the table. And individual mini cakes are the perfect portion size for people watching their waistlines this season!
Ingredients
Dry Ingredients:
3/4

cup

oat flour

1/2

cup

almond flour

4

tbsp

cocoa powder

1/2

tsp

baking powder

1

tsp

baking soda

kosher salt

pinch
Wet Ingredients:
1/3

cup

maple syrup

or any natural sweetener

1/3

cup

vegetable oil

1

tbsp

flaxseed

stir into 3 tbsp of water until the seed is dissolved.

2 1/2

tsp

white wine vinegar

or apple cider vinegar

1

tsp

vanilla extract

1/2

cup

almond milk

unsweetened
Cranberry Chia Jam:
1/2

cup

water

8

oz.

cranberries

fresh or frozen

4

tbsp

orange juice

1

tbsp

maple syrup

2

tbsp

chia seeds

1

tsp

vanilla extract
Dark Chocolate Coating:
3 1/2

oz.

dark chocolate

vegan

1/2

cup

almond milk

unsweetened

1

tbsp

maple syrup

adjust to taste if needed

cranberries

topping; fresh or frozen
Instructions
Bake the cake:
Preheat the oven to 175°F and line a baking tin with parchment paper.

In a mixing bowl, mix together the oat flour, almond flour, arrowroot, cocoa powder, baking powder, and kosher salt. Mix them well.

In a separate bowl, mix together the maple syrup, vegetable oil, flaxseed mixture, white wine vinegar, vanilla extract, and almond milk. Mix them well.

Combine together the oat flour mixture and maple syrup mixture until everything is incorporated.

Pour and spread the mixtures into a prepared baking tin and bake for 25 minutes or until the inserted toothpick comes out clean; remove and allow them to cool.
Meanwhile, prepare the cranberry chia jam:
In a medium saucepan over medium-high heat, add the water, cranberries, orange juice, maple syrup, and vanilla extract. Cook them for 8 minutes.

Allow them to cool and transfer them into a mason jar. Set them aside.
To make the dark chocolate coating:
In a saucepan over medium-high heat, boil the almond milk until it boils; add the dark chocolate and maple syrup. Boil until smooth. Remove from the heat.
Now, it's time to assemble!
On a flat surface, place the cooled baked cake and cut them out into 12 shapes using a mini round cutter,

Scoop 1 tablespoon of cranberry jam using a spoon, place it on top of the round cut cake, and place the other round cut cake on top. (Just like the picture)

Drizzle with dark chocolate and top with fresh or frozen cranberries.

Serve right away and enjoy with family and friends.
Notes
Recipe Note
For the Cranberry Jam: To make them smooth, I suggest pulsing them together using a food processor.
Nutrition
Calories:
454
kcal
Carbohydrates:
46
g
Protein:
8
g
Fat:
28
g
Saturated Fat:
7
g
Polyunsaturated Fat:
9
g
Monounsaturated Fat:
6
g
Trans Fat:
0.1
g
Cholesterol:
0.5
mg
Sodium:
284
mg
Potassium:
365
mg
Fiber:
8
g
Sugar:
22
g
Vitamin A:
54
IU
Vitamin C:
11
mg
Calcium:
175
mg
Iron:
4
mg
For More Vegan Recipes
I've provided a list of vegan dishes that are all made completely of ingredients from plants. Additionally, they make a wonderful addition to any vegan dish. These are tasty even for meat eaters, and for more vegan recipes subscribe to our newsletter.
Try These Mini Cakes Today!
Love at first bite is something we guarantee with these decadent mini cakes. With a chocolate and cranberry jam filling, these FAQs Answered will tantalize your taste buds and have you reaching for seconds. So if you're looking for a great-tasting mini cake, look no further! These are perfect for parties or as an intimate dessert for two. Give them a try today!
Connect With Us
If you tried these chocolate mini cakes take a ?  and tag us on our social media: Facebook, Twitter, and Pinterest, and subscribed to our YouTube Channel. I'd be delighted to see it!
To make sure you don't miss any recipes, remember to subscribe to our email newsletter which will be delivered to your inbox every week. ? In addition to this, if you are looking for vegan baking recipes visit Best Baking Tips they also published a lot of healthy baking recipes
Read More