Vegan Globetrotter is supported by our audience. When you purchase through one of our links, we may earn a small affiliate commission.  As an Amazon Associate I earn from qualifying purchases. Your cost is not affected.
==================
Broccoli is often thought of as a healthy, but a boring, vegetable. However, these mini tarts give this humble plant a new lease on life. They are plant-based and vegan and are packed with flavor. The tarts have a crispy pastry crust and are filled with a creamy broccoli filling. They are perfect for a light meal or snack and are sure to please even the pickiest of eaters. So next time you're looking for a new way to enjoy broccoli, give these broccoli mini tarts a try they are also a fall veggie you should have in your backyard. You won't be disappointed.
The Benefits of Broccoli Tarts
Broccoli tarts are a delicious and easy way to sneak some extra vegetables into your day. But did you know that they are also incredibly healthy? Here are three reasons why broccoli tarts should be a staple in your diet.
High in fiber.
Fiber is an important part of a healthy diet. It helps to regulate digestion, prevents constipation, and can even help to lower cholesterol levels. Broccoli is a great source of both soluble and insoluble fiber, which means that it can provide all of these benefits. One broccoli tart contains 6 grams of fiber, which is almost 25% of the recommended daily intake for adults.
Good source of vitamins and minerals.
Broccoli is packed with essential vitamins and minerals, including vitamins C and K, potassium, and folate. Vitamin C is an important antioxidant that can help to boost immunity, while vitamin K is essential for blood clotting. Potassium helps to regulate blood pressure, and folate is important for pregnant women as it helps to prevent birth defects.
Low in calories.
If you are watching your weight or trying to eat healthier, then broccoli tarts are a great option. One tart contains just 103 calories, making them a perfect snack or light meal. And because they are packed with fiber and vitamins, they will leave you feeling full and satisfied.
The next time you are looking for a quick and healthy snack or meal, reach for some broccoli tarts. They are low in calories but high in fiber and nutrients, making them the perfect way to fuel your body throughout the day.
Broccoli Mini Tarts: FAQS
But I know what you're thinking: how do I make these tarts? Don't worry, I've got you covered. Below, I've answered some frequently asked questions about making these tarts so that you can make them with ease.
What type of vegan cheese should I use?
There are a variety of vegan cheeses on the market these days, so feel free to use your favorite brand. For this recipe, I used nondairy mozzarella because it melts well and has a neutral flavor that won't overpower the other ingredients. However, if you're looking for a cheesy tart with a kick, try using vegan cheddar or pepper Jack cheese.
Do I need to cook the broccoli before adding it to the tart?
No, you don't need to cook the broccoli before adding it to the tart. The high heat of the oven will cook the broccoli perfectly. However, if you prefer your broccoli on the softer side, feel free to blanch it before adding it to the tart.
Can I make these tarts ahead of time?
Absolutely! These tarts can be made up to 24 hours in advance and stored in the fridge until you're ready to bake them. Just be sure to let them come to room temperature before baking so that the cheese can melt properly.
Making vegan mini tarts is easier than you think! With just a few ingredients and some simple steps, you can have a delicious and healthy snack that is sure to please vegans and non-vegans alike. So go ahead and give these Vegan Broccoli Mini Tarts a try – I guarantee you won't be disappointed!
Time to broccol-eat! ?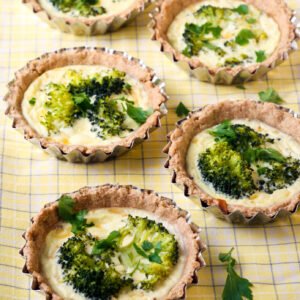 Broccoli Mini Tart
These vegan mini tarts are the perfect bite-sized treat! Filled with broccoli and vegan cheese, they are both delicious and nutritious. I love serving them as appetizers at parties or as a light lunch with a side salad.
Ingredients
For the tartlets:
3/4

cup

all-purpose flour

1/2

cup

vegan butter

1/2

cup

Parmesan cheese

finely grated

2

oz.

water
For the filling:
1

cup

broccoli florets

stalks should be roughly chopped

1

small

leek

sliced into rings

3

tbsp

flax eggs

1/2

cup

cream

vegan
Instructions
Bake broccoli mini tartlets:
Preheat the oven to 200°F and line a baking sheet.

In a food processor, add the all-purpose flour and vegan butter. Process until crumbs.

In a mixing bowl, mix the all-purpose flour mixture, and Parmesan cheese and gently add the water. Knead until the dough forms. Set them aside.

Meanwhile, blanch the broccoli florets and stalk for 2 minutes. Set them aside. In a skillet, add the butter and cook the leeks for 3 minutes or until soft.

On the floured surface area, roll out and line the dough then form them into 5 tarts using a fork. Once formed, bake them for 10 minutes at 200°F; remove.

Meanwhile, in a large mixing bowl, toss to combine the flax eggs, vegan cream, cooked leeks, and stalks, and season with black pepper and kosher salt.

Spoon the mixture and add them to baked tartlets then topped with broccoli florets; repeat on the remaining baked tartlets.

Bake them for 30 minutes or until the tartlets are golden brown.
For More Vegan Recipes
I've provided a list of vegan dishes that are all made completely of ingredients from plants. Additionally, they make a wonderful addition to any vegan dish. These are tasty even for meat eaters, and for more vegan recipes subscribe to our newsletter.
Creamy Potato Broccoli Casserole
To Wrap It All Up
Broccoli is a delicious and nutritious vegetable that can be enjoyed in many different ways. These mini tarts are a great way to get your daily dose of broccoli while enjoying a tasty treat. If you have any questions about the recipe or ingredients, feel free to leave them in the comments section below. Happy cooking!
Connect With Us
If you tried these broccoli mini tarts take a ?  and tag us on our social media: Facebook, Twitter, and Pinterest, and subscribed to our YouTube Channel. I'd be delighted to see it!
To make sure you don't miss any recipes, remember to subscribe to our email newsletter which will be delivered to your inbox every week. ? In addition to this, if you are looking for vegan baking recipes visit Best Baking Tips they also published a lot of healthy baking recipes.
Read More