Vegan Globetrotter is supported by our audience. When you purchase through one of our links, we may earn a small affiliate commission.  As an Amazon Associate I earn from qualifying purchases. Your cost is not affected.
==================
Do you love risotto, but not all dairy? This vegan version of the classic Italian dish is creamy and delicious, made with sweet potatoes, vegetable broth, and white wine. You'll love this hearty and comforting dish on a cold winter night. Best of all, it's easy to make – simply cook the rice in broth until tender, then add the sweet potatoes and wine. Stir until everything is creamy and warmed through. Serve with a sprinkle of Parmesan cheese if desired. Enjoy!
Perfectly Comforting Dish for Everyone
When it comes to comfort food, there are few dishes that can beat a warm, hearty plate of risotto. And this sweet potato risotto recipe is the perfect blend of savory and sweet, making it a perfectly comforting dish for vegans and meat-eaters alike. Here's why this recipe is so delicious and why you should give it a try.
The Secret to Deliciousness: Vegan Sweet Potato Risotto
The key to this recipe is in the vegan sweet potato risotto. This creamy, dreamy dish is made by simmering Arborio rice in a vegetable broth until it's nice and tender. Then, coconut milk, nutritional yeast, and spices are added for extra flavor. The result is a rich, creamy dish that's packed with flavor. And the best part? It's all vegan! So whether you're looking for a comforting meat-free meal or you're just trying to eat more plants, this recipe is perfect for you.
How to Make it Perfectly Comforting
Of course, what makes this dish truly comforting is how you serve it. I like to top mine with a generous helping of sautéed kale and mushrooms. But you could also top it with roasted Brussels sprouts or roasted cauliflower. Really, the sky's the limit when it comes to toppings. Just choose your favorite veggies and go to town.
There's nothing quite like a warm, comforting plate of risotto on a cold winter day. And this vegan sweet potato risotto recipe is the perfect blend of savory and sweet. So why not give it a try? You might just find that it's your new favorite comfort food.
Sweet Potato Risotto: FAQS Answered
A  vegan sweet potato risotto is a creamy, flavorful rice dish made with Arborio rice, sweet potato, and vegetable broth. It's the perfect comfort food for a chilly night in, and it's also surprisingly easy to make! Here are answers to some of the most frequently asked questions about making a vegan sweet potato risotto.
Is risotto hard to make? 
Risotto is actually quite simple to make, despite its reputation as a fancy dish. The key to making a good risotto is to be patient and to stir often so that the rice absorbs all of the flavors from the broth. Other than that, it's just a matter of adding the ingredients in the right order and letting the dish simmer until it's creamy and delicious.
What type of rice do I need for risotto? 
You'll need short-grain Arborio rice for this recipe. Arborio rice is starchy, which gives risotto its characteristic creaminess. Do not use long-grain rice or brown rice in this recipe, as they will not produce the same results.
Do I have to use sweet potato? 
No, you can actually use any type of potato that you like in this recipe. However, we think that sweet potatoes add a lovely sweetness and depth of flavor to the dish that can't be beaten. Give it a try and see for yourself!
We hope that these FAQs have been helpful in getting you started on making your very own vegan sweet potato risotto. Remember, the key is to be patient and to stir often! If you do that, you'll end up with a creamy, delicious dish that's sure to please everyone at the table. Happy cooking!
Italian Vegan Dish: Sweet Potato Risotto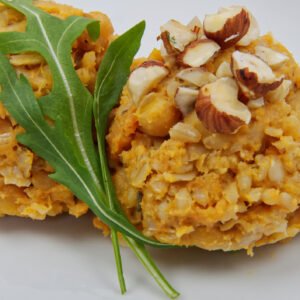 Sweet Potato Risotto
This Italian risotto vegan dish features Arborio rice, vegetable broth, sweet potato, and vegan cheese. This dish is rich and flavorful, and it makes a great main course or side dish for the fall season, Thanksgiving day, or winter season.
Ingredients
Easy-to-find ingredients:
2

large

sweet potato

peeled and chopped into cubes

1

tsp

paprika

3/4

tsp

nutmeg

kosher salt

sprinkle

black pepper

sprinkle

6

tbsp

vegetable oil

divided

7

tbsp

vegan butter

divided

2

large

shallots

diced

3

cloves

garlic

minced

1 3/4

cups

Arborio rice

1 1/2

cup

white wine

5

cups

vegetable broth

3

oz

goat cheese

vegan

3/4

cup

Parmesan cheese

vegan, finely grated

4

tbsp

sage

chopped and divided
Instructions
Puree the sweet potato:
Preheat the oven to 400°F and line a baking sheet.

Toss to combine the sweet potatoes, vegetable oil, nutmeg, paprika, kosher salt, and black pepper in a large mixing bowl and spread them on a baking sheet.

Bake for 25 minutes; remove from the oven and mash the sweet potatoes until pureed. Set aside.
Cook the Arborio rice:
In a medium saucepan over medium-high heat, melt the vegan butter with the vegetable oil and saute the shallot for 2 minutes.

Add the garlic and cook for 20 seconds, then add the Arborio rice and cook until coated with vegan butter or for 1 minute.

Continue cooking the rice over low heat, then deglaze the saucepan with white wine and add the vegetable broth. Let it simmer for 20 minutes or until the rice is soft.
Serve and enjoy!
Meanwhile, heat the remaining vegan butter in a skillet for 3 minutes, then add the sage and cook for 30 seconds more; remove from the heat and set aside.

Stir to combine the sweet potato puree, vegan Parmesan cheese, vegan goat cheese, and brown vegan butter.

On your favorite bowl or plate, transfer the cooked rice and combine the sweet potato puree mixtures. Garnish with some sage and grated Parmesan cheese.
Notes
Vegan Globetrotter Tips & Suggestions
Serving Suggestions
Main dish: Try serving it with a green salad and some crusty bread.
Side dish: Pair it with tofu or tempeh. 
Recipe Notes
Be sure to use Arborio rice for this recipe, as it is a short-grain rice that has a high starch content. This is what gives risotto its signature creaminess. When cooking the rice, be sure to stir constantly so that it doesn't stick to the bottom of the pot and burn. 
Storing Tips
Stored in an airtight container in the fridge for up to 3 days. When you are ready to reheat it, add a little water or broth and heat it in the microwave or on the stove until it is warm throughout. 
Variations
Try adding other veggies like mushrooms, kale, or peas. You could also switch out the feel Top your risotto with shredded vegan cheese, chopped parsley, or crumbled tofu or tempeh before serving. 
Nutrition
Calories:
4096
kcal
Carbohydrates:
457
g
Protein:
79
g
Fat:
186
g
Saturated Fat:
55
g
Polyunsaturated Fat:
66
g
Monounsaturated Fat:
55
g
Trans Fat:
1
g
Cholesterol:
90
mg
Sodium:
7252
mg
Potassium:
3253
mg
Fiber:
34
g
Sugar:
48
g
Vitamin A:
104340
IU
Vitamin C:
29
mg
Calcium:
1449
mg
Iron:
26
mg
For More Vegan Recipes
I've provided a list of vegan dishes that are all made completely of ingredients from plants. Additionally, they make a wonderful addition to any vegan dish. These are tasty even for meat eaters, and for more vegan recipes subscribe to our newsletter.
Pumpkin Risotto-Comforting Meal
Autumn Carrot-Sweet Potato Soup
Vegan Potato Soup Recipe; Comfort Food!
What Are You Waiting For?
Now that you know all there is to know about sweet potato risotto, we hope you'll give this delicious dish a try. It's the perfect comfort food for any occasion – and with our helpful tips, you'll be whipping up perfectly cooked risotto in no time. So what are you waiting for? Grab some sweet potatoes and get cooking!
Connect With Us
If you tried this sweet potato risotto takes a ?  and tag us on our social media: Facebook, Twitter, and Pinterest, and subscribed to our YouTube Channel. I'd be delighted to see it!
To make sure you don't miss any recipes, remember to subscribe to our email newsletter which will be delivered to your inbox every week. ? In addition to this, if you are looking for vegan baking recipes visit Best Baking Tips they also published a lot of healthy baking recipes.
Read More