==================
A Caveat and Affiliates
First off, a little caveat: within my articles you will find affiliate links, meaning if you buy them, I get a small commission. Your cost is not affected. In addition, I am an Amazon Associate and I earn from qualifying purchases on Amazon.
And yes, if I say that I recommend a product here, it means I truly believe it is a good product. I refuse to recommend any product that I have not researched and believe to be a good value. Even better, I provide you with a very clear picture of the product, it's use, and the probable value. Earning your trust is important to me. I run this website myself and the commissions and donations help support the site. Sound reasonable and fair enough? Let's continue to the article.
==================
Are you in need of some comfort food? Look no further than this creamy sweet potato curry! It's vegan, hearty, and oh-so-delicious. Plus, it's really easy to make. So go ahead and curl up on the couch with a bowl of this goodness. Fall is the perfect time to cozy up with a big bowl of curry. This sweet potato curry is sure to become a new fall favorite. The best part it's perfect for meat-free Mondays. To make this dish, simply combine sweet potatoes, red lentils, and garbanzo beans with a flavorful mixture of spices. Serve over steamed rice and top with wilted baby spinach. So warm up this fall with a bowl of this nourishing and delicious sweet potato curry. You won't regret it!
Sweet Potato Curry: You won't Regret Making It!
Let me tell you a story. I used to be a picky eater. I would never try new foods, and I definitely never would have considered eating something like sweet potato curry. But then, one fateful day, I decided to step out of my comfort zone and try something new. I am so glad that I did because something new turned out to be delicious!
These days, I am much less afraid of trying new things, and as a result, my diet is more varied and interesting than it used to be. Plus, I have discovered that I actually quite like spicy food! So trust me when I say that this sweet potato curry is worth making, even if you're not sure that you'll like it. It might just surprise you.
To make this vegan curry, you will need,
In this vegan sweet potato curry, you will need a few ingredients and I think they are already in your pantry. But if you don't of the ingredients no worries as they are available in the supermarket.  To make this vegan curry, you will need…
1. Sweet Potato: I used fresh from the backyard and it tastes so good!
2. Chickpeas: If chickpeas are not your thing, feel free to use lentils as a replacement for chickpeas. As they are also working on this vegan curry.
3. Red curry paste: It acts as the base of this recipe and adds vibrant color to make this delectable vegan dish.
4. Ginger: Served as your natural spices, so don't skip this one.
5. Coconut milk: This gives a creaminess to the recipe, you can also use your favorite full-fat plant-based milk.
6. Baby spinach: I also add kale to make this recipe a more earthy vegan dish.
7. Lime juice & water: They use to balance the creaminess, and adjust to taste if needed.
8. Kosher salt & black pepper: Season to taste with them to add tastier.
So, if you have them why not this sweet potato curry give a try today? Fear not! They are easy to make and you can make in advance this sweet potato curry
Sweet potato curry in just 30 minutes!
This vegan sweet potato curry is a quick and easy recipe that is packed with flavor. It is perfect for a weeknight dinner or a weekend meal prep. The best part about this curry is that it can be made in under 30 minutes! So below a quick over on how to make is sweet potato curry.
1. Saute the garlic and ginger, then add the curry paste.
2. Then, add the sweet potatoes, chickpeas, milk, and water.
3. Season with kosher salt and black pepper.
4. Cook for 30 minutes or until the sweet potatoes become tender.
5. Serve with rice. Share and enjoy!
I told you they are easy to make you all need is patience to wait. So give this sweet potato curry a try today! They are perfect for the fall season and on Thanksgiving day. Below is the recipe card where you can find the measurements of each plant-based ingredient. In addition, you can save them into interest and print them in case you want to make this healthy sweet potato curry.
Looking for more holiday vegan recipes to add to your vegan diet?
Well, satisfy your tastebuds with our healthy and delicious: Mini Pumpkins Cream Puffs, Pumpkin Alfredo Pasta Recipe, Vegan Maple Pumpkin Overnight Oats, Vegan Pumpkin Pie Smoothie, Apple Cranberry Crisp, Pumpkin Alfredo Pasta Recipe, Butternut Squash Pancakes, 20-minute Pumpkin Soup, Air fryer Cinnamon Rolls, Delicious Dairy-Free Pumpkin Spice Latte Recipe, Pumpkin Spice Fudge, Sweet Potato Pie Cupcakes with Cinnamon Frosting, Autumn Salad, Apple Cinnamon Waffles, Autumn Pizza with Vegan Gouda Cheese, Pumpkin Spice Fudge, Delicious Dairy-Free Pumpkin Spice Latte Recipe, Vegan Butternut Squash Curry with Chickpeas,  Teriyaki Tofu-Tempeh Casserole, Butternut Squash White Bean Kale Stew, Vegan Spaghetti Squash with Marinara Sauce, Sweet Potato Shepherd's Pie Casserole, Autumn Carrot-Sweet Potato Soup, Apple Cider Bourbon Cocktail-Alcohol Free, Vegan Pumpkin Cream Cold Brew, Dairy-free Pumpkin Ice Cream, Pumpkin Risotto-Comforting Meal, Autumn Spice Pear Cobbler, Roasted Butternut Squash Burger, Pear, Pumpkin, and Ginger Mocktail, and Air fryer Butternut Squash Fritters.
The recipes I've listed are perfect for Thanksgiving, the fall season, and even the winter months. They are very delicious and fully made of plant-based ingredients. They are an excellent addition to your vegan diet and, best of all, will appeal to both vegetarians and non-vegetarians, so add them to your list of vegan dishes.
So why not give this a recipe try today? They are easy to make and perfect for thanksgiving day and the fall season. Save this recipe and share it with your family and friends.
Serve warm and enjoy!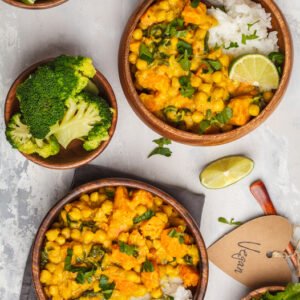 Sweet Potato Curry
It is made with sweet potatoes, coconut milk, and a variety of spices. The result is a creamy and flavorful curry that is sure to please even the most discerning palate. Serve it over rice or quinoa for a complete meal.
Ingredients  
Start gathering the:
3

tbsp

olive oil

1 1/2

tbsp

ginger

peeled and minced

3

cloves

garlic

minced

4

tbsp

red curry paste

vegan

3

medium

sweet potatoes

peeled and cut into cubes

1

can

chickpeas

or lentils

1 1/2

cups

coconut milk

full-fat

4

oz.

water

2 1/2

tbsp

lime juice

or adjust to taste

1

cup

baby spinach

kosher salt

season to taste

black pepper

season to taste

cooked rice

or quinoa, for serving (optional)
Instructions 
Make a healthy sweet potato curry:
Over medium-high heat, saute the garlic and ginger for 2 minutes. then, add the red curry paste and continue to cook for another 2 minutes.

Add the chickpeas, sweet potatoes, water, and coconut milk, and season with kosher salt and black pepper. Cook for 15 minutes.

Stir to combine the baby spinach for 1 minute and add the lime juice.

Served warm with cooked rice.
Nutrition
Calories:
1731
kcal
Carbohydrates:
161
g
Protein:
20
g
Fat:
119
g
Saturated Fat:
72
g
Polyunsaturated Fat:
6
g
Monounsaturated Fat:
35
g
Sodium:
452
mg
Potassium:
3325
mg
Fiber:
24
g
Sugar:
34
g
Vitamin A:
108471
IU
Vitamin C:
48
mg
Calcium:
406
mg
Iron:
18
mg
For More Vegan Curry Recipes
The recipes below are perfect for the fall season and a great addition to your vegan meal. So, if you are looking for a vegan recipe for fall the season look no further than these recipes below. And for more vegan recipes, don't forget to subscribe to our newsletter!
1. Vegan Butternut Squash with Chickpeas
2. Smooth Coconut Lentil Curry
4. Curried Lentil and Sweet Potato Bowl
To Wrap It All Up
This vegan sweet potato curry is easy to make and only takes 30 minutes! All you need is a few simple ingredients that you likely already have in your pantry. This dish is perfect for a quick and healthy weeknight meal. Serve it over rice or quinoa and enjoy!
Connect With Us
If you tried this vegan sweet potato curry, take a 📸  and tag us on our social media: Facebook, Twitter, Pinterest, and Instagram, and subscribed to our YouTube Channel.  I'd be delighted to see it! To make sure you don't miss any recipes, remember to subscribe to our email newsletter which will be delivered to your inbox every week. 📩
Read More
Cutting Boards for Vegan Kitchen Use
Leafy Vegetables For Great Health