Vegan Globetrotter is supported by our audience. When you purchase through one of our links, we may earn a small affiliate commission.  As an Amazon Associate I earn from qualifying purchases. Your cost is not affected.
==================
If you're looking for a simple, yet elegant vegan dish to serve at your next dinner party and Christmas party, look no further than Hasselback potatoes with pesto. This dish is easy to prepare, and the pesto gives it a delicious boost of flavor. Best of all, it's sure to impress your guests! So why not give it a try?
Hasselback Potatoes with Pesto
If you're looking for a new way to enjoy potatoes, Hasselback potatoes are a great option. Named for the Swedish restaurant where they were created, Hasselback potatoes are thin slices of potato that are lightly seasoned and baked. They can be enjoyed as a side dish or appetizer, and they're a great way to add some extra flavor to your meal. Here are just a few reasons why Hasselback potatoes are worth trying:
1. Easy to make.
2. It is versatile you can season them however you like.
3. Impressive, but they're actually quite simple to prepare.
4. Great way to use up small or odd-shaped potatoes.
5. Fun and interesting way to change up your usual potato routine.
So why not give Hasselback potatoes a try? You might just find that you love them!
Hasselback Potatoes with Pesto: FAQS Answered
I hope these frequently asked questions will help you but if you have any questions about this recipe leave a comment below. So we can update these FAQS-answered questions.
Can I use any type of potato for this recipe?
While you can technically use any type of potato, we recommend using Yukon Gold or Russet potatoes for the best results. These varieties tend to be dense and will hold up better during the slicing and baking process.
What should I serve my Hassleback potatoes with?
There are endless possibilities when it comes to topping your Hassleback potatoes. Some of our favorites include pesto,  vegan cheese, vegan bacon, and vegan sour cream. Get creative and experiment until you find your perfect combination!
Why not try this recipe today? They are perfect for any holiday occasion, especially on Christmas day. Share your expereince with us by tagging us on our social media pages.
Below is the recipe card just grab the ingredients and follow the instructions. No worries they are easy to make with easy-to-find ingredients. Happy cooking!
A must-try holiday potato recipe!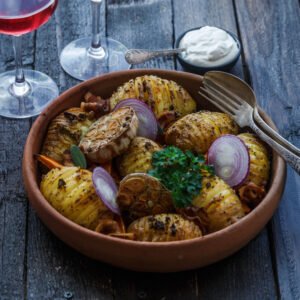 Hasselback Potatoes with Pesto
It is a delicious and easy way to elevate your weekly potato dish for the Christmas season or any occasion. They are simply potatoes that have been thinly sliced, seasoned, and baked until crispy.
Ingredients
Hasselback potatoes:
2

large

potatoes

1/3

cup

olive oil

1

bunch

thyme

fresh leaves

kosher salt

sprinkle

black pepper

sprinkle
Homemade Pesto:
3/4

cup

pine nuts

3

tbsp

lemon juice

1/2

tsp

kosher salt

1/4

tsp

black pepper

4

cups

olive oil

2

cups

basil leaves
Serve with:
3

large

kale

handful, chopped

2

small

red onion

1 1/2

cups

black beans

drain and rinse; cooked

2

cups

cherry tomatoes
Instructions
Bake the Hassleback potatoes:
Preheat the oven to 400°F and line a baking tray with parchment paper.

Wash and slice lightly the potatoes; brush with olive oil, sprinkle with kosher salt and black pepper, and top with thyme.

Line them in a prepared baking tray and bake them in a preheated oven for 30 minutes. Set them aside.
Meanwhile, prepare the pesto:
In a food processor, pulse until combine the lemon juice, pine nuts, garlic, kosher salt, and black pepper pulse until the nuts are well chopped.

Then add the basil leaves and olive oil and pulse them again until everything is combined; transfer into a clean bowl.
Now, prepare the serving:
Thinly slice the onion and cherry tomatoes then transfer them to a mixing bowl

Toss to combine with kale and beans, drizzle with olive oil, and sprinkle with kosher salt and black pepper.

Around the baked Hassleback potatoes arrange the seasoned onion, tomatoes, kale, and beans.

Bake them for 20 minutes or until the potatoes are crispy.
Serve and enjoy!
Serve warm and drizzle with prepared pesto over the baked potatoes, onion, tomatoes, kale, and beans.
Nutrition
Calories:
10092
kcal
Carbohydrates:
249
g
Protein:
64
g
Fat:
1011
g
Saturated Fat:
135
g
Polyunsaturated Fat:
135
g
Monounsaturated Fat:
703
g
Sodium:
1365
mg
Potassium:
6422
mg
Fiber:
57
g
Sugar:
29
g
Vitamin A:
21332
IU
Vitamin C:
423
mg
Calcium:
808
mg
Iron:
30
mg
For More Vegan Recipes
I've provided a list of vegan dishes that are all made completely of ingredients from plants. Additionally, they make a wonderful addition to any vegan dish. These are tasty even for meat eaters, and for more vegan recipes subscribe to our newsletter.
Try These Hasselback Potatoes Today!
If you're looking for a new and interesting holiday potato recipe, look no further than Hasselback potatoes with pesto. This dish is full of flavor and sure to impress your guests. Plus, it's easy to make ahead of time so you can enjoy stress-free entertaining. For all the FAQs answered about this delicious side dish, check out our blog post.
Connect With Us
If you tried these Hasselback potatoes take a ?  and tag us on our social media: Facebook, Twitter, and Pinterest, and subscribed to our YouTube Channel. I'd be delighted to see it!
To make sure you don't miss any recipes, remember to subscribe to our email newsletter which will be delivered to your inbox every week. ? In addition to this, if you are looking for vegan baking recipes visit Best Baking Tips they also published a lot of healthy baking recipes
Read More