Vegan Globetrotter is supported by our audience. When you purchase through one of our links, we may earn a small affiliate commission.  As an Amazon Associate I earn from qualifying purchases. Your cost is not affected.
==================
Vegan Pesto Pasta Salad-Dairy Free
Craving for summer salad with a touch of pesto wiki? If so, this vegan pesto pasta salad is all you need! This is dairy-free, delicious, healthy, and filled with arugula, cherry tomatoes, peas, and topped with walnuts pesto. Vegan pesto wiki pasta salad has always been my favorite vegan pasta salad. It's simple to prepare vegan and full of flavor. I'm a huge fan of basil, so this hearty vegan pasta recipe is right up my alley.
A good pasta salad is one of my favorites. They're not just for picnics, cookouts, or even summer in general, contrary to common assumption! A nice pasta salad may be enjoyed all year, especially if it's as simple as this one. There are several ways to make this vegan pesto pasta salad with parmigiano reggiano. To begin with, you have the option of using store-bought pesto or making your own. Homemade pesto is actually rather simple. However, if you prefer store-bought, that is perfectly acceptable.
What Is Pesto?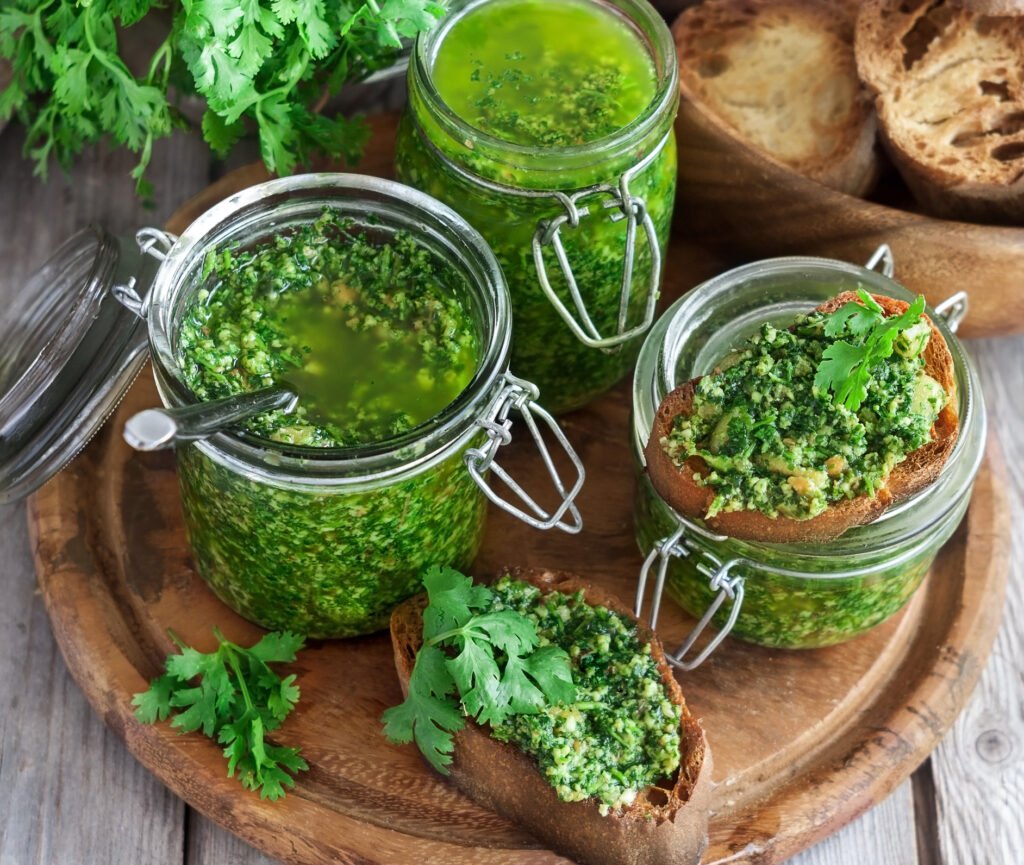 Pesto is a basil sauce made with pine nuts, garlic, Parmesan cheese, and olive oil. It comes from Genoa, Italy, and is usually served with pasta. Pesto is derived from the Genoese verb "pestare," which literally means "to crush."
Substitution Tips For Pesto
Basil and pine nuts are both costly and difficult to find. Fortunately, there are a variety of good pesto substitutes available!
RATHER THAN BASIL….
To make homemade pesto, you'll need a lot of fresh basil, whether it's from spinach, arugula, or kale. To reduce the amount of basil, we usually always add a large handful of greens. More affordable and just as delicious!
Carrot tops: at long last, a practical application for carrot tips! This is a fantastic method to reduce food waste while also trying something new. Try out this recipe.
Parsley is the ideal herb to use in place of basil. If you have both parsley and basil on hand, combine them.
For More Salad Recipes
It's summer time! Let's make this mouth-watering vegan pesto pasta salad.
Vegan Pesto Pasta Salad You'll Love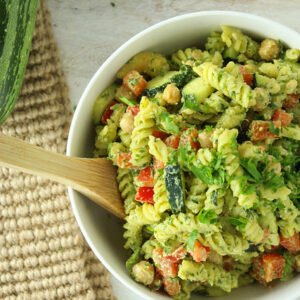 Vegan Pesto Pasta Salad
A vegan pesto pasta salad with loads of greens and a dairy-free walnut pesto sauce inspired by the Mediterranean diet. The ideal dish to serve at summer gatherings and celebrations! In a bowl, pesto pasta is topped by arugula and tomato. 
Ingredients
For The Vegan Walnut Pesto:
1-2

cups

baby arugula

1-2

cups

fresh basil

1

tbsp

olive oil

extra virgin

3

tbsp

lemon juice

2

cloves

garlic

kosher salt

to taste

1/2

cup

walnuts

raw
For The Pasta Salad:
1

pound

rotini pasta

or other gluten-free pasta

2

cups

peas

thawed, frozen

1

small

cherry tomatoes

chopped

1

cup

baby arugula

fresh

16

tbsp

walnuts

roasted and chopped

kosher salt

to taste

black pepper

to taste

1

tbsp

olive oil

optional, extra virgin
Instructions
For The Walnut Pesto:
In a food processor, pulse the walnuts, basil, oil, arugula, garlic, lemon juice, and salt. Blend till smooth. Set them aside.
For The Pasta Salad:
Boiled the pasta as per the package directions. Drain and rinse with the cold water.

In a salad bowl, add the pasta with peas, arugula, tomatoes, olive oil, and roasted walnuts.

Topped with prepared pesto, if desire you can add more to coat all the pasta. Season to taste with salt and pepper.

Serve or keep in the refrigerator for at least 1 hour. Enjoy!
Nutrition
Calories:
227
kcal
Carbohydrates:
26
g
Protein:
7
g
Fat:
11
g
Saturated Fat:
1
g
Polyunsaturated Fat:
7
g
Monounsaturated Fat:
3
g
Sodium:
4
mg
Potassium:
188
mg
Fiber:
3
g
Sugar:
2
g
Vitamin A:
285
IU
Vitamin C:
10
mg
Calcium:
32
mg
Iron:
1
mg
If you make this vegan pesto pasta salad share with us your experience and tag us on our social media pages: Facebook, Twitter, Pinterest, Instagram, and subscribed to our YouTube Channel.
READ MORE:
What Spices Go Well With Vegetables?
Is Whole Grain Pasta Healthier?
Store-Bought Salad vs. Homemade Salad