Vegan Globetrotter is supported by our audience. When you purchase through one of our links, we may earn a small affiliate commission.  As an Amazon Associate I earn from qualifying purchases. Your cost is not affected.
==================
Italian Ciambotta:
a vegan yummy recipe for every occasion!
Italian Ciambotta, a preparation of other times belonging to the culinary tradition of Puglia, Italy, consists of only vegetables. In fact, Ciambotta represents a dish of vegetables available to the poor. Of course, those with little financial means find this a common traditional meal. However, it offers health benefits, in addition to economy.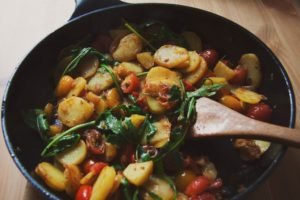 Often eaten as a great side dish, Ciambotta presents as a unique dish, given the variety of vegetables it includes.   Excellent toasted bread often accompanies this dish. For this recipe, you will need: zucchini, cherry tomatoes, peppers, potatoes, and eggplant all mixed with fresh herbs and spices such as basil, oregano, some salt and black pepper. Buying all organic and fresh vegetables offers the best choice to really enjoy the main benefits of this plant-based recipe. Also, cooking the Ciambotta with no oil but adding it at the end with a topping of just a teaspoon of extra virgin olive oil, or Evoo, will optimize this traditional dish to even greater health benefits.
All the vegetables you will add to your Ciambotta (especially zucchini, peppers, and eggplants) are so good for your body, providing you the right amount of vitamins and nutritional properties to boost your immune system and help prevent several diseases.  In fact, Italian Ciambotta was used as a precautionary recipe to prevent or recover from a cold and to fight the seasonal flu.
Indeed, these easy to find ingredients and the easy-to-follow procedure ensures you may enjoy it frequently. Let's find out how to create the perfect homemade Ciambotta!
The recipe
How to prepare your homemade healthy, yummy and vegan Ciambotta
Preparation 20 minutes
Cooking time 30 minutes
Makes: (4 servings)
Ingredients  
2 Bell peppers, 1 red, 1 yellow
1 Eggplant
2 Zucchini
3 Potatoes
1 pint cherry tomatoes
2 tsp each:
1 tsp Extra Virgin Olive Oil
salt to taste
1/2 tsp black pepper
Directions:
Remove seeds and white membranes from peppers. Cut into bite-sized pieces. Set aside.
Dice potatoes. Put into bowl with very cold water (to prevent discoloring due to oxidizing)
Slice then chop eggplant. Put into a large pot.
Drain potatoes and add to the pot.
Cut zucchini into thick washer shapes.
Slice tomatoes and set aside.
Sauté peppers in olive oil over medium heat until softened.
Combine remaining vegetables;  continue cooking about 15 minutes, until almost done.
Add the basil, oregano, salt, and pepper. Continue cooking until done.
Serve hot. Top with additional olive oil, if desired.
Extra tips:
Adding oil and then cooking with just some water added to the preparation will give you a healthier result. Also, avoiding frying ensures boosting all the great benefits all these green ingredients. In addition, the final spices offer the perfect addition to this recipe. They boost your metabolism and empower the curative properties of the Ciambotta!
Curiosity:
The Ciambotta is a typical vegetable dish of Puglia. Because the bouillon was born as a poor dish for fishermen's families, no real recipe existed. Instead, families cooked together several different varieties of fish and seafood with tomatoes, water, and a green pepper. Over time, this led to a  completely vegan version.