Vegan Globetrotter is supported by our audience. When you purchase through one of our links, we may earn a small affiliate commission.  As an Amazon Associate I earn from qualifying purchases. Your cost is not affected.
==================
Mom's Lemon Curd Recipe was always delicious!
A traditionalist who liked to add a bit of flair, my Mom easily took a simple recipe and made it a bit more special. Such was the case with her Lemon curd recipe. While she experimented with some that included eggs, she often went for the more creamy version, like this one. We enjoyed sampling the curd itself. But when she used them to fill her fresh, homemade danish, our tastebuds began dancing!
My Mom loved to bake and it served her quite well. Her skills allowed her to make such delectable treats using lemon curd and other fillings. These included danish, tartlets, pies, turnovers, and more. I'm certain that my Mom could make just about any kind of baked good, as well as the healthy meals she served us. And while bread and pies became her specialties, her other baked goods were just as well-received.
Try this curd as a dish in itself. Or add a bit of fruit and some vegan cream for a delicious parfait. But don't forget to include some of our other dessert recipes such as danish, tarts, and pies to try this lemon curd, too.
And for those who don't love spending all day in the kitchen, this recipe speaks to you, too! You need about 5 minutes prep and about 5 minutes to cook. Then, place it in the refrigerator until it reaches the temperature you need.
That's it!
Of course, if you decide to spend a bit more time, you might include it in your next danish recipe or lemon bars. But it tastes delicious as is, too.
The Lemon Curd Recipe We Love!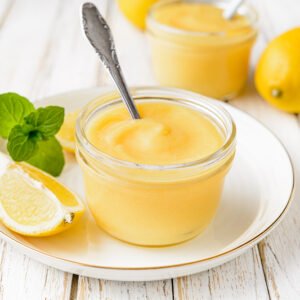 Lemon Curd
This deliciously lemon curd makes a flavorful pudding or pie filling. We like it in Phyllo crust as tartlets. You might need to double this recipe! Inspired by my Mom's lemon curd recipe made with sugar and milk. I modified the amounts to create a truly healthy vegan version.
Ingredients
¾

cup

Swerve

granulated

2

tablespoon

cornstarch

¾

cup

almond milk

or other plant-based milk

½

cup

lemon juice

about 2-3 lemons

3

teaspoons

lemon zest

use a little extra for more lemony flavor

¼

teaspoon

turmeric

optional for color
Instructions
In a small pot, whisk together the Swerve and cornstarch.

Mix in the almond milk, lemon juice, lemon zest, and turmeric.

Cook over medium heat, whisking frequently, until the curd thickens, about 5 minutes. Use care to whisk vigorously as it thickens to ensure a smooth curd.

Remove from heat and pour into a glass or stainless container to cool. Enjoy warm or store in the fridge for up to 1 week. It will thicken more as it cools.
Notes
Notes:
Use danish dough or phyllo dough to create a lemon danish or lemon tartlette. 
For a creamier texture, try oat milk or soy milk.
Adjust the milk amounts to create a thicker or thinner consistency.
Nutrition
Calories:
10
kcal
Carbohydrates:
13
g
Protein:
1
g
Fat:
1
g
Saturated Fat:
1
g
Polyunsaturated Fat:
1
g
Monounsaturated Fat:
1
g
Sodium:
21
mg
Potassium:
12
mg
Fiber:
1
g
Sugar:
1
g
Vitamin A:
1
IU
Vitamin C:
5
mg
Calcium:
20
mg
Iron:
1
mg
FAQ's about lemons
Lemons provide a good source of Vitamin C. In fact, one lemon contains about 31 grams of Vitamin C, which is nearly double the RDA
Research indicates that Vitamin C from fruits including lemons reduces you risk of heart disease and stroke
One lemon tree produces up to 600 pounds of lemons each year
Lemon trees produce fruit year-round
Lemon trees usually live about 50 years but under good conditions may live up to 100 years.
Leaves from lemon trees made a delicious tea
Originally from Asia, lemons now grow in many southern states including California, Arizona, and Florida
Lemons contain a high level of acid making them a good cleaning agent for most surfaces, including glass. Use them to refresh your cutting boards, too.
Lemons provide a natural deodorizer, too. Use a lemon juice-soaked sponge in your refrigerator. Simmer lemon peel in water on your stove top to freshen your entire home.
Insects avoid lemons, making them a good, natural repellent.
For more health benefits of lemons, read this article in Healthline.
Read More: