Vegan Globetrotter is supported by our audience. When you purchase through one of our links, we may earn a small affiliate commission.  As an Amazon Associate I earn from qualifying purchases. Your cost is not affected.
==================
"Liven Up Your Green Salad With This Salad Dressing."
Are you looking for better-than-store-bought vegan salad dressings? If you answered yes, you did not open this article by accident. We will help you to liven up your favorite green salad with our homemade flavorful salad dressing recipes! Below we rounded a lot of salad dressings that are oil-free (optional), dairy-free, and gluten-free. These flavorful salad dressings are made at home with simple ingredients and ready to serve in just a few minutes! There's no need to substitute as they're made completely of plant-based ingredients. These rich and savory recipes are genuine weekly favorites and nutrient-dense, plus they're great for meal planning and making quick vegan salads or bowls.
What You'll Need Ingredients In This Salad Dressing
The majority of the ingredients are usually already in your kitchen.  You won't need to go to a specialty store to find any of the ingredients. I'm sharing sixteen ( But every day I add recipes to the site.) of my favorite homemade salad dressing recipes that are quick, simple, and wholesome.
You'll need the following to make most salad dressings:
Something with strong acidity. You can use lime juice, lemon juice, wine vinegar, and balsamic vinegar.
A little bit of fat. Most vinaigrette-style dressings have oil as a standard ingredient. My preferred oils are extra virgin olive oil and avocado oil.
A touch of sweetness might help to unify the tastes and round out the dressing. Maple is my preferred sweetener but agave will suffice.
Other herbs and spices, as well as salt and pepper. Salt and pepper will bring out the flavors of the other ingredients, so don't leave them out!
The jar-and-shake method can be used to make any of these recipes. Simply combine all of the ingredients in a jar with a sealed jar. If you use a  blender or a food processor, you can make a number of the recipes below smoother.
Some of my prepared salad dressings for you are versatile and can use as a dipping sauce. They taste better when they partner with our Roasted Asparagus-Balsamic, Air-Fried Cauliflower Buffalo Wings, Vegan Fried Ravioli. For more air-fryer recipes check out: Hearty Vegan Air Fryer Recipes You'll Satisfy. No worries they are vegan too.
Below are the vibrant, zesty, plant-based, and flavorful salad dressings I've rounded for you! Perfect for any occasion and as your side dish. Let spice up your green salad with these homemade vegan salad dressing recipes.
Flavorful Vinaigrette and Salad Dressing Recipes: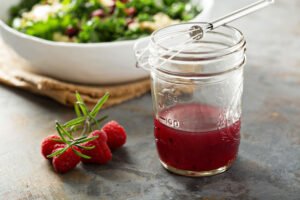 This dressing will quickly become your new favorite salad dressing for the summer! It is adaptable, not too sweet, tangy, and has a  well-balanced tasty.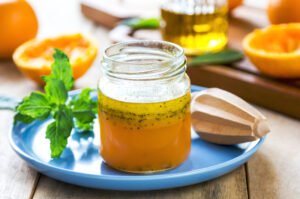 This simple mandarin orange vinaigrette is very tangy, and it pairs nicely with a spinach salad. They are in 5 minutes!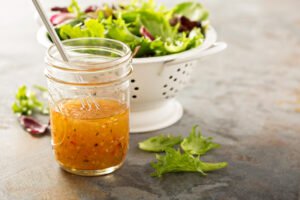 Italian Herb Salad Dressing is an American pantry staple made with Italian ingredients such as garlic, extra virgin olive oil, oregano, and basil. This dressing is simple to make and tastes good rather than the store-bought version.
A refreshing Sweet Lime Dressing is a great way to say hello to warmer weather, and it's perfect on a chopped salad, a wholesome grain salad, or any big bowl of veggies and greens.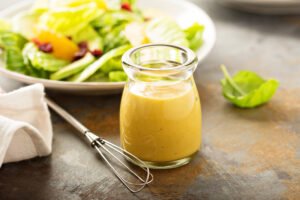 A quick oil-free and fat-free vegan salad dressing this orange mustard also known as Vegan Dijon Mustard are perfect for you! This salad dressing is adaptable and goes well with a variety of salads.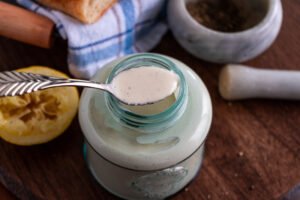 This caesar dressing recipe is just as super garlicky, zesty, and savory, and it goes great with fresh, simple salads as the traditional version, but without the dairy, anchovies, or eggs. They are totally vegan, so it's best suited for everyone.
This creamy, herbaceous Tahini Green Goddess goes with almost anything! Plus: It'll be ready in 10 minutes! This dish is gluten-free, nut-free, and vegan.
Vegan Ranch Dressing is oil-free, smooth, and only requires ingredients and 1 bowl to make. For veggies, salad, and more, this dairy-free dressing is ideal.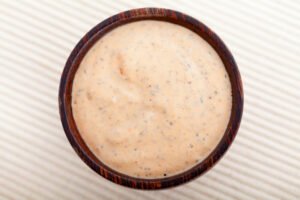 In 6 minutes, you can make a delicious vegan thousand island dressing. An easy 6-ingredient recipe that can be used as a salad dressing, topping, or dip.
A delectable Greek salad dressing recipe that will make you want to travel to Greece right now! It's really simple to prepare and tastes vibrant, zingy, and great.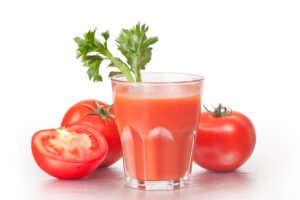 This French dressing is ideal for topping up your vegan salads. It's a simple vegan dressing with only a few ingredients that will spice up your salads.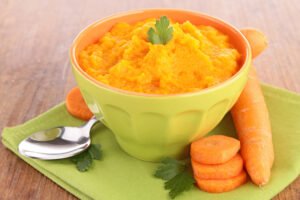 Carrot-Ginger Dressing is based on the dressing served in a Japanese restaurant. It's vibrant and tasty, and it's really simple to make at home with no extra ingredients.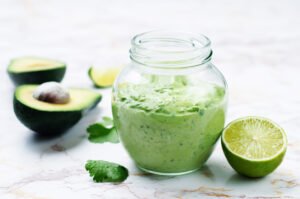 The avocado lime dressing is a vibrant, fresh, and healthful salad dressing that also works as well as a dip. It's a simple and delicious sauce to have on hand for healthy eating.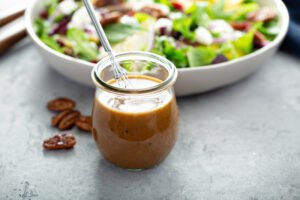 The zesty, sweet flavor of the balsamic dressing is as adaptable as it gets. This recipe is popular as a salad dressing, as well as poured on roasted veggies.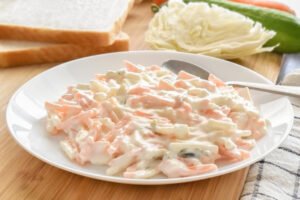 This coleslaw or cabbage salad is an iconic mixture of tart and sweet ingredients. It serves 1 medium head of chopped or shredded cabbage.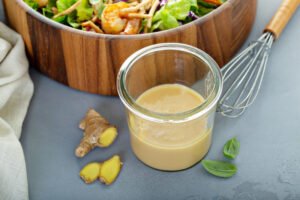 Here's a quick and easy Japanese Miso dressing recipe! The flavors of ginger, miso, and sesame oil go well with salads, veggie bowls, grain bowls, Asian-style slaws, and roasted or grilled veggies.
Conclusion:
If you master a few of these dressings, you'll be well on your way to never having a store-bought salad dressing version.
Happy Liven Up!
Read More
Farro Spinach Salad-Air Fried Beets
Mixed Vegetables With Air Fry Tofu
Benefits of Homemade Salad Dressing