Vegan Globetrotter is supported by our audience. When you purchase through one of our links, we may earn a small affiliate commission.  As an Amazon Associate I earn from qualifying purchases. Your cost is not affected.
==================
Balsamic Vinaigrette-Easy To Make Vegan Dressing
This recipe for Balsamic Vinaigrette, featuring the finest balsamic vinegars, is nothing short of ideal. Yes, you heard right. Superb. I don't throw that word around carelessly. That's an apt description of the recipe I'm providing to you today. Do you believe I would name something "perfect" if I didn't really mean it? Over the last few years, I've tried a number of balsamic vinaigrette recipes, and while they were OK, they weren't quite what I was looking for. Some homemade vinaigrettes were a little too fatty for my liking, and some were a little too sweet.
The zest and sweetness, vinegar, and oil in this dressing are all in perfect proportion. Everyone who sampled the dressing asked for the recipe right away. It's far superior to any store-bought salad dressing, and it's as simple as mixing a few things together. I really like the consistency of the dressing when it's combined by hand, but you can try both methods to see which you prefer.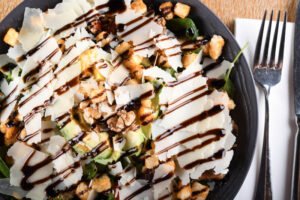 Vegan Globetrotter Storing Tips
Because vinegar-based salad dressings have such a high acidity level, they can be preserved for a long time if properly stored. You can completely wash and repurpose a leftover bottle of store-bought salad dressing as a vehicle for your homemade dressing. The dressing should be stored in the refrigerator for several months.
More Recipe With Balsamic
More Easy Salad Vinaigrette
Can't wait to give your jar a good shake? The simple methods and ingredients are listed below. Enjoy!
Try Our Balsamic Dressing: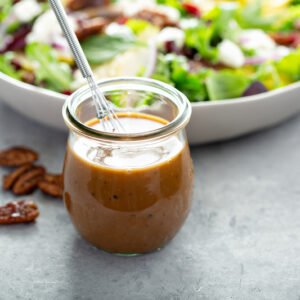 Balsamic
The zesty, sweet flavor of the balsamic dressing is as adaptable as it gets. This recipe is popular as a salad dressing, as well as poured on roasted veggies.
Ingredients
1-2

tbsp

Dijon mustard

2

oz

balsamic vinegar

1-2

cloves

garlic

finely minced and crushed

1/2

tsp

Italian herb

dried, optional

12

oz

canola oil

kosher salt

to taste

black pepper

freshly ground, to taste
Instructions
Mix the balsamic, mustard, Italian herbs, and garlic. While mixing, gradually drizzle in canola oil. If you like, you can use a blender.

Season to taste with salt and black pepper.

Chill overnight. Before serving, give it a good stir.
Nutrition
Calories:
3073
kcal
Carbohydrates:
12
g
Protein:
1
g
Fat:
341
g
Saturated Fat:
25
g
Polyunsaturated Fat:
96
g
Monounsaturated Fat:
216
g
Trans Fat:
1
g
Sodium:
179
mg
Potassium:
111
mg
Fiber:
1
g
Sugar:
9
g
Vitamin A:
28
IU
Vitamin C:
1
mg
Calcium:
46
mg
Iron:
1
mg
If you make this Balsamic share with us your experience and tag us on our social media page.
FAQS
Can I use wine vinegar for making vinaigrette?
Absolutely! Wine vinegar, especially red wine vinegar or white wine vinegar, is a common ingredient in vinaigrette recipes. Its tangy and slightly fruity profile adds depth and complexity to the dressing.
How can balsamic vinaigrette benefit individuals with fatty liver?
Balsamic vinaigrette, especially when prepared as a vegan dressing, offers a way to enhance the taste of salads without contributing to excess fat intake. It contains healthy fats from olive oil and minimal added sugars.
Can I use aged balsamic vinegar in a balsamic vinaigrette dressing?
Absolutely! Aged balsamic vinegar, derived from the fermentation and aging of freshly crushed grape juice, is an excellent choice for making a flavorful balsamic vinaigrette. Its complex taste can elevate the overall flavor of the dressing, adding depth and richness.
READ MORE
Balsamic Vinegar Health Benefits