==================
A Caveat and Affiliates
First off, a little caveat: within my articles you will find affiliate links, meaning if you buy them, I get a small commission. Your cost is not affected. In addition, I am an Amazon Associate and I earn from qualifying purchases on Amazon.
And yes, if I say that I recommend a product here, it means I truly believe it is a good product. I refuse to recommend any product that I have not researched and believe to be a good value. Even better, I provide you with a very clear picture of the product, it's use, and the probable value. Earning your trust is important to me. I run this website myself and the commissions and donations help support the site. Sound reasonable and fair enough? Let's continue to the article.
==================
Roasted Asparagus – Balsamic 
This roasted asparagus with tarragon-balsamic dressing is decadent and pure plant-based. Oh yes, with balsamic dressing! These are perfect for your St. Patrick's Day party. This side dish will spice up your Padi day. In this recipe, miso paste adds a more delicious flavor. This will be a blockbuster in your kitchen. I am confident there will be no leftovers in your kitchen.

What Is Asparagus?
Asparagus is a green vegetable with slender spears that is often associated with the arrival of spring. It goes well with a variety of springtime dishes. Weight loss, improved digestion, a healthy pregnancy, and lower blood pressure are just a few of the potential health benefits of eating asparagus.
What Is Tarragon?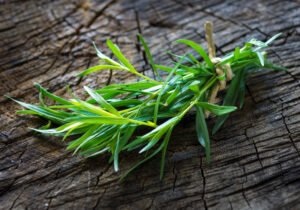 Tarragon is a popular perennial herb that can be found in both French and English cuisine. Tarragon comes in a variety of flavors. Tarragon is a herb that is commonly used in cooking, but it can also be used medicinally. Used to treat toothaches, digestive problems, promote weight loss, relieve menstrual cramps, and as an anti-nausea cure after surgical procedure.
Serving Suggestion
If you serve this roasted asparagus with tarragon with a dressing, it will be even more delicious. I recommend a balsamic vinaigrette. But how do you do it? Don't worry, I'll gather them for you. Here's what you'll need and how you'll go about getting it.
Roasted Asparagus with Tarragon – Balsamic Dressing: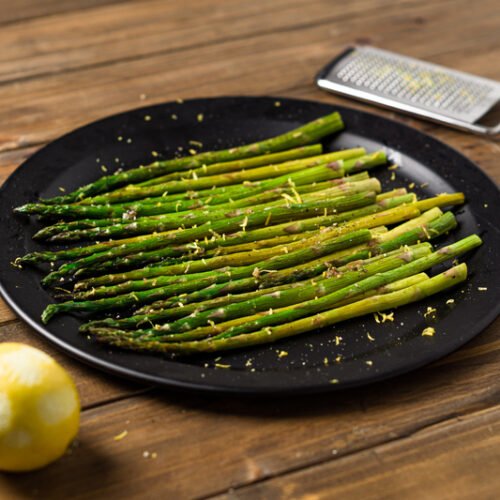 Roasted Asparagus with Tarragon
In this roasted asparagus side dish, miso paste adds an extreme umami flavor. To make sure you get a little bit of everything, cut the asparagus, scallions, and red bell pepper into small-sized pieces.
Ingredients
2-3

lb

asparagus

fresh, trimmed, and cut into small inches.

4

cup

scallions

green onions

1

red bell pepper

finely sliced

1-2

tsp

miso paste

½

tsp

fresh tarragon

fresh, chopped

½

tsp

garlic

powder

3

tbsp

balsamic vinegar

black pepper

freshly ground, to taste
Instructions
Preheat the oven to 400°F. Line two shallow baking pans, using parchment paper.

In a large mixing bowl, combine scallions, sweet pepper, and asparagus.

In a separate bowl, mix the miso paste, tarragon, water, and garlic powder.

Drizzle the dressing over the veggies and stir to coat.

In a prepared pan, arrange the veggies in a single layer.

Roast the veggies for about 6-9 minutes or till soft. Season with balsamic vinegar and black pepper.

Served with more fresh tarragons, if desired.
Nutrition
Calories:
67
kcal
Carbohydrates:
14
g
Protein:
5
g
Fat:
1
g
Saturated Fat:
1
g
Polyunsaturated Fat:
1
g
Monounsaturated Fat:
1
g
Sodium:
54
mg
Potassium:
548
mg
Fiber:
5
g
Sugar:
6
g
Vitamin A:
2437
IU
Vitamin C:
47
mg
Calcium:
91
mg
Iron:
4
mg
Balsamic Dressing
This recipe for Balsamic Vinaigrette is ideal for Roasted Asparagus with Tarragon. Yes, you heard correctly. Perfect. I don't throw that word around lightly.
That's an apt description of the recipe I'm sharing with you today.
Some freshly made dressing was just too oily flavors, and others were a little too sweet. The tang and sweetness, vinegar, and oil in this dressing are all in perfect combination.
Balsamic Dressing Recipe: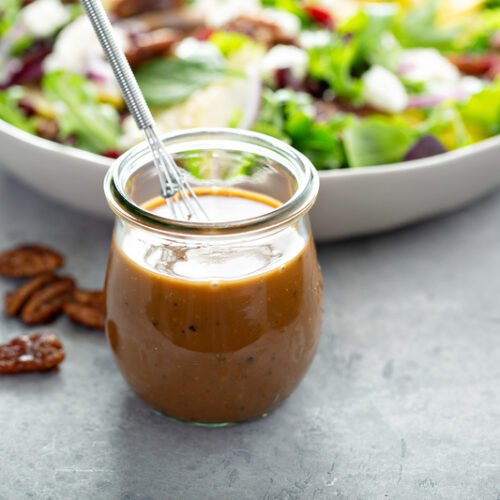 Balsamic Dressing
The tangy, slightly sweet balsamic dressing is as versatile as it gets. This recipe is popular as a salad dressing, as well as drizzled on roasted vegetables and chicken wraps.
Ingredients
2-3

tbsp

honey

2

tsp

dijon mustard

kosher salt

to taste

black pepper

1

clove

garlic

minced

balsamic vinegar

olive oil
Instructions
In a mixing bowl, combine the balsamic, honey, salt, mustard, garlic, and pepper.

Add the oil and stir to combine.

Stir the dressing until it is completely mixed.

Store in the fridge in a glass jar with a cover. Before serving, give it a good shake. Enjoy!
Nutrition
Calories:
188
kcal
Carbohydrates:
46
g
Protein:
1
g
Fat:
1
g
Saturated Fat:
1
g
Polyunsaturated Fat:
1
g
Monounsaturated Fat:
1
g
Sodium:
125
mg
Potassium:
112
mg
Fiber:
1
g
Sugar:
43
g
Vitamin A:
7
IU
Vitamin C:
1
mg
Calcium:
30
mg
Iron:
1
mg
If you make this Roasted Asparagus with Tarragon – Balsamic Dressing please leave a comment below and rate the recipe on the recipe card.
Also, please tag us in your photos on our social media pages. I like seeing your recreations!
READ MORE
Holiday Side Dishes: 4 Favorites