Vegan Globetrotter is supported by our audience. When you purchase through one of our links, we may earn a small affiliate commission.  As an Amazon Associate I earn from qualifying purchases. Your cost is not affected.
==================
Macedonian Cabbage Wraps
Freshly made Macedonian Cabbage Wraps (Sarma) are a delectable meal that truly expresses your love. -I'm not overstating when I say that making these little wraps of goodness takes a lot of effort and time. Though and, like several other culinary projects, it's also enjoyable and simple to finish. This recipe is for you if you want to spend your days making traditional homemade Macedonian Cabbage Wraps.
You'll notice that this recipe is meatless, and it's even vegan! This recipe contains no animal products of any kind, most likely because it was created during a time and place when abstaining from all animal products was the norm during Lent. Vegan dishes are very popular nowadays, no matter what time of year it is – and it's easy to see why when they're this delicious.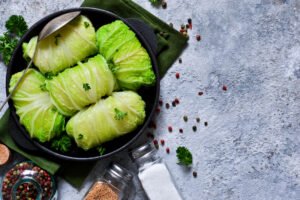 How Should Cabbage Be Softened For Cabbage Wraps?
You can do it one of three ways: blanch the leaves only, as the recipe suggests, and you could…
Boil the entire head of Cabbage. This is very typical and simple to follow.
Cabbage can be steamed. This method is similar to the boiling method, except that the cabbage is placed in a steamer over boiling water rather than in the boiling water. When the outer leaves soften, peel them away one at a time.
Cabbage should be refrigerated. This method necessitates some forethought, but the idea is that a frozen and defrosted cabbage will soften without a need for cooking. Freeze your cabbage head a day or two ahead of time, then thaw it before making cabbage wraps.
Easy Suggestions and Variations
Macedonian Cabbage Wraps are a festive, simple, and stuffing dish that comes in a variety of flavors! Here are my suggestions and simple adjustments for making your Macedonian cabbage wraps. Explore!
Add more veggie ingredients. This recipe would benefit from finely chopped mushrooms, zucchini, or eggplant.
You can add smoke, or simply substitute smoked paprika for some of the sweet paprika, and use vegetable broth instead of water for depth.
Storing and Reheating Leftovers
Refrigerate leftover cabbage rolls and sauce in a sealed container in the refrigerator. Leftover cabbage wraps will keep in the refrigerator for 3 to 4 days.
To reheat, place the desired portion in an ovenproof dish and bake for about 15 minutes, or until heated through, at 350°F. You can also reheat your cabbage wraps in the microwave.
Can I Store These Cabbage Wraps In The Fridge?
Yes, these can be frozen! They freeze so well that you might want to make a double batch and freeze half for another meal.
To freeze, place the desired amount in freezer bags and press out as much air as possible before sealing. You can freeze all of the cabbage rolls at once or in serving portions. They can be stored for up to three months.
Thaw in the refrigerator overnight before reheating.
Do you want to satisfy your vegetable cravings? Must try our cabbage recipes that might you want;
These Macedonian Cabbage Wraps are ideal for you! It's simple to make and requires only a few ingredients. Below is a list of what you'll need and what will suffice.
Try Our Macedonian Cabbage Wraps Recipe: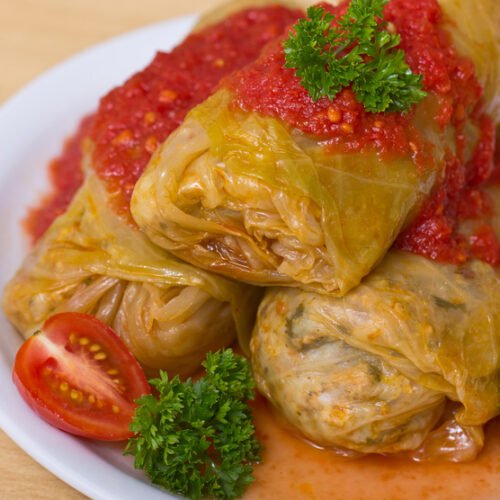 Macedonian Cabbage Wraps
This simple Macedonian Cabbage Wrap recipe is savory, flavorsome, and vegan! You will enjoy the umami rice filling stuffing stuffed in tender cabbage leaves with spices and herbs.
Ingredients
2-3

cabbage

1-2

cups

rice

olive oil

kosher salt

to taste

black pepper

freshly ground, to taste

parsley

red pepper

1

tbsp

lemon juice

or to taste
Instructions
Cook two cups of rice then add 3 cups of water.

Season to taste with black pepper, salt, parsley, and salt.

Remove the rice from the heat when they cook.

Put rice in the center of the cabbage leaf and wrap it.

In a prepared pan, line the cabbage wraps and cook for 20-25 minutes.

Allow the cabbage wraps to cool before pouring some lemon juice on top.
Nutrition
Calories:
1133
kcal
Carbohydrates:
254
g
Protein:
36
g
Fat:
3
g
Saturated Fat:
1
g
Polyunsaturated Fat:
1
g
Monounsaturated Fat:
1
g
Sodium:
336
mg
Potassium:
3315
mg
Fiber:
48
g
Sugar:
59
g
Vitamin A:
1781
IU
Vitamin C:
670
mg
Calcium:
779
mg
Iron:
10
mg
If you make these Macedonian Cabbage Wraps please leave a comment below and rate the recipe on the recipe card.
Also, please tag us in your photos on our social media pages. I like seeing your recreations!
READ MORE:
Macedonian Zelencuk Vegan Soup
Roasted Red Potatoes and Cabbage
Macedonian Food; You'll need to know