Vegan Globetrotter is supported by our audience. When you purchase through one of our links, we may earn a small affiliate commission.  As an Amazon Associate I earn from qualifying purchases. Your cost is not affected.
==================
Colcannon Bites
One of my favorite ways to turn this classic Irish colcannon Bites into a fun St. Patrick's Day recipe for parties is to make these little colcannon potato bites with collard greens. Recipes for colcannon are everywhere! This traditional Irish recipe can be prepared in a variety of interesting and entertaining ways. These colcannon bites are going to be a favorite of yours. It's a toss-up, to be honest.
Colcannon is also known as an "Irish heart cuisine." I had no idea until I looked up the traditional recipe, which I thoroughly enjoyed reading. Soul food makes me happy, and it makes everyone else happy as well.
I've been smitten with collard greens ever since I made my Collard Green Veggie Wraps. Collard Greens are rich in nutrients, vitamins, and anti-oxidants. I can use them in almost any recipe because they are strong leafed greens.
Yogurt is the key to fluffy mashed potatoes. I used coconut milk-based vegan yogurt in particular. Because they were so smooth, I felt like I was eating clouds. The green onions added a little crunch and a hint of spice.
I have rounded up these Colcannon Bites for you! I want your St. Patrick's Day to be enjoyable with our recipes. So, if I were you, I'd run quickly to the kitchen. Below, I provide the instructions and ingredients to make these delectable bites.
Try Our Colcannon Bites Recipe: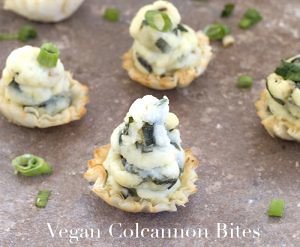 Colcannon Bites
You've never seen a colcannon bites recipe like this one. Filo shells are used to top the collard greens. An excellent starter for your St. Patrick's Day table.
Ingredients
Ingredients:
1/2

stick

vegan butter

12-13

filo

shells

water

2-3

Idaho potatoes

3-4

collard green

leaves

1/4

red onion

1-2

cloves

garlic

1

green onion

sprig

4

tsp

canola oil

kosher salt

black pepper

freshly ground

8

tbsp

yogurt

vegan

1

tsp

lime juice
Instructions
Instructions:
Preheat the oven to 350°F.

Thaw 1 stick of butter and sweep the 12 filo shells. Cook them for about 7 minutes at 350°F. Take it out and set it aside.

Boil 6 ounces of water and put the potatoes till tender. Set them aside.

Ready the collard greens eliminate the tough stems and fold them firmly then cut ribbon shapes, set them aside.

Chopped finely the garlic, red onions, and sprig green of onion into tiny pieces.

In a frying pan, place 2 tbsp canola oil then add garlic and onions. Allow them to brown slightly as you simmer them.

Set the medium heat and add the greens. Allow it to sit for a few minutes before stirring.

Season with salt and green onions. Saute regularly till the greens are cooked then add 4 ounces of water.

Continue to stir till the water has evaporated and the greens are gently crisp.

Place the potatoes in a bowl add salt and pepper to taste.

Mix the vegan yogurt with the prepared potatoes then mash the potato using a masher. Mix the cooked collards thoroughly.

Remove any tiny bubbles before filling the bag with the potato mixture. Fill the filo shells carefully by twisting the bag.

Pour the melted vegan butter over the potatoes and place them in the oven slowly and carefully.

Cook the colcannon bites for about 6-10 minutes
Nutrition
Calories:
924
kcal
Carbohydrates:
156
g
Protein:
21
g
Fat:
22
g
Saturated Fat:
5
g
Polyunsaturated Fat:
4
g
Monounsaturated Fat:
11
g
Trans Fat:
1
g
Cholesterol:
2
mg
Sodium:
1406
mg
Potassium:
392
mg
Fiber:
6
g
Sugar:
1
g
Vitamin A:
329
IU
Vitamin C:
4
mg
Calcium:
59
mg
Iron:
9
mg
I'm excited to hear how they work out for you! Feel free to post your photos to our social media pages.
This Asian Country Girl wishes you a Happy St. Patrick's Day!
READ MORE