Vegan Globetrotter is supported by our audience. When you purchase through one of our links, we may earn a small affiliate commission.  As an Amazon Associate I earn from qualifying purchases. Your cost is not affected.
==================
HOMEMADE AVOCADO LIME DRESSING (DIP)
Did you know that making your own salad dressings is quite simple? That is correct. To brighten up any salad, prepare a jar of this homemade avocado lime dressing in only 10 minutes. It's a simple and delicious sauce to have on hand for healthy eating. The avocado lime dressing can also be used as a vegetable dip. This creamy green dressing will become your new go-to healthy garnish in no time. We're confident that once you've tried it, you'll never go back to store-bought dressings.
This simple and delightful salad dressing is made with avocado, which is rich, silky, and nutrient-dense. We like to make it in the salad bowl we'll toss the final salad in for easy cleanup, but it can be made ahead of time and stored in a well-sealed jar or covered ramekin for a few days.
Avocados are commonly advertised as a healthy food in salad dressings, smoothies, toast toppings, and desserts, according to certified nutritionist Jo Lewin. The following are some of the health advantages:
Keep your eyes healthy.
It helps to reduce cholesterol.
Help you to regulate your appetite.
Avocados are nutrient-dense fruit.
Can support your heart health.
Vegan Globetrotter Tips
Grind your own cumin seeds, roasting them first: Place roughly 1 teaspoon of cumin seeds in a small frying pan over medium-high heat and toast them. Cook, toss, or shake regularly until the cumin has a  toasted aroma. Place the cumin seeds on a plate or other receptacle where they may cool in a single layer, allowing them to cool rapidly and avoid over-toasting. Using a mortar and pestle, a clean coffee grinder, or a spice grinder, grind the ingredients.
Ground cumin provides an earthy balance to the creamy avocado and fresh lime juice, but if you don't like cumin, take it out and substitute it with ground cilantro or your favorite minced spice.
In this dressing, use the best olive oil you can find; inferior non-virgin oils can often affect adjacent flavors for the worst.
Serving Tips
Dress the greens with the avocado lime dressing.
It's great for dipping your favorite vegetables in.
It's perfect for wraps and sandwiches.
More Homemade Salad Dressing
This avocado lime dressing is a must-try salad dressing. This one will become your favorite to liven up your vegetable salad. Just follow the easy 10-minute instructions. Happy Jazzing Up!
Try Our Avocado Lime: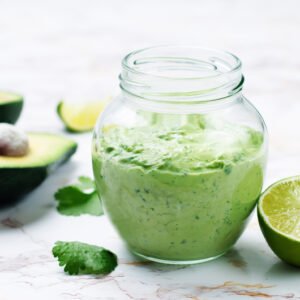 Avocado Lime
The avocado lime dressing is a vibrant, fresh, and healthful salad dressing that also works as well as a dip.
Ingredients
1/2

tsp

shallot

minced

2

tbsp

lime juice

freshly squeezed

1

medium

avocado

3

tbsp

avocado oil

1/2

tsp

cumin

ground

kosher salt

to taste
Instructions
In a salad bowl, combine minced garlic or shallot and lime juice.

Remove the flesh from the avocado by cutting it in half and scooping it out.

Mash the avocado with a fork until it is smooth.

Stir in the oil and ground cumin and season to taste with kosher salt.

Serve right away with a salad of your choice.
Nutrition
Calories:
117
kcal
Carbohydrates:
3
g
Protein:
1
g
Fat:
12
g
Saturated Fat:
2
g
Polyunsaturated Fat:
2
g
Monounsaturated Fat:
8
g
Sodium:
3
mg
Potassium:
172
mg
Fiber:
2
g
Sugar:
1
g
Vitamin A:
54
IU
Vitamin C:
5
mg
Calcium:
6
mg
Iron:
1
mg
If you make this Avocado Lime salad dressing share with us your experience and tag us on our social media page.
READ MORE
Avocado Guacamole Nutritional Powerhouse
Kitchen Tools and Equipment for Vegan Kitchen
Homemade Vs. Store-Brought Salad Dressing