Vegan Globetrotter is supported by our audience. When you purchase through one of our links, we may earn a small affiliate commission.  As an Amazon Associate I earn from qualifying purchases. Your cost is not affected.
==================
COLESLAW SALAD DRESSING
Looking for a different variation of your leftover cabbage? Well, this creamy homemade coleslaw dressing recipe is perfect and just requires 7 simple ingredients and takes only a few minutes to prepare. It's prepared with all-natural, high-quality ingredients. You know exactly what's in your coleslaw dressing when you create it yourself. There are no preservatives in this recipe, and it is naturally sweetened with maple syrup rather than refined sugar. Last but not least, it tastes great! This creamy, tangy dressing is great on coleslaw, but it's also delicious on other salads. Use it to make broccoli salad or toss it with lettuce, baby greens, or kale. Once you have it, you'll be able to use it in a variety of ways.
You can use a store-bought bag of coleslaw mix or make your own, but fresh is always preferable. The from-scratch coleslaw dressing is the finest part of my homemade Coleslaw Recipe! When you make this creamy dressing at home, you can customize the flavors to your liking, making it a little tangier or sweetener to suit your tastes. Healthy coleslaw is a crowd-pleasing addition to any summer party, picnic, or barbeque party.
Vegan Globetrotter Tips
Try combining cabbage and kale coleslaw with the dressing instead of plain cabbage.
If you want your coleslaw to be soft but crunchy, salt your cabbage first. Transfer shredded cabbage to a colander with a few teaspoons of kosher salt. Allow it to sit for 15-20 minutes. Use any extra moisture in your salad by pressing it out.
To add garlic flavor to the dressing, coarsely cut and mash one garlic clove. Alternatively, use around ½ teaspoon garlic powder.
Instead of cabbage, try the dressing with broccoli slaw.
Storing Tips
This dressing can be kept in the refrigerator for up to one week in an airtight container. Chill the dressing before tossing it with the coleslaw mix for the best results. Coleslaw tastes best the day it's made with the dressing. If you wish to make the coleslaw ahead of time, keep the dressing and coleslaw mix separate in the refrigerator. Combine the ingredients no more than a couple of hours before serving the coleslaw.
More New Favorite Dressings
If you want this coleslaw dressing recipe, you might like to try one of the following dressings:
If you like homemade coleslaw dressing, you'll enjoy this simple dressing. You can make this Coleslaw dressing in just 2 steps. Happy Liven Up!
Try Our Homemade Coleslaw Dressing: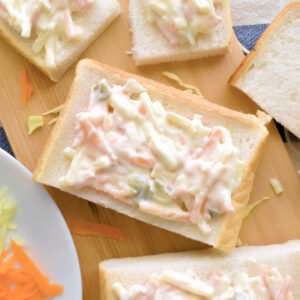 Coleslaw
This coleslaw or cabbage salad is an iconic mixture of tart and sweet ingredients. It serves 1 medium head of chopped or shredded cabbage.
Ingredients
20

tbsp

vegan mayonnaise

6

tbsp

agave

8

tsp

apple cider vinegar

1

tsp

celery seeds

celery salt

to taste

black pepper

freshly ground, to taste
Instructions
In a mixing bowl, mix the ingredients from vegan mayonnaise to kosher salt. Shake and stir till completely blended.

Combine with chopped cabbage and chill for an hour before serving for a good result.
If you make this Homemade Coleslaw dressing share with us your experience and tag us on our social media page.
READ MORE
Roasted Red Potatoes and Cabbage
Five Best Store-Bought Coleslaw Dressing