Vegan Globetrotter is supported by our audience. When you purchase through one of our links, we may earn a small affiliate commission.  As an Amazon Associate I earn from qualifying purchases. Your cost is not affected.
==================
Vegan Fried Ravioli
Today, I'm giving a vegan take on a popular appetizer: vegan fried ravioli! Instead of frying the ravioli in oil, today's vegan fried ravioli recipe is produced by air frying it. They're rich without being a greasy, weighty mess, thanks to a light mist of cooking spray. It's also called breaded ravioli or toasted ravioli and cooked until crispy and dippable. Where Can Vegan Ravioli Be Found? Because it's made using store-bought pasta, making fried ravioli through air frying couldn't be easier. Kite Hill and Rising Moon Organics are two vegan options available on the market. Start by dipping the ravioli in aquafaba to make vegan fried ravioli in the air fryer.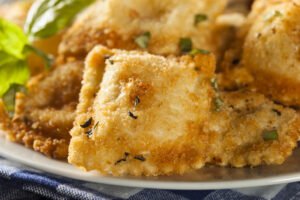 What Exactly Is Aquafaba?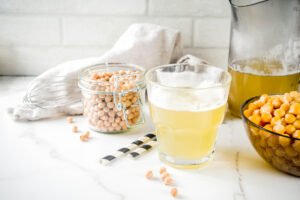 Bean cooking liquid is known as aquafaba. It's the thick liquid found in canned chickpeas, for instance. The cooking liquid from homemade beans works just as well if you make your own beans from scratch. Aquafaba not only helps the bread crumbs firmly adhere to the ravioli, but it also helps them toast to a golden brown color.
Aquafaba As a Substitute
I experimented with various flour and dipping alternatives while testing this recipe. The most satisfying results came from an aquafaba dip with a covering of seasoned panko. But don't worry if you don't have any aquafaba on hand. Instead, coat the ravioli in an eggless mayonnaise-like Vegenaise and then in bread crumbs, being sure to remove any excess mayonnaise. Alternatively, you can coat them in seasoned bread crumbs after dipping them in non-dairy milk mixed with a small teaspoon of cornstarch. Some use vital wheat gluten, but it is mostly recommended in air-fried seitan.
Don't Forget The Panko!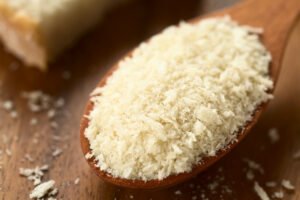 Panko bread crumbs are essential for this dish. Don't use regular bread crumbs, as they won't provide the same crackling effect. The noodles have a crisp crust thanks to the panko. The end effect of this fried ravioli is rather impressive. Oregano, basil, nutritional yeast, salt, pepper, and garlic powder are among the spices used in the breading. The crunch comes from the mix of air fryer magic and panko's inherent crispiness. It's ideal for dipping into your favorite marinara sauce. This recipe is perfect for a party appetizer. You can also slather it in sauce and eat it for lunch or dinner.
For More Air-Fryer Recipes:
I've yet to come across a vegan dish that I don't enjoy frying. These ravioli are no different. You'll adore the flavor and how simple they are to prepare! Just like my:
Do you want some more? Visit Vegan Globetrotter for a more decadent vegan dish for any occasion.
Check out this excellent vegan fried ravioli recipe, which is a great healthy choice that's also easy to make at home.  
Try Our Vegan Fried Ravioli: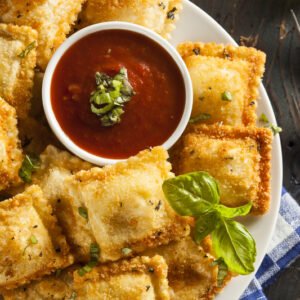 Vegan Fried Ravioli
Keep this vegan fried ravioli in your mind during your next get-together! Flavored with nutritional yeast, oregano, basil, garlic, and fried ravioli in the air fryer with marinara sauce on the side for dipping.
Ingredients
8

tbsp

panko bread crumbs

2-3

tsp

nutritional yeast

flakes

basil

dried

oregano

dried

1

tsp

garlic

powder

kosher salt

to taste

black pepper

to taste

2

oz

chickpeas

aquafaba; liquid from chickpeas or other beans

1

cup

ravioli

vegan, thawed or frozen

olive oil

extra virgin

4

oz

marinara

dipping

onion powder (optional)

to taste
Instructions
Mixed the ingredients from panko bread crumbs to black pepper.

Place the aquafaba in a small separate bowl. Soak ravioli in aquafaba and then coat with bread crumbs mixture.

Preheat the air fryer to 390°F and place the ravioli with a spritz of olive oil in the air fryer basket. Cook until golden brown or for at least 6-7 minutes.

Serve your vegan fried ravioli with marinara sauce.
Nutrition
Calories:
147
kcal
Carbohydrates:
23
g
Protein:
6
g
Fat:
3
g
Saturated Fat:
1
g
Polyunsaturated Fat:
1
g
Monounsaturated Fat:
1
g
Cholesterol:
9
mg
Sodium:
329
mg
Potassium:
150
mg
Fiber:
3
g
Sugar:
3
g
Vitamin A:
101
IU
Vitamin C:
2
mg
Calcium:
42
mg
Iron:
3
mg
If you make this Vegan Fried Ravioli, please leave a comment below and rate the recipe on the recipe card. Also, please tag us in your photos on our social media pages. I like seeing your recreations!
Other Than the Vegan Ravioli Recipe
More Interesting Reads: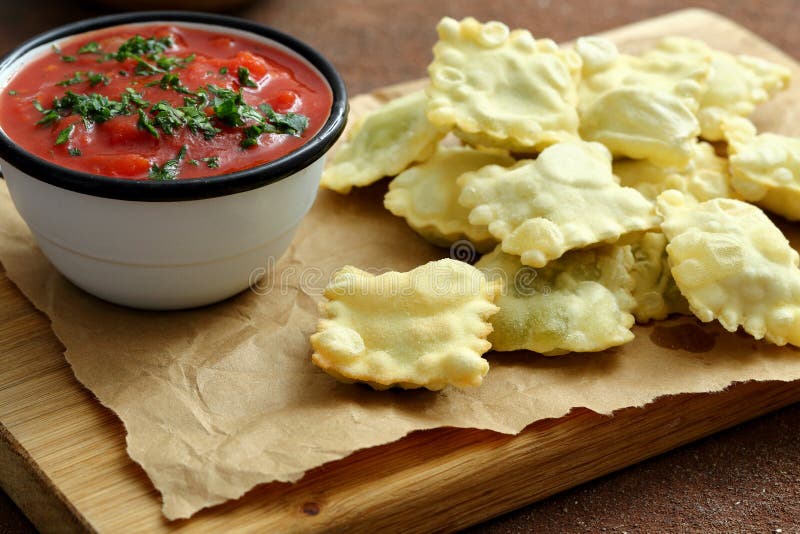 How can you make a vegan version of fried ravioli using an air fryer and without any breading, and what ingredients can you use to achieve a classic toasted ravioli taste?
Are you a fan of toasted ravioli but want to try a vegan alternative? Look no further than this recipe for Vegan Fried Ravioli! Using frozen ravioli, cook the ravioli in an air fryer without any breading to achieve that classic crunchy texture without the added oil. Serve with a sprinkle of parmesan cheese made from plant-based ingredients to keep this dish vegan-friendly. Not only is this dish delicious, but it's also a healthier alternative to traditional fried ravioli. Try making air-fried ravioli in your air fryer for a quick and easy appetizer or snack that will satisfy your cravings. This vegetarian toasted ravioli recipe is sure to be a crowd-pleaser, even for non-vegans!
Can I use fresh ravioli instead of frozen for this recipe?
It is recommended to use frozen ravioli for this recipe as they hold up better in the air fryer. If you only have fresh ravioli, you can freeze them for 30 minutes before cooking to help them keep their shape.
Can I skip the parmesan cheese topping to make this recipe fully vegan?
Absolutely! You can skip the parmesan cheese topping or use a vegan parmesan cheese alternative to make this recipe fully vegan. The ravioli will still have a delicious flavor and texture without the cheese topping.