Vegan Globetrotter is supported by our audience. When you purchase through one of our links, we may earn a small affiliate commission.  As an Amazon Associate I earn from qualifying purchases. Your cost is not affected.
==================
Air-Fried Cauliflower Buffalo Wings
Air-fried Cauliflower Buffalo Wings are simple to make and have the best buffalo wings sauce flavor kick. A vegan air fryer appetizer that is crispy on the outer and tender inside as well. It's heartening to have a rich, strong appetizer that's simple to prepare and even healthful. All you need is cauliflower and a  vegan spicy sauce. You can either use store-bought buffalo sauce or prepare your own.
Looking for more air fryer recipes?
Don't have an air fryer? Or do you intend to purchase your own air fryer? Read this article: Ninja Air Fryer AF 101 Benefits Review. I hope it helps.
Before we get into the Air-Fried Cauliflower Buffalo Wings recipe, lemme tell you something about cauliflower.
Cauliflower is available in 3 different hues. Orange, green, purple, and white are the hues.
To grow cauliflower, you'll need mild weather where you live. Although cauliflower is a winter crop, it still needs sunlight and cannot be kept too cold.
The stem and leaves are edible. Simply peel the stem, slice it up, and steam the florets with it. Salads with leaves are delicious.
It has a low-calorie count yet a good nutritional value.
I believe we're all aware that cauliflower is a terrific rice substitute and that it can even be used as a pizza crust.
What Should You Serve
The typical accompaniment for air-fried buffalo cauliflower wings is blue cheese dressing, but I like my homemade ranch dressing. It's the perfect complement to spicy, saucy cauliflower wings, made with fresh chopped parsley, vegan mayo, garlic powder, and dried dill.
To serve, arrange the wings with carrots, celery sticks, Creamy Vegan Ranch Dressing, or Vegan Ranch Dressing.
These Air-Fried Cauliflower Buffalo Wings are a must-try.
Try Our Air-Fried Cauliflower Buffalo Wings: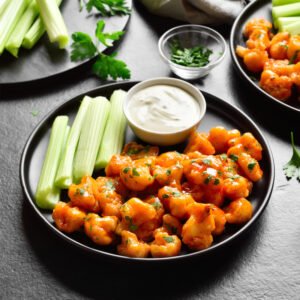 Air-Fried Cauliflower Buffalo Wings
These air-fried cauliflower buffalo wings are a must-try. They're the greatest when they're crunchy and juicy.
Ingredients
5

florets

cauliflower

head

4

oz

dairy-free butter

melted

6

oz

buffalo sauce

vegan

1

tbsp

olive oil

extra virgin
For The Crumbs Mixture:
1

cup

panko bread crumbs

1

tbsp

garlic

powder

kosher salt

pinch

black pepper

freshly ground, to taste
Instructions
In a large mixing bowl stir together vegan buffalo sauce and melted butter.

Add the mixture to the cauliflower and combine till coated. Set them aside.

In a separate mixing bowl, combine panko bread crumbs and seasonings.

Combine the cauliflower with the panko bread crumb mixture and mix well to coat.

Preheat the air fryer to 350°F and coat the basket with olive oil.

Fry the cauliflower for 15 minutes or till the cauliflower is golden brown.

Serve with celery sticks and ranch dressing. (optional)
Nutrition
Calories:
237
kcal
Carbohydrates:
9
g
Protein:
2
g
Fat:
22
g
Saturated Fat:
4
g
Polyunsaturated Fat:
6
g
Monounsaturated Fat:
11
g
Trans Fat:
3
g
Sodium:
1280
mg
Potassium:
37
mg
Fiber:
1
g
Sugar:
1
g
Vitamin A:
1
IU
Vitamin C:
1
mg
Calcium:
26
mg
Iron:
1
mg
I'm confident you'll enjoy these air-fried cauliflower buffalo wings! After you've tried them, leave a rate and review. Your comments benefit other readers and seeing you prepare my dishes brightens my day.
READ MORE
Vegan Holiday Roast: Seitan or Cauliflower?
What Foods Reduce Inflammation
Health Benefits of Cauliflower
Is Air-frying Method Good For Our Health?