Vegan Globetrotter is supported by our audience. When you purchase through one of our links, we may earn a small affiliate commission.  As an Amazon Associate I earn from qualifying purchases. Your cost is not affected.
==================
Plant-Based Crisp Air Fryer Recipes
Our hearty vegan air fryer recipes will satisfy your cravings! I have rounded a lot of plant-based, dairy-free, gluten-free, oil-free recipes that have been cooked in the air fryer. They are delicious, decadent, and healthy recipes. You can use your air fryer to make quick, convenient, and delicious vegan meals in a variety of ways. Meals that will satisfy your family while also impressing your guests.
With these recipes, you will love your air-fryer! But if you don't have an air fryer. Don't worry we have already published an article about air-fryer. Must read this: Review: Benefits of the Ninja Air Fryer AF 101 I hope it helps your decision making– and when you are about to buy here's the Guide to Using the Air Fryer. If you are looking for more vegan recipes go to our Vegan Globetrotter Home and happy browsing!
Must-Try Air fryer Recipes!
Below are the must-try air fryer recipes. They are plant-based meals and are low in fat and quick to prepare. From vegetables to baked cakes, you'll find hearty vegan air fryer recipes here. Everyone will find something to their liking, so dig in!
1. Farro Spinach Salad-Air Fried Beets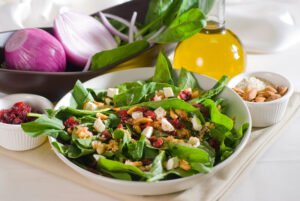 These Farro Spinach Salad-Air Fried Beets are dressed in Orange Mustard dressing. This is not only delicious, but it's also healthy, simple to make, and a refreshing change from your boring old salad routine.
2. Mixed Vegetables With Air-Fry Tofu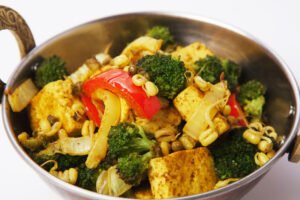 The ultimate easy meal is a quick and simple mixed vegetable with air fry tofu. You can start eating freshly cooked veggies mixed in a fantastic blend of flavors in just over 10 minutes, including prep time. It's very nutritious (high in nutrients), vegan, and gluten-free.
3. Air-Fried Eggplant Parmesan with Pasta
This Air-Fried Eggplant Parmesan with Pasta is easy to cook in Air-Fryer. This is my take on an Italian style, and it's cheesy and delicious.
These crispy kale chips are gluten-free, vegan, and perfect for a keto low-calorie diet. You may flavor them in a variety of ways, such as making them cheesy with parmesan or spicy with paprika and cumin. Some like them dipped in garlicky yogurt or Vegan Ranch Dressing
Looking for additional recipes? But you'd also like some finger foods, appetizers, or side dishes cooked in an air fryer, right? Well, I've compiled a list of them below.
Instead of frying the ravioli in oil, today's vegan fried ravioli recipe is produced in an air fryer. They're rich without being a greasy and weighty mess. It's also called breaded ravioli or toasted ravioli and cooked until crispy and dippable.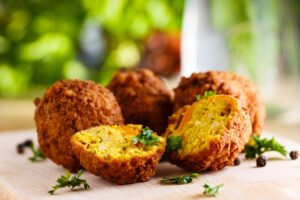 This vegan fried falafel alongside greek salad is incredibly tasty, and the flavors will make your mouth watering! You'll thank me after serving this! This recipe will satisfy your body as well as your taste buds! These are packed with plant-based ingredients.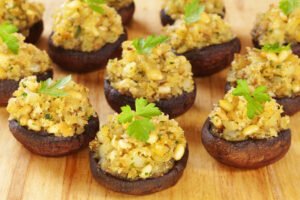 These portobello mushrooms are delectable, slightly crunchy on the outside, and delightfully delicate on the inside. With just a basic spice combination, you can prepare these portobello mushrooms in the Air-fryer in minutes and enjoy them as a side dish.
8. Air-Fried Cauliflower Buffalo Wings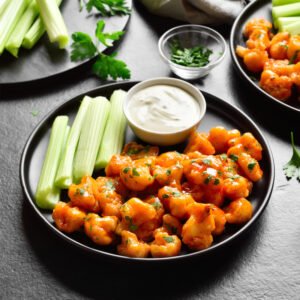 Air-fried Cauliflower Buffalo Wings are simple to make and have the best buffalo wings sauce flavor kick. A vegan air fryer appetizer that is crispy on the outer and tender inside as well.
9. Air Fried Vegetable Tempura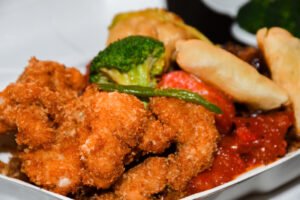 Who doesn't love a good piece of tempura? Crispy, light, and not greasy, it's the perfect appetizer or side dish. I discovered air frying as a great way to make tempura without all the mess and calories.
Can I bake cookies and cakes in the air fryer? Yes, of course! Get your air fryer and check out the recipes below! Enjoy!
10. Air fryer Oatmeal Tahini Crunch Cookies
Tahini Oatmeal Cookies only take 15 minutes in the air fryer! The outside of these cookies is well crisp, while the inside is chewy and tender. They are also gluten-free, vegan, oil-free, and sugar-free.
11. Banana Cake
Air fryer Ripe Banana Cake is a kind of simple cake cooked from ripe bananas, which is where the name comes from. A simple cake recipe requires only pantry standard ingredients and is decadent on the outside and fluffy and airy on the inside.
Conclusion
These recipes are vegan from the start, so there's no need to substitute ingredients to make them vegan. Simply follow the recipe exactly as written and savor the results!
If you are making these recipes please share your experience with us and tag us with the photo on our social media pages.
Happy Air Frying!
READ MORE
Farro Spinach Salad-Air Fried Beets
'Thel Dala', Sri Lankan Stir-Fry
Is an Air fryer Good For Our Health?
Health Benefits of Eating Vegan
Air fryer Easy Recipe-Not Vegan