Vegan Globetrotter is supported by our audience. When you purchase through one of our links, we may earn a small affiliate commission.  As an Amazon Associate I earn from qualifying purchases. Your cost is not affected.
==================
Oh-so-creamy spinach is a popular side dish that can be found on many restaurant menus. But, what if you're vegan and want to enjoy this creamy dish? This recipe for easy creamed spinach is vegan-friendly and simple to make. Plus, it's the perfect addition to your holiday feast! So, gather your ingredients, and let's get started.
Oh-so-creamy Spinach: Why this recipe is the best recipe?
Introducing the newest and best spinach recipe: Easy Creamed Spinach. This dish is hearty, nutritious, and so flavorful that even your non-vegan friends will be asking for seconds. Best of all, it only takes 30 minutes to make! Here's why this recipe is the best:
1. The flavor is out of this world. 
Thanks to a generous amount of garlic and onion, this dish has a deep flavor that is simply irresistible. If you're worried about the garlic being too overpowering, don't be! The spinach mellows out the garlic perfectly. Trust us, your tastebuds will thank you.
2. It's healthy and filling. 
This dish is packed with nutrients thanks to the addition of fresh spinach leaves. And because it's also made with milk and cheese, it's sure to fill you up without weighing you down. So if you're looking for a light but satisfying meal, look no further than Easy Creamed Spinach!
3. Perfect for any occasion. 
Whether you're hosting a dinner party or just want a delicious weeknight meal, this dish is perfect. It can be served as a side or a main course, making it versatile enough to please everyone at the table. And because it only takes 30 minutes to make, you won't have to spend hours in the kitchen!
4. Cleanup is a breeze! 
This recipe only dirties one pot and one cutting board, so you won't have to spend hours scrubbing dishes after your meal. That means more time for relaxing (or maybe even dessert)!
Why settle for ordinary spinach when you can have Extraordinary Creamed Spinach? This dish is healthy, flavorful, filling, easy to make, and easy to clean up–everything you could possibly want in a recipe! So if you're looking for a new go-to meal, look no further than Easy Creamed Spinach. Trust us, your tastebuds (and your guests) will thank you!
Frequently Asked Questions
Popeye was on to something when he ate his spinach! This leafy green vegetable is not only low in calories but also packed with vitamins and minerals. Plus, it's a great source of protein for vegans. But how do you make spinach oh-so-creamy without using dairy? Here are some FAQs that will help you make the creamiest spinach ever.
Can I use fresh or frozen spinach?
You can use either fresh or frozen spinach. If you're using frozen spinach, make sure to thaw it first and squeeze out any excess water. Otherwise, your finished dish will be watery.
Can I make this recipe ahead of time?
Yes! This dish actually gets even better after it sits for a bit. Simply reheat it in a pan over low heat until warmed through. Add a splash of water or vegetable broth if the sauce has become too thick.
Making creamy spinach is easier than you might think—and it's a great way to get your daily dose of greens. So what are you waiting for? Give our recipe a try today!
It is spinach time, vegans!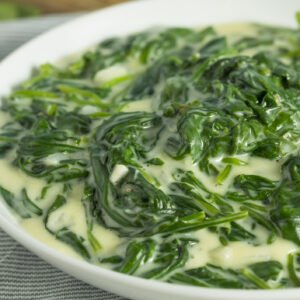 Oh-so-creamy Spinach
This recipe is so creamy, you won't believe it's dairy-free! Best of all it is a quick and easy recipe you want to make it again and again and perfect for Christmas!
Ingredients
Easy-to-find ingredients:
2

cups

spinach

fresh

2

cups

spinach

frozen, thawed

1

tbsp

coconut oil

2

tbsp

almond flour

6

oz.

vegetable broth

1/4

cup

sour cream

vegan

kosher salt

to taste

black pepper

to taste

nutmeg

pinch
Instructions
Easy-to-make creamed spinach:
In a medium skillet over medium-high heat, saute the fresh spinach until wilted.

In a small pan, melt the vegan margarine, then add the almond flour. Cook for 3 minutes. Remove from the heat and set them aside.

Whisk together the vegetable broth and almond flour until smooth. Bring back to boil and continue cooking.

Add the fresh sauteed spinach, frozen-thawed spinach, and vegan sour cream, and season to taste with kosher salt and black pepper. Cook for 5 minutes.

Serve and sprinkle with nutmeg.
Nutrition
Calories:
69
kcal
Carbohydrates:
2
g
Protein:
2
g
Fat:
6
g
Saturated Fat:
4
g
Polyunsaturated Fat:
0.2
g
Monounsaturated Fat:
1
g
Cholesterol:
7
mg
Sodium:
159
mg
Potassium:
148
mg
Fiber:
1
g
Sugar:
1
g
Vitamin A:
2395
IU
Vitamin C:
7
mg
Calcium:
41
mg
Iron:
1
mg
For More Vegan Recipes
I've provided a list of vegan dishes that are all made completely of ingredients from plants. Additionally, they make a wonderful addition to any vegan dish. These are tasty even for meat eaters, and for more vegan recipes subscribe to our newsletter.
Butternut Squash and Spinach Lasagna
Holiday Side Dishes: 4 Favorites
Zucchini and Spinach Casserole
To Wrap It All Up
Time to stock up on spinach! This leafy green is not only nutritious but versatile too. Whether you're looking for a side dish or a main course, this recipe for oh-so-creamy spinach will become your new go-to. What sets this recipe apart from the others is its combination of flavorful spices and creamy texture. So why wait? Give it a try today and see for yourself how delicious healthy eating can be!
Connect With Us
If you tried this Oh-so-Creamy Spinach takes a ?  and tag us on our social media: Facebook, Twitter, and Pinterest, and subscribed to our YouTube Channel. I'd be delighted to see it!
To make sure you don't miss any recipes, remember to subscribe to our email newsletter which will be delivered to your inbox every week. ? In addition to this, if you are looking for vegan baking recipes visit Best Baking Tips they also published a lot of healthy baking recipes.
Read More