Vegan Globetrotter is supported by our audience. When you purchase through one of our links, we may earn a small affiliate commission.  As an Amazon Associate I earn from qualifying purchases. Your cost is not affected.
==================
Looking for a hearty yet plant-based meal to cozy up with this fall? This Soba Noodles with Fall Veggies is just the ticket! Packed with nutrient-rich veggies like cauliflower, kale, mushrooms, carrots, and or pumpkin. This dish is sure to satisfy. And the best part? It's all cooked in one pan, so cleanup is a breeze. So go ahead and give it a try – your taste buds will thank you!
Healthy veggies in one bowl!
This soba noodle bowl with fall veggies stuffing is the perfect meal to transition from summer to autumn. Not only is it packed with nutrients and flavor, but it's also vegan-friendly! Let's take a closer look at some of the health benefits of the key ingredients in this dish.
Soba noodles are made from buckwheat, which is a type of whole grain. They're a good source of fiber and protein and have a lower glycemic index than other types of noodles, which means they won't cause spikes in blood sugar levels.
Kale is an incredibly popular superfood these days, and for a good reason! It's high in vitamins A, C, and K, calcium, and iron. It's also a great source of antioxidants.
Pumpkins are not just for carving at Halloween time! They're packed with beta-carotene (which your body converts into vitamin A), potassium, and fiber. Pumpkins are also low in calories, so they're a great addition to any dish if you're watching your weight.
Carrots are another great source of beta-carotene and vitamins A, C, K, B6, and folate. They're also a good source of fiber and minerals like potassium and magnesium.
Mushrooms are an excellent source of antioxidants and polyphenols. They've also been shown to boost immunity and improve heart health.
As you can see, there are many reasons to love this soba noodle bowl with fall veggies stuffing! It's not only delicious but also nutritious. So go ahead and enjoy a big bowl—your body will thank you for it!
Vegan Globetrotter: Suggestions and Tips
The change of seasons is the perfect time to change up your cooking routine. This soba noodle dish is the perfect blend of fresh fall flavors and warming comfort. It's also vegan, so it's perfect for anyone who wants to enjoy a delicious and healthy meal. Read on for serving suggestions, recipe notes, storing tips, and variations.
Serving Suggestions
This soba noodle dish is hearty enough to be enjoyed on its own, but it also pairs well with a variety of side dishes. Try pairing it with roasted Brussels sprouts or a simple green salad for a complete meal. If you're looking for something heartier, grilled tofu or tempeh would make a great addition.
Recipe Notes
One of the great things about this recipe is that it can be easily customized to fit your taste buds. If you prefer your food on the spicier side, add some Sriracha or red pepper flakes when adding sauce ingredients to the pan. Try adding a teaspoon or two of honey or agave nectar to the sauce for a bit more sweetness.
Storing Tips
Leftovers can be stored in an airtight container in the fridge for up to 3 days. To reheat, cook in a pan over medium heat until warmed through. You may need to add a bit more water or veggie broth to thin out the sauce if it has thickened too much while stored in the fridge.
Variations
Not a fan of soba noodles? This dish would also be great with rice noodles, carrot noodles, butternut squash noodles, or even zucchini noodles. If you're not into veggie stuffing, feel free to leave it out or swap it for something else. Sautéed mushrooms would be delicious in this dish, as would sautéed kale or spinach. Get creative and make it your own!
Be sure to check out the recipe notes for serving suggestions, storing tips, and variations so you can make this dish your own. Happy cooking!
Soba Noodles with Fall Veggies Stuffing: FAQS
What are Soba Noodles?
Soba noodles are a type of Japanese noodle made from buckwheat flour. They are thin and slightly chewy and have a nutty flavor. Soba noodles are often served cold with a dipping sauce, but they can also be used in hot dishes like this one.
What type of veggies can I use?
Any fall vegetable can be used in this dish. Some popular options include zucchini, beets, potatoes, broccoli, and arugula. If you're unsure what to use, try experimenting with different combinations until you find a combination you like. Just remember to chop the vegetables into small pieces so that they cook evenly.
Is there a substitute for soy sauce?
Yes! If you're looking for a soy-free option, you can use tamari or coconut aminos instead. Both of these options will give the dish a similar flavor without soy.
So, if you have any questions about this dish, check out the FAQs above and leave a comment below! And if you try this don't forget to share your experience with us.
Let's get fueled with fall veggies in a bowl!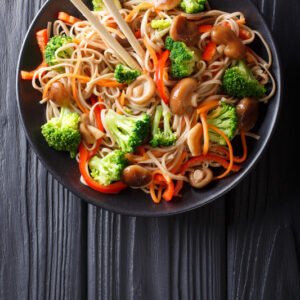 Soda Noodles with Fall Veggies
This vegan dish is perfect for the fall season. It is made with roasted or baked cauliflower, pumpkin, carrots, and mushrooms. Drizzled with peanut butter sauce and garnish with kale.
Ingredients
Soba and Stuffing:
1

pack

soba noodles

3

small

cauliflower

washed and chopped into florets

2

cups

pumpkin

diced

2

small

carrots

sliced

3

medium

mushrooms

any type of mushroom

kale

for garnish

kosher salt

sprinkle

garlic powder

sprinkle
Peanut Butter Sauce:
1/2

cup

peanut butter

3

tbsp

tamari

2 1/2

tbsp

coconut aminos

2

tbsp

maple syrup

4

cloves

garlic

minced

1/4

tbsp

red pepper flake

3

tbsp

lime juice

1/4

cup

water
Instructions
Let's get cooking!
Preheat the oven to 400°F and line the baking sheets.

Cook the soba noodles according to the package directions. Set them aside.

Wash and chop the cauliflower, pumpkin, carrots, and mushrooms; transfer them into greased parchment paper.

Drizzle them with olive oil and season with kosher salt and garlic powder. Roast or bake them for 30 minutes or until tender. Set aside.
Prepare the sauce:
Meanwhile, whisk together the peanut butter, tamari, coconut aminos, maple syrup, garlic sauce, red pepper flakes, and lime juice. Mix them well.
Serve and enjoy!
In a large bowl, add the soba noodles and the roasted or baked veggies. Drizzled with prepared peanut butter sauce and topped with kale. Enjoy!
Nutrition
Calories:
573
kcal
Carbohydrates:
70
g
Protein:
25
g
Fat:
27
g
Saturated Fat:
5
g
Polyunsaturated Fat:
9
g
Monounsaturated Fat:
11
g
Trans Fat:
0.02
g
Sodium:
752
mg
Potassium:
1152
mg
Fiber:
7
g
Sugar:
16
g
Vitamin A:
3471
IU
Vitamin C:
82
mg
Calcium:
109
mg
Iron:
6
mg
For More Vegan Recipes
I've provided a list of vegan dishes that are all made completely of ingredients from plants. Additionally, they make a wonderful addition to any vegan dish. These are tasty even for meat eaters, and for more vegan recipes subscribe to our newsletter.
Italian Amatriciana-Italian Pasta
To Wrap It All Up
Here's a quick and easy recipe for delicious soba noodles with fall veggies stuffing. This dish is healthy, and flavorful, and can be made in under 30 minutes. If you're looking for more vegan globetrotter suggestions and tips, be sure to check out our blog. And if you have any questions about this recipe, feel free to ask in the comments below. Happy cooking!
Connect With Us
If you tried these sofa noodles with fall veggies, take a ?  and tag us on our social media: Facebook, Twitter, and Pinterest, and subscribe to our YouTube Channel. I'd be delighted to see it!
Remember to subscribe to our email newsletter to ensure you don't miss any recipes, which will be delivered to your inbox every week. ? In addition to this, if you are looking for vegan baking recipes, visit Best Baking Tips. They also publish a lot of healthy baking recipes.
Read More
Plant-Based Stuffing for Vegans
Sweet Potato Mushroom Casserole
Soba Noodles
Budget-friendly-Fall Activities