Vegan Globetrotter is supported by our audience. When you purchase through one of our links, we may earn a small affiliate commission.  As an Amazon Associate I earn from qualifying purchases. Your cost is not affected.
==================
The holidays are coming up and that means one thing- time to get creative in the kitchen! This year, ditch the traditional stuffing recipe and give this sweet potato mushroom casserole a try. It's easy to make and sure to please everyone at the table. Plus, it's vegan-friendly, so everyone can enjoy it! Thanks to the creamy sauce it adds a flavor that surely will satisfy your tastebuds. Happy Thanksgiving!
Whether you are a vegan or non-vegan you will enjoy this vegan casserole as they are filled with mushrooms and herbs. You can also use your favorite mushroom and add more herbs for a more earthy flavor. Best of all, this casserole is drizzled with vegan cream sauce which adds more flavor that is made with cashews and plant-based milk. Can't wait to make this casserole? Well, keep reading and you will learn more about this recipe.
Health Benefits of Sweet Potato and Mushroom
Sweet potatoes and mushrooms are two delicious and nutrient-packed foods that offer a host of health benefits. When eaten together, they make a tempting and healthy vegan meal. Let's take a look at some of the reasons why sweet potatoes and mushrooms are good for you.
Mushrooms are low in calories but high in nutrients, making them a great addition to any diet. They're also a good source of fiber, which helps to keep you feeling full and satisfied after eating. And if that's not enough, mushrooms also contain compounds that can boost your immune system. If you are looking for more mushroom recipes, you should try these: Creamy Garlic Mushrooms, Vegan Portobello Mushroom Burger, Fried Portobello Mushrooms, and Portobello Mushroom Supper.
Sweet potatoes, on the other hand, are an excellent source of vitamins and minerals, including beta-carotene, vitamin C, and potassium. They're also a good source of fiber, which helps to regulate digestion. Plus, their natural sweetness means they can be used as a healthy alternative to sugary snacks. I suggest trying  Autumn Carrot-Sweet Potato Soup, Sweet Potato Shepherd's Pie Casserole, Sweet Potato Cheesecake, Sweet Potato Pie Cupcakes with Cinnamon Frosting, and Curried Lentil and Sweet Potato Bowl.
So if you're looking for a delicious and nutritious vegan meal, look no further than sweet potatoes and mushrooms!
Oh-so-satisfying casserole
We all know the holidays can be a little hectic. Between work, family, and social obligations, it's easy to let healthy eating habits fall by the wayside. But just because you're busy doesn't mean you have to sacrifice flavor or nutrition! This Sweet Potato-Mushroom Casserole is the perfect dish to please a crowd and give you the energy you need to power through your holiday to-do list. Here are 5 reasons why this casserole is sure to satisfy:
1. Sweet potatoes are roasted to perfection. Roasting brings out the natural sweetness of the sweet potatoes, making them extra flavorful and satisfying.
2. Mushroom filling is savory and earthy. And it's packed with healthy mushrooms, which are a great source of antioxidants, potassium, and vitamin D.
3. This casserole is topped with a crispy breadcrumb topping. This adds a nice crunch and takes the dish to the next level. Plus, the Panko breadcrumbs are vegan-friendly!
4. It is hearty and filling, but won't weigh you down. It's the perfect balance of carbs, protein, and healthy fat. So you'll be satisfied without feeling stuffed.
5. Easy to make ahead of time! Just prep everything the night before and bake it off in the morning or early afternoon. Then you can enjoy your holiday stress-free!
This sweet potato mushroom casserole is sure to please vegans and non-vegans alike! It's flavorful, satisfying, and easy to make ahead of time. So go ahead and give it a try – your taste buds (and your holiday guests!) will thank you!
Plant-based ingredients and learn how to make them!
This vegan casserole is filled with nutritious ingredients that are easy to find in your kitchen even in the supermarket. If using a store-bought make a habit to check whether the label is vegan or organic. Be aware of some products say its pure organic but if you check the label there is animal derived in it.
To prepare the cream sauce, you will be using soaked cashews, cashew milk, nutritional yeast, oat flour, lemon juice, black pepper, and kosher salt. Process them into a food processor until creamy and smooth.
To prepare the filling, boiled the sweet potatoes while sauteeing the mushroom into garlic and onion with thyme, rosemary, and vinegar. Once done, remove from the heat then add the cranberries, panko bread crumbs, and chives and season with kosher salt and black pepper. Mix them well until combined.
To layer them into a casserole dish, first, you will need to pour a little amount of cream sauce followed by boiled sweet potatoes, and mushroom mixture. Just repeat it into the remaining cream sauce and sweet potato and mushroom filling.
Finally, preheat the oven to 400°F and bake for 30 minutes without cover. Once baked, remove from the preheated oven then garnish with fresh chives and served with cream sauce.
There you have it! Even though this vegan casserole requires a lot of ingredients, the flavor and nutrients it provides make it worthwhile. This sweet potato casserole with mushroom filling is perfect for all occasions and on Thanksgiving day. So why not try this awesome casserole? In addition, this week we will round up a lot of vegan casseroles so stay tuned up and don't forget to visit our site.
Looking for more vegan fall recipes to add to your vegan diet?
Well, must try these recipes: Autumn Pizza with Vegan Gouda Cheese, Pumpkin Spice Fudge, Delicious Dairy-Free Pumpkin Spice Latte Recipe, Vegan Butternut Squash Curry with Chickpeas,  Teriyaki Tofu-Tempeh Casserole, Butternut Squash White Bean Kale Stew, Vegan Spaghetti Squash with Marinara Sauce,
These are also made with plant-based ingerdeints and are perfect for the fall season, thanksgiving day, and winter season. Best of all, they are vegan that a great addition to your vegan meal. If you tried them, share your photos and thoughts with us. ?
I love filling my casserole with nutrients and if you'd love it too, well look no further than this sweet potato and mushroom casserole! Your family and friends will love this too! So get baking and start filling your casserole!
Filled your casserole with nutrients!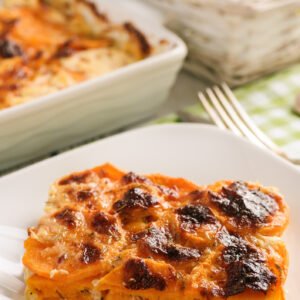 Sweet Potato-Mushroom Casserole
This vegan casserole is packed with nutrients that are perfect for a vegan and even non-vegan. Filled with boiled or steamed sweet potatoes, mushroom filling, and an earthy flavor of thyme and rosemary. Ideal for all occasions and on Thanksgiving day.
Ingredients
Cream sauce ingredients:
12

oz.

cashew milk

or any plant-based milk

4

oz.

cashew

soaked

1/2

cup

oat flour

homemade or store-bought

1-2

cups

nutritional yeast

2

oz.

lemon juice

fresh

black pepper

freshly ground

kosher salt
Sweet Potatoes and Mushroom Filling:
3

cups

sweet potatoes

boiled; peeled and dice

3

cups

mushrooms

any kind of mushroom, cut into dice

2

cups

red onion

cut into dice

12

cloves

garlic

minced

6

sprigs

thyme

fresh or dried

3

sprigs

rosemary

fresh or dried

8

oz.

panko breadcrumbs

3

tbsp

red wine vinegar

5

cups

chives

finely chopped, for mixture and garnish

½

cup

cranberries

fresh or dried

½

tsp

kosher salt

¼

tsp

black pepper
Instructions
Preheat the oven to 375°F and prepare the casserole dish with oil.
Make a cream sauce:
In a hot water, soak the cashews for at least 8 to 10 minutes.

Using a blender, pulse the soaked cashews, cashew milk, flour, nutritional yeast, lemon juice, kosher salt, and black pepper until the mixture is smooth.
Make a filling:
Steam or boil the sweet potatoes for 15 minutes or until tender. Set them aside.

In a skillet over medium-high heat, saute the onions, mushroom, and garlic for 8-10 minutes.

Then, add the vinegar, thyme, and rosemary. Cook again for 5 minutes. Remove from the heat.

Combine the cranberries, panko breadcrumbs, chives, kosher, and pepper into the mushroom filling. Mix until well combined.
Assemble and bake:
Over a greased casserole dish, pour some of the cream sauce then layered with sweet potatoes, followed by the mushroom mixture. Repeat until done.

In a preheated oven, bake the casserole dish for 30 minutes or until golden brown.

Garnish with chives and drizzled with cream sauce. Serve and enjoy!
Nutrition
Calories:
2678
kcal
Carbohydrates:
419
g
Protein:
87
g
Fat:
83
g
Saturated Fat:
15
g
Polyunsaturated Fat:
12
g
Monounsaturated Fat:
30
g
Cholesterol:
76
mg
Sodium:
2590
mg
Potassium:
5477
mg
Fiber:
55
g
Sugar:
51
g
Vitamin A:
65652
IU
Vitamin C:
206
mg
Calcium:
567
mg
Iron:
23
mg
For More Vegan Recipes
You'll want to make these vegan dishes again and over again. They are also a wonderful addition to your vegan diet or to your list of must-try vegan recipes. So if you want to stay up to date on our recently released vegan recipes, as well as recipes and diet tips. Therefore, be sure to sign up for our newsletter.
To Wrap It All Up
This sweet potato mushroom casserole is not only delicious but it's also packed with nutrients that are good for you. By using plant-based ingredients, you can make this dish even healthier. And if you're wondering how to make the casserole, don't worry – we've got a recipe for that too! So go ahead and give this healthy and oh-so-satisfying casserole a try. Your tastebuds will thank you.
Connect With Us
If you tried this sweet potato mushroom casserole, take a ?  and tag us on our social media: Facebook, Twitter, Pinterest, and Instagram, and subscribed to our YouTube Channel.  I'd be delighted to see it! To make sure you don't miss any recipes, remember to subscribe to our email newsletter which will be delivered to your inbox every week. ?
Read More
Plant-based Stuffing For Vegans
Essential Guide to Different Types of Mushrooms