==================
A Caveat and Affiliates
First off, a little caveat: within my articles you will find affiliate links, meaning if you buy them, I get a small commission. Your cost is not affected. In addition, I am an Amazon Associate and I earn from qualifying purchases on Amazon.
And yes, if I say that I recommend a product here, it means I truly believe it is a good product. I refuse to recommend any product that I have not researched and believe to be a good value. Even better, I provide you with a very clear picture of the product, it's use, and the probable value. Earning your trust is important to me. I run this website myself and the commissions and donations help support the site. Sound reasonable and fair enough? Let's continue to the article.
==================
20 Minute: Creamy Garlic Mushrooms
This quick and easy recipe calls for you! It tastes similar to the creamy garlic mushrooms you've tried at an Italian restaurant, but is completely vegan and dairy-free. Making it takes only 20 minutes and is really simple. Ideal for dinner even in the morning. Garnish with parsley and drizzled with Homemade Vegan Worcestershire Sauce—optional, but it tastes better.
Ciao, have you ever tried to cook this creamy garlic mushroom at home? Don't be surprised. Yes, it has been adopted in Italian restaurants, but the best thing about this is that it is dairy-free, tastier, and healthier. When you serve it, it seems as though you've just left an Italian restaurant.
Aside from being healthy, it is also easy to prepare. It takes 20 minutes, and there you have it—oh-so-creamy garlic mushrooms. It is made with easy-to-find plant-based ingredients. Slices of mushrooms are sautéed with freshly chopped garlic and covered in a vegan cream sauce that is made from scratch.
The whole family will love this quick and easy dinner, which is also a fantastic addition to Thanksgiving. It's also great as a side dish. You can't go wrong with this creamy garlic mushroom.
Shroom For The Moment
One of my all-time favorite activities is mushroom hunting. When picking mushrooms there's a lot to check, including the following:
Dry but not so overly so, fresh mushrooms should be. The texture shouldn't be nasty.
Don't pick mushrooms that are bruised, excessively soft, or soggy. Pick a smooth, solid texture.
Or you may read this article: Essential Guide to Different Types of Mushrooms.
Health Benefits:
The finest food for weight loss or just as part of a nutritious dinner is mushrooms. They are also low in calories, fat, and carbs, and high in antioxidants.
Storing Tip:
The mushrooms should be cleaned before being placed in a paper bag, wrap, or plastic. Make sure it has a hole so that air can enter, and use it as soon as possible.
Substitution:
In this recipe, there are no specific mushrooms that can be used. But you can use white or brown mushrooms.
Recipe Suggestions:
Recipe Commonly Asked Questions
If you have any questions regarding this healthy creamy garlic mushroom dish after reading through the list of frequently asked questions below, please leave a comment and we'll be pleased to respond!
1. How long it will keep in the refrigerator?
You can keep them in the refrigerator for at least 1-2 days, and sometimes they even get even better the second day.
2. How can I make the vegan mushroom sauce thicker?
You can a little cornflour to your sauce to make it thicker if you are using coconut milk as the base. Simply stir the cornflour into the sauce before bringing it to a boil, as suggested on the cornflour package.
3. What kind of vegan cream should I apply?
If you want vegan creamy mushroom sauce, choose coconut cream in place of the suggested single cream -or if you only have double cream available, dilute it out with a little milk.
4. What kind of soy sauce do I use to use?
This recipe works with any sauce, or you may use liquid aminos if you want.
I love mushrooms as they are meaty and filling. Try these creamy garlic mushrooms and share them with your family. The mushrooms recipe will become your thing after trying this.
What are you waiting for? Get your pan, chopping board, and knife to make this healthy creamy garlic mushrooms recipe.
These mushrooms are perfectly sauteed! So good!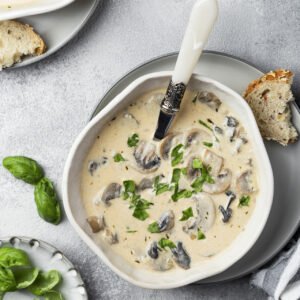 Creamy Garlic Mushrooms
This quick and easy recipe calls for you! It tastes similar to the creamy garlic mushrooms you've tried at an Italian restaurant but is completely vegan. Making it takes only 20 minutes and is really simple. Ideal for dinner even in the morning. Garnish with parsley and drizzled with Worcestershire sauce—optional, but it tastes better.
Ingredients
5-6

pcs

mushrooms

brown or white

2

small

onion

2

clove

garlic

1

tbsp

olive oil

8

tbsp

cream

make it vegan with coconut cream

1-2

tbsp

soy sauce

1-2

tbsp

parsley

dried and fresh

black pepper

to taste

kosher salt

to taste
Optional:
2-3

tbsp

Worcestershire sauce

vegan (see notes)

pasta

vegan
Instructions
In a pan with olive oil, add the washed and sliced mushrooms. Cook for 6-7 minutes or till tender.

Optional: In a casserole, boil the pasta till cooked.

Add the chopped onion and garlic to the fried mushroom. Cook for another 4-5 minutes.

Add the soy sauce, Worcestershire sauce, fresh and dried parsley, and vegan cream. Season with kosher salt and black pepper.

Over low heat, cook for another 4-5 minutes.
Nutrition
Calories:
212
kcal
Carbohydrates:
9
g
Protein:
2
g
Fat:
19
g
Saturated Fat:
10
g
Polyunsaturated Fat:
1
g
Monounsaturated Fat:
7
g
Cholesterol:
45
mg
Sodium:
496
mg
Potassium:
230
mg
Fiber:
1
g
Sugar:
4
g
Vitamin A:
710
IU
Vitamin C:
8
mg
Calcium:
56
mg
Iron:
1
mg
For More Vegan Recipes
The recipes below I've suggested are completely vegan and 100% made with plant-based ingredients. They are a great addition to your vegan meal.
To Wrap It All Up
These creamy garlic mushrooms are a quick and easy recipe. It tastes like an Italian restaurant. Made with plant-based ingredients, completely vegan, and dairy-free. Ideal for dinner and any occasion.
Connect With Us!
Try these creamy garlic mushrooms! Take a ?  and tag us on our social media: Facebook, Twitter, Pinterest, Instagram, and subscribed to our YouTube Channel.  I'd be delighted to see it!
To make sure you don't miss any recipes, remember to subscribe to our email newsletter that will be delivered to your inbox every week. ?
Learn More:
Homemade Vegan Worcestershire Sauce
Vegan Eating Habits: Live Healthier With Them