Vegan Globetrotter is supported by our audience. When you purchase through one of our links, we may earn a small affiliate commission.  As an Amazon Associate I earn from qualifying purchases. Your cost is not affected.
==================
Smoked Vegan Portobello Mushroom Burger with a touch of Tarragon based Sauce
Do you want a burger, but prefer it to be vegetarian or vegan? I have some exciting recipe news for you! Allow me to sate your hunger with this Smoked Vegan Portobello Mushroom Burger with a touch of flavorful cashew-tarragon-based sauce. This burger is made with plant-based ingredients: tomato, fresh spinach, and smoky Portobello mushrooms. This burger is perfect for summer and every Fourth of July. It is also kid-friendly.
In this crowd-pleasing recipe, you can still satisfy your burger cravings. The sauce is made of tarragon, which gives it a glossy appearance that makes everyone want to devour this smoked Portobello mushroom burger. To make this healthier, you may use store-bought gluten-free buns or homemade buns. They are perfect when paired with vegan baked French fries.
Portobello as your Patty Burger
This dish calls for Portobello mushrooms, which have a meaty flavor and can be used to make vegan burgers and sandwiches. They can be grilled, broiled, roasted, or stuffed. They can be found in stores as well as in your own backyard or farm. Don't be afraid to explore this smoky vegan Portobello mushroom burger. You can use any kind of mushroom to your liking. Read this: Essential Guide to Different Types of Mushrooms
For the best result, marinate the Portobello mushrooms before grilling. The key ingredients to marinate them are: balsamic vinegar, freshly ground black pepper, minced garlic, cayenne, vegan soy sauce, and rosemary. In a big bowl, mix them all together and let the Portobello mushrooms sit till they absorb the balsamic vinegar mixture. When grilling on a grill pan or charcoal heat, brush them with the mixture for the best taste.
Instead of Mayo, use Tarragon as your Sauce!
Yes, tarragon will give this vegan Portobello mushroom burger a creamy flavor. Puree the tarragon, garlic, cashew, Dijon mustard, lemon, tahini, dairy-free milk, and season to taste with black pepper. This sauce adds the best taste that will give you more appetite. The steps and ingredients are included in the recipe card below.
Let's give it a shot! Make this vegan Portobello mushroom burger in your grill pan. This vegan burger is perfect for breakfast.
Vegan Portobello Mushroom Burger is a Must-Try!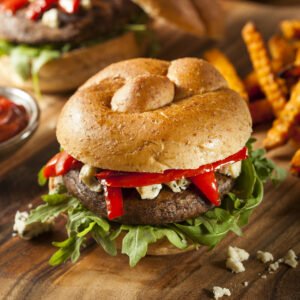 Vegan Portobello Mushroom Burger
This crowd-pleasing summer and 4th of July burger recipe are filled with summer herbs and tarragon. Vegan Portobello mushroom burger also known as smoky grilled Portobello are loaded with tomato and fresh spinach with a touch of flavorful cashew-tarragon sauce. Pair these vegan burgers with baked French fries.
Ingredients
Vegan Portobello Mushroom Burger:
1/4

cup

raw cashews

drenched in hot water for 14-15 minutes.

2

tsp

tahini

1-2

tbsp

Dijon mustard

2

tsp

lemon juice

1

small

garlic

clove, minced

¼

cup

milk

plant-based, unsweetened and unflavored

1/3

cup

tarragon

fresh and chopped

black pepper

ground, to taste

4

pieces

portobello mushrooms

removed stems

1-2

tbsp

balsamic vinegar

4

buns

whole grain, gluten-free, toasted, and split.

1

cup

spinach

fresh

4-5

slices

tomato
Instructions
For The Sauce: In a small food processor, mix the ingredients from drained cashews to minced garlic. Mix till very smooth: slowly add unsweetened milk till creamy. Toss in tarragon and season to taste with black pepper.

Rub the portobello mushrooms with vinegar then grill for 16 to 20 minutes over medium heat or till crisp.

On whole grain buns, put mushrooms, spinach, and tomato slices. Pour the sauce on top. Serve right away!
Notes
Soak sprigs of tarragon in water and sprinkle them onto the fire while cooking to give the mushroom patties a smokey tarragon taste.
Nutrition
Calories:
269
kcal
Carbohydrates:
41
g
Protein:
9
g
Fat:
8
g
Saturated Fat:
1
g
Polyunsaturated Fat:
1
g
Monounsaturated Fat:
3
g
Cholesterol:
2
mg
Sodium:
352
mg
Potassium:
341
mg
Fiber:
2
g
Sugar:
7
g
Vitamin A:
1136
IU
Vitamin C:
9
mg
Calcium:
95
mg
Iron:
13
mg
For More Related Recipes
Fried Portobello Mushrooms: This recipe is simple to make and is perfect for your side dish that contains plant-based ingredients and can

cook

in the air-fryer.
Portobello Mushroom Supper: It is an excellent meat-less recipe perfect for any occasion. It is also a side-dish that goes well in veggies and roasted recipe.
This vegan Portobello mushroom burger is a great way to start your day! It is both vegetarian and child-friendly. This recipe is really as healthful as it sounds. You'll do a happy dance when grilling the Portobello mushroom—this vegan burger recipe will give you a morning vibe.
Try this vegan Portobello mushroom burger! Take a photo and tag us on our social media: Facebook, Twitter, Pinterest, Instagram, and subscribed to our YouTube Channel.  I'd be delighted to see it!
Check these out:
Essential Guide to Different Types of Mushrooms
Top Foods With Iron That Vegans Eat