Vegan Globetrotter is supported by our audience. When you purchase through one of our links, we may earn a small affiliate commission.  As an Amazon Associate I earn from qualifying purchases. Your cost is not affected.
==================
Are you looking for a delicious and hearty vegan dish to make this week? Look no further than Italian Amatriciana.-Italian Pasta. This classic pasta dish is made with tomatoes, onions, and vegan bacon, and it's sure to satisfy your appetite. Plus, it's easy to prepare, so you can have a delicious home-cooked meal without spending hours in the kitchen. Give Italian Amatriciana a try this week!
A Satisfying Italian Amatriciana Recipe
A classic comfort food, this hearty dish will please even the most discerning diners. Here are 5 reasons why our vegan Italian Amatriciana recipe is so satisfying.
1. The pasta is cooked perfectly al dente, just like in Italy.
2. A sauce that is rich and flavorful, made with fresh tomatoes, onions, and garlic.
3. There are plenty of vegetables in the dish, including zucchini, eggplant, and bell peppers.
4. It's hearty and filling, but not too heavy.
5. They are easy to make and can be on the table in under an hour.
Whether you're looking for a quick weeknight dinner or a comforting dish to serve to company, our vegan Italian Amatriciana recipe will not disappoint.
Vegan Globetrotter Suggestions and Tips
This vegan dish is full of flavor and can be served as a main course or side dish. Here are some serving suggestions and storing tips to help you get the most out of your Amatriciana.
Serving Suggestion
Serve this dish with a side of crusty bread or a simple green salad.
Storing Tips
Leftovers can be stored in an airtight container in the fridge for up to 3 days.
Recipe Notes
If you can't find fresh tomatoes, you can substitute them with canned diced tomatoes. Just be sure to drain them well before adding them to the sauce.
We hope you enjoy this vegan Italian Amatriciana recipe! Let us know in the comments below how it turned out for you.
Italian Amatriciana Recipe: FAQS
Have you ever wondered how to make a vegan version of the classic Italian dish, amatriciana? Well, wonder no more! This blog post will answer all of your questions about how to make a delicious and hearty vegan amatriciana that will rival any traditional meat-based version.
Can I make amatriciana without pancetta?
If you want to make a completely vegan version of amatriciana, you can skip the pancetta and use olive oil instead. You can also use vegan bacon or another plant-based protein as a substitute.
What type of pasta should I use?
The most common type of pasta used in amatriciana is bucatini, which is a long and thick noodle with a small hole running through its center. However, you can really use any type of pasta that you like. Spaghetti, rigatoni, and penne are all popular choices.
What kind of tomato sauce should I use?
The best type of tomato sauce to use for amatriciana is high-quality canned crushed tomato. However, you can also use fresh tomatoes that have been peeled and seeded. If you are using fresh tomatoes, be sure to cook them until they are very soft so that they will blend easily into the sauce.
We hope that this post has answered all of your questions about how to make a delicious vegan amatriciana! This dish is perfect for a cozy night or entertaining guests.
Bring the flavors of Italy to your home!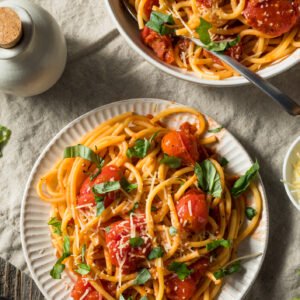 Italian Amatriciana-Italian Pasta
This recipe features a savory tomato sauce, crispy vegan bacon, and plenty of fresh herbs. The best part? It's ready in under 20 minutes!
Ingredients
What you will need:
2

cups

bucatini

1 1/2

cup

tofu

or bacon; dairy-free

vegetable oil

2

medium

tomatoes

3

tbsp

white wine

optional

1/2

cup

Parmesan

any vegan cheese will work

salt

chili flakes
Instructions
What you will do:
Cook the vegan bacon according to the package instructions.

Heat the oil over medium-high heat then add the vegetable oil and white wine. Stir them until fully combined.

Discard the vegan bacon from the skillet and add the tomatoes, salt, and chili flakes. cook them for 8-10 minutes over medium-low heat.

Meanwhile, in a separate skillet, bring the water to a boil, and cook the pasta until soft. Boil for 10 minutes. Drain and set aside.

After 10 minutes, add the vegan bacon or tofu to the tomato sauce. Mix them well until combined.

When the pasta is already cooked, add them to the pan with tomato sauce. Stir well until the pasta is coated with sauce.

Serve with grated Parmesan and fresh basil, if preferred. Enjoy!
Nutrition
Calories:
2237
kcal
Carbohydrates:
373
g
Protein:
109
g
Fat:
28
g
Saturated Fat:
11
g
Polyunsaturated Fat:
7
g
Monounsaturated Fat:
6
g
Cholesterol:
34
mg
Sodium:
1078
mg
Potassium:
2289
mg
Fiber:
18
g
Sugar:
24
g
Vitamin A:
2440
IU
Vitamin C:
34
mg
Calcium:
835
mg
Iron:
12
mg
For More Vegan Recipes
I've provided a list of vegan dishes that are all made completely of ingredients from plants. Additionally, they make a wonderful addition to any vegan dish. These are tasty even for meat eaters, and for more vegan recipes subscribe to our newsletter.
Lemon Garlic Pasta Shells Supreme
Vegan Spaghetti Squash with Marinara Sauce
To Wrap It All Up
What a great way to bring the flavors of Italy into your home! This delicious Italian Amatriciana pasta dish is sure to please vegans and meat-eaters alike. And, it's easy to make with just a few simple ingredients. Thanks for reading!
Connect With Us
If you tried this Italian Amatriciana take a ?  and tag us on our social media: Facebook, Twitter, and Pinterest, and subscribed to our YouTube Channel. I'd be delighted to see it!
To make sure you don't miss any recipes, remember to subscribe to our email newsletter which will be delivered to your inbox every week. ? In addition to this, if you are looking for vegan baking recipes visit Best Baking Tips they also published a lot of healthy baking recipes.
Read More
Can I Cook Pasta In The Sauce?
Hearty Chickpea Veggie Stew Recipe