Vegan Globetrotter is supported by our audience. When you purchase through one of our links, we may earn a small affiliate commission.  As an Amazon Associate I earn from qualifying purchases. Your cost is not affected.
==================
The days are shorter, the air is colder, and the ground is covered in snow. As winter settles in, it's hard to get excited about cooking meals. But don't worry, we've got you covered with this easy and delicious winter Buddha bowl. Packed full of nutritious ingredients, this bowl will keep you warm and satisfied all season long. So skip the take-out tonight and cook up a bowl of your own!
What's In Winter Buddha Bowl?
A vegan Buddha bowl is a hearty, filling meal made up of rice or quinoa, beans or lentils, roasted vegetables, and greens. It's perfect for winter because it is warm and comforting, but it's also healthy and packed with nutrients. Plus, it's easy to make ahead of time and can be stored in the fridge for up to 3 days. Here's everything you need to know about making a winter Buddha bowl.
First step,
Choose your grain. I like to use either brown rice or quinoa because they're both high in fiber and protein. If you're short on time, you can use pre-cooked rice or quinoa, or even just microwavable rice packets. Just be sure to rinse the grains thoroughly before cooking to remove any excess starch.
Next,
You'll need to choose the protein. I usually go for tempeh or tofu because they're both packed with protein.
After that,
It's time to add in the roasted vegetables. My favorites are sweet potatoes, kale, and carrots, but feel free to use whatever you have on hand. Simply chop the vegetables into bite-sized pieces, toss them with olive oil and your favorite seasonings, then Roast in a 400°F oven until tender (about 25 minutes).
Finally,
Top your bowl off with some fresh greens and a drizzle of tahini sauce or your favorite dressing. I also like to add a handful of nuts or seeds for extra protein and healthy fats. And that's it! Your winter Buddha bowl is now ready to enjoy.
This winter Buddha Bowl is the perfect meal to keep you warm during these colder months. So what are you waiting for? Gather the ingredients and get your favorite bowl!
Winter Buddha Bowls: FAQS
Buddha bowls are all the rage these days. But what exactly is a Buddha bowl? And how do you make one? Here are the answers to all your questions about winter vegan Buddha bowls.
What is a Buddha Bowl?
A Buddha bowl is a term used to describe a healthy, plant-based meal that is usually served in a bowl. It typically contains grain, protein, and vegetables. Some common ingredients include quinoa, black beans, roasted sweet potatoes, kale, and avocado.
What are some good vegetables to use in winter Buddha bowls?
Root vegetables are always a good option in winter since they tend to be sturdier than their summer counterparts. Think sweet potatoes, beets, carrots, parsnips, and turnips. Other good options include kale, Brussels sprouts, and cabbage.
How do I make the perfect sauce?
The great thing about sauces is that they can really make or break a dish. A good sauce will tie all the flavors together and give your bowl some extra pizzazz. Some of our go-to's are tahini sauce, green Goddess dressing, and chimichurri sauce.
There you have it! Everything you need to know to make the perfect winter Buddha bowl. So what are you waiting for? Get in the kitchen and get creative!
Satisfying winter buddha bowl!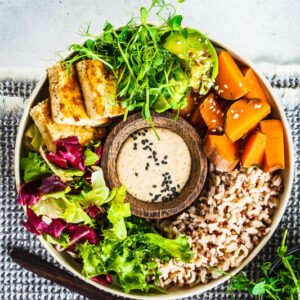 Winter Buddha Bowl with Tahini Sauce
The bowl is packed with healthy, winter veggies and fruits and drizzled with a tahini sauce which makes the perfect easy and healthy meal. The best part about this vegan buddha bowl is that it's super easy to make and can be easily customized to your liking.
Ingredients
Winter Veggies & Fruit:
1 1/2

cups

potatoes

add sweet potatoes, pumpkin, carrots, beets, potatoes, etc.

1

cup

pear

add pomegranate, apple, orange, grapefruit, persimmon, etc.

1/4

cup

kale

chopped
Plant Protein
1

cup

quinoa

cooked

1/2

cup

tempeh

fried, or tofu
Tahini Sauce:
4

oz.

tahini

2

oz.

apple cider vinegar

2

oz.

water

adjust as needed

1

tbsp

ginger

fresh; chopped or grated

2

tsp

turmeric

ground

1

tsp

garlic

minced

½

tsp

kosher salt
Instructions
Roast Veggies
Preheat your oven to 400°F and line a baking sheet.

Peeled and diced the potatoes, sweet potatoes, pumpkin, beets, and carrots. Brush with olive oil and sprinkle and coat with kosher salt and black pepper.

Line them on a baking sheet and roast them for 30 minutes until tender and yummy. Set them aside.
Prep Your Protein
In a medium pot over medium-high heat, add water and quinoa. Boil them for 15 minutes. Remove and set aside.

Meanwhile, heat the oil and fry the tempeh or tofu until golden brown. Set aside.
Make tahini sauce:
In a blender, add the tahini, apple cider vinegar, water, ginger, turmeric, garlic, and kosher salt. Pulse until creamy.
Assemble Your Bowls
In a large bowl, assemble the roasted veggies, winter fruits, kale, cooked quinoa, fried tempeh, or tofu.

Top with kale and drizzle with prepared tahini dressing and serve right away!
Notes
Vegan Globetrotter Suggestions and Tips
Storing Tips
Leftover winter Buddha bowls can be stored in the fridge for up to four days. To reheat, simply microwave or heat in a pan on the stove until warmed through.
Recipe Note
This recipe is vegan and can be easily made gluten-free by swapping out the quinoa for brown rice or another grain of your choice.
Variation
For an extra boost of protein, add in a can of chickpeas or tofu when you're cooking the quinoa. You could also top your Buddha bowl with avocado.
Nutrition
Calories:
1848
kcal
Carbohydrates:
232
g
Protein:
67
g
Fat:
80
g
Saturated Fat:
12
g
Polyunsaturated Fat:
35
g
Monounsaturated Fat:
28
g
Sodium:
1275
mg
Potassium:
3710
mg
Fiber:
26
g
Sugar:
21
g
Vitamin A:
1780
IU
Vitamin C:
169
mg
Calcium:
462
mg
Iron:
20
mg
For More Vegan Recipes
I've provided a list of vegan dishes that are all made completely of ingredients from plants. Additionally, they make a wonderful addition to any vegan dish. These are tasty even for meat eaters, and for more vegan recipes subscribe to our newsletter.
Vegan Hot Cocoa -Homemade; Delicious!
Try this buddha bowl at your home!
A winter buddha bowl is a great meal to have when you're looking for something hearty and filling. This particular recipe includes roasted winter veggies and winter fresh fruits, all of which are topped with a delicious tahini sauce. If you're looking for an easy way to make a satisfying winter meal, this buddha bowl is definitely worth trying!
Connect With Us
If you tried this winter buddha bowl with tahini sauce take a ?  and tag us on our social media: Facebook, Twitter, and Pinterest and subscribe to our YouTube Channel. I'd be delighted to see it!
To make sure you don't miss any recipes, remember to subscribe to our email newsletter which will be delivered to your inbox every week. ? In addition to this, if you are looking for vegan baking recipes visit Best Baking Tips they also published a lot of healthy baking recipes.
Read More