Vegan Globetrotter is supported by our audience. When you purchase through one of our links, we may earn a small affiliate commission.  As an Amazon Associate I earn from qualifying purchases. Your cost is not affected.
==================
Are you looking for a delicious, vegan cookie recipe that is both easy to make and satisfying? Then look no further than these almond butter cookies! Made with just 10 simple ingredients, these cookies are perfect for any occasion, especially this coming Christmas Day. So why not give them a try today?
These Almond Butter Cookies are a vegan interpretation of a classic recipe, and they are also flourless and gluten-free. The texture is chewy and the flavor is rich and nutty. The cookies are made with almond butter, which is a natural source of healthy fats, protein, and fiber. Almond butter is also a good vegan alternative to other nut butter, such as peanut butter.
In addition to being vegan and plant-based, these cookies are also free of refined sugar. They are sweetened with molasses, which is a natural sweetener that is also rich in antioxidants and minerals. Enjoy these cookies as a healthy snack or dessert.
Almond Butter Cookies: Your New on-the-go Snack and Dessert
Almond butter cookies are a delicious, healthy, and vegan-friendly alternative to traditional cookies. Packed with protein and fiber, these little bites are the perfect on-the-go snack or dessert. Here's why almond butter cookies should be your new go-to treat!
1. Nutritious and Delicious
Traditional cookies are loaded with sugar, almond butter cookies get their sweetness from natural ingredients like dates, maple syrup, and almond butter. This means that they not only taste great, but they're also packed with nutrients like protein, fiber, and healthy fats. And because they're made with simple, whole-food ingredients, almond butter cookies are a much healthier choice than most store-bought snacks.
2. Perfect for on-the-go snacking
Another great thing about almond butter cookies is that they're easy to take with you on the go. No need for forks or plates – just grab a couple of cookies and you're good to go! They're perfect for busy days when you need a quick snack to keep you going until lunch or dinner.
3. Makes a Delicious Dessert
In addition to being a nutritious snack, almond butter cookies also make a delicious dessert. Serve them warm out of the oven with a scoop of ice cream or enjoy them cold with a cup of tea or coffee. However you enjoy them, almond butter cookies are sure to satisfy your sweet tooth!
If you're looking for a tasty, nutritious, and vegan-friendly cookie recipe, look no further than almond butter cookies! Packed with protein and fiber, these little bites make the perfect on-the-go snack or dessert. So next time you're in the mood for something sweet, give almond butter cookies a try – you won't be disappointed!
Almond Butter Cookies: FAQs Answered
You might be wondering why almond butter cookies are all the rage. They are simple to make, vegan, and packed with flavor. Not to mention, they are a hit with kids and adults alike! If you have ever had one, then you know exactly what we are talking about. In this blog post, we will answer some of the most frequently asked questions about almond butter cookies so that you can get in on the action.
What is the difference between almond butter and peanut butter?
Almond butter is made from ground almonds, while peanut butter is made from ground peanuts. Both nut butter is a good source of protein and healthy fats. However, almond butter is lower in saturated fat and sodium than peanut butter. Almond butter is also higher in vitamin E, magnesium, and iron than peanut butter.
Can I make these cookies without almond butter?
No, these cookies require almond butter. If you do not have almond butter on hand, you can substitute another type of nut or seed butter, such as cashew or sunflower seed butter. However, this will change the flavor of the cookie.
Do I need to use vegan chocolate chips?
No, you can use any type of chocolate chip that you like. However, if you are looking for a completely vegan cookie, be sure to use vegan chocolate chips.
Whether you are vegan, gluten-free, or just looking for a healthier cookie option, almond butter cookies are a great choice! Made with whole wheat flour and almond butter, these cookies are a delicious and nutritious alternative to traditional sugar cookies.
Be sure to check out our recipe card below for step-by-step instructions on how to make your own vegan almond butter cookies!
Life is better with almond butter cookies!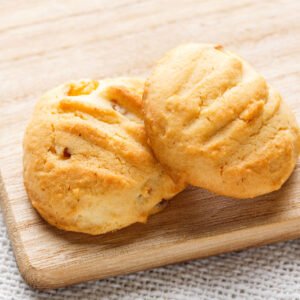 Almond Butter Cookies
A cookie snack you deserve this Christmas season! They are easy to make and made with easy-to-find plant-based ingredients. They are crunchy and perfect with a cup of coffee!
Ingredients
Easy-to-find cookie ingredients:
1

tbsp

flaxseed

stir into 3 tbsp of water.

10

oz.

almond flour

1

tsp

baking soda

½

tsp

baking powder

¾

tsp

kosher salt

4

oz.

coconut oil

soft but not melted

4

oz.

maple syrup

8

tbsp

swerve

6

oz.

almond butter

1 1/2

tsp

vanilla extract
Instructions
Bake the cookies!
Preheat the oven to 350°F and line a baking sheet with parchment paper.

Stir together the flax seed and water until the flax seed is dissolved.

In a medium bowl, mix together the dry ingredients; all-purpose flour, baking powder, baking soda, and kosher salt.

In a separate bowl, mix together the wet ingredients; coconut oil, maple syrup, swerve, almond butter, flax seed mixture, and vanilla extract. Mix them well.

Stir together dry ingredients and wet ingredients until everything is combined. Add water if the dough is too dry, and add flour if the dough is too wet.

Using a cookie scoop, heap the dough and form it into a ball. Then, using your hands, flatten them and place them on the line baking sheet.

Bake them for at least 15 minutes or until golden brown; remove them from the oven and allow them to cool.

Sprinkle with swerve or drizzle with maple syrup. Enjoy!
Nutrition
Calories:
3969
kcal
Carbohydrates:
294
g
Protein:
98
g
Fat:
351
g
Saturated Fat:
111
g
Polyunsaturated Fat:
28
g
Monounsaturated Fat:
63
g
Sodium:
3076
mg
Potassium:
1618
mg
Fiber:
50
g
Sugar:
86
g
Vitamin A:
2
IU
Vitamin C:
0.1
mg
Calcium:
1455
mg
Iron:
18
mg
For More Vegan Recipes
I've provided a list of vegan dishes that are all made completely of ingredients from plants. Additionally, they make a wonderful addition to any vegan dish. These are tasty even for meat eaters, and for more vegan recipes subscribe to our newsletter.
Try These Cookies At Your Home
Life is better with almond butter cookies as they are the perfect on-the-go snack or dessert. They are delicious, nutritious, and easy to make. If you have any questions about almond butter cookies, check out our FAQ section.
Connect With Us
If you tried these almond butter cookies take a ?  and tag us on our social media: Facebook, Twitter, and Pinterest, and subscribed to our YouTube Channel. I'd be delighted to see it!
To make sure you don't miss any recipes, remember to subscribe to our email newsletter which will be delivered to your inbox every week. ? In addition to this, if you are looking for vegan baking recipes visit Best Baking Tips they also published a lot of healthy baking recipes
Read More