Vegan Globetrotter is supported by our audience. When you purchase through one of our links, we may earn a small affiliate commission.  As an Amazon Associate I earn from qualifying purchases. Your cost is not affected.
==================
If you love eating desserts and yet you don't enjoy making a mess in the kitchen, therefore, Almond Joy Truffles are the answer. It's quick, simple, and yet very delectable–you wouldn't think that you only used four ingredients to do this!
Almond Joy Truffles: A joy in every bite!
Sweets are one of life's simple pleasures, and who can resist these Almond Joy Truffles that are simple to prepare, delicious, and incredibly impressive? And if you've ever shied away from baking because you're not a whiz in the kitchen, then these truffles are for you. This recipe requires no baking and is ready in a matter of minutes.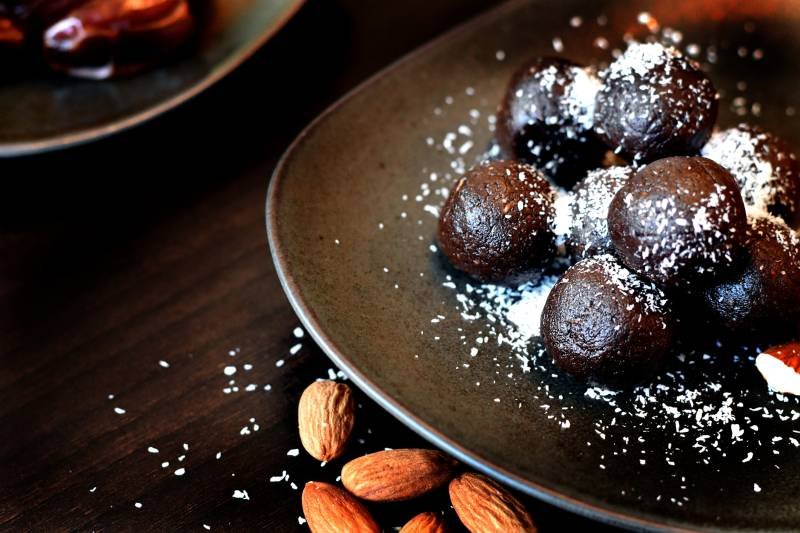 How Almond Joy Truffles prepared
Contrary to the traditional truffle recipes, this delicious treat only needs four ingredients and comes together in no time. It's a combination of flavors of sweetened condensed milk and melted chocolate with chopped almonds and coconut flakes. A perfect blend of flavors that can surely blow your mind. 
But don't be fooled by their ease of preparation – these little bites are insanely delicious. Rich, chocolatey, and with a hint of almond flavor, they taste like a bite of heaven. And yes, they just happen to be plant-based too. So whether you're vegan or simply looking for an easy dessert recipe, go ahead and give these almond joy truffles a try. I promise you won't be disappointed!
Why making Almond Joy Truffles worth it?
You might wonder what makes this simple almond joy truffle recipe unique and worth a try. So therefore, I added five reasons you should try this dessert at home and start impressing all your loved ones. 
Simple and less expensive
You only need four ingredients to whip up this delectable dessert. No need to splurge on costly ingredients. 
They're easy to make
This is a fool-proof recipe, definitely, no hassle when it comes to preparation is straightforward, and requires less equipment. You can make this any time of the day; even kids will enjoy making this recipe too. 
Fun to eat and pleasing in the eyes
These almond joy truffles are so delectable and delicately prepared. They're great for parties or gatherings and can also be perfect given as a gift!
Very versatile
Let's admit it, sometimes store-bought condensed milk tends to be too sweet for our taste. Still, the excellent part is you can customize homemade vegan condensed milk according to your taste preferences, making it more suitable for people of all ages.
No major cleanup and prep time 
As much as we love desserts, we don't like the mess that comes with making them— and because this recipe is so simple, you won't need as many tools and will have less mess to clean.
What makes Almond Joy Truffles a good choice for a healthy snack?
Almond joy truffles are a healthy treat made with vegan and natural ingredients. They are a good choice for a healthy snack because they are low in calories and fat and a good source of fiber and protein. Another good thing is that it can adjust its sweetness if you make your sweetened condensed milk from scratch or use dark chocolate instead of the semi-sweet version. Also, since almond joy truffles are vegan, they are an ideal snack for those looking for a healthy alternative that is also plant-based and will not be as bad for you. 
Ingredient Substitutions
Recipe changes are always a little bit of an experiment. Usually, you can get away with substituting one type of ingredient for another or leaving it out altogether. Coconut flakes are sometimes hard to find, in that case, you can replace them with desiccated coconut, which are readily available in any Asian or baking store. Sweetened condensed milk also comes in vegan option, but if you want to make your own, you can swap it out with one can of full-fat coconut milk and ⅓ cup of maple syrup or sugar. You can adjust the sugar level based on your preference to make it a less sweet version. All you have to do is simmer over low heat, until it becomes thick and somewhat off-white in color.
If you want to add more layers of flavor and texture to your recipes, why not experiment with other alternatives? Though almonds are required in this recipe, you can replace that with any other type of nuts you love. Don't be afraid to experiment with different flavors. You might just be surprised at how amazing they can be!
Almond Joy Truffles
Almond Joy Truffles are an instant favorite! They're easy to make, delicious, and fun for even kids to enjoy. Serve them at your next party or get-together, and watch them disappear!
Ingredients
3

cups

coconut flakes

unsweetened

1

cup

sweetened condensed milk

store-bought, vegan

24

pcs whole natural almonds

roasted

24

oz

semi-sweet chocolate chips

vegan
Instructions
Line a large cookie sheet with wax or parchment paper. A silicone mat can also be used as an alternative.

Combine coconut flakes and vegan-sweetened condensed milk in a medium mixing bowl. When pressed together, the mixture should retain its shape.

If it doesn't hold its shape, add a tablespoon of condensed milk at a time until it does.

Scoop 1.5 tablespoons of the coconut mixture, shape it into balls, and place them on your prepared cookie sheet. Place one almond on top of each pile.

Place the mounds in the refrigerator until firm for about 30-minutes or in the freezer for faster cooling time.
Chocolate Dip
Melt chocolate using a large microwave-safe bowl according to package directions until just melted. Avoid overheating.

Using a spoon, gently pour melted chocolate over the truffle. Lift the truffle out of the chocolate with a fork and allow any excess chocolate to drain back into the chocolate bowl.

To help remove extra chocolate, lightly tap it against the side of the bowl. Allow the truffles at room temperature to let the chocolate harden. Return the truffles to the lined tray.

Serve these lovely truffles immediately. For leftovers, store them inside the refrigerator in an airtight container to retain their freshness.
Notes
If you can't find store-bought vegan sweetened condensed milk and are planning to make one from scratch, you can make that ahead of time and store it in the refrigerator until ready to use. This process will save you more time in preparation and cooling time.
When melting the chocolate, do not heat it all at once. To keep the chocolate from burning, melt it in 30-second increments while mixing. You can also add more coconut flakes on top after coating them with melted chocolate. If you prefer it with more bite and texture, use chopped nuts instead.
Nutrition
Calories:
275
kcal
Carbohydrates:
24
g
Protein:
3
g
Fat:
19
g
Saturated Fat:
13
g
Polyunsaturated Fat:
0.5
g
Monounsaturated Fat:
4
g
Trans Fat:
0.02
g
Cholesterol:
6
mg
Sodium:
23
mg
Potassium:
266
mg
Fiber:
4
g
Sugar:
18
g
Vitamin A:
48
IU
Vitamin C:
0.5
mg
Calcium:
57
mg
Iron:
2
mg
More Easy to Make Recipes
Love vegan baking recipes?You could try these simple recipes at home to impress your loved ones. Perfect for after-meal treats, coffee and tea parties with friends, and family!
Vegan Cream Puffs with Vanilla Pudding
To Wrap It All Up 
Here it is—our gorgeous Almond Joy Truffle, ready in a matter of minutes. Additionally, try making this Almond Joy Truffle at home if you want to create something straightforward yet definitely fantastic.This recipe will definitely be one sure hit for vegans and even for non-vegans alike!  Start making this recipe in your kitchen, and let us know how it turns out!
Connect With Us
If you've tried these Almond Joy Truffle don't forget to leave a rating on the recipe card. Tag us on our social media accounts and make sure to subscribed on our weekly newsletter and follow the Best Baking Tips and Vegan Globetrotter sites for more delicious ideas!
Read More
Eating Healthy Tips And Going Vegan