Vegan Globetrotter is supported by our audience. When you purchase through one of our links, we may earn a small affiliate commission.  As an Amazon Associate I earn from qualifying purchases. Your cost is not affected.
==================
Despite their tiny size, sprouts are a nutritional powerhouse. Please examine the benefits of eating raw sprouts and their possible health risks!

Sprouts are one of the vegetables that are rich in many essential nutrients. They also offer plentiful health benefits, including improved digestion, blood sugar levels, and possibly improved heart health. Despite their benefits, these little vegetables are often associated with possible health risks like food poisoning. That makes many of us question the benefits of eating raw sprouts and whether they are worth the risk.

So, what are sprouts? How can you use them, and what raw sprout recipes can you try? This post will discuss the benefits of eating raw sprouts and the risks of raw sprouts so you can decide whether or not adding sprouts to your diet is beneficial.
What Are Little Sprouts?

In simple words, sprouts are germinated seeds of vegetables. A sprout is produced when a vegetable seed starts growing into a vegetable. Common examples of seeds that have sprouts include grains like buckwheat and beans.

Different sprouts have different textures and tastes. Radish and onion sprouts, for example, are spicy, whereas some, like mung bean, are hardy and can be used in oriental food. In addition, alfalfa sprouts are delicate, and we use them in sandwiches, salads, or to add texture and moistness.

Germinations usually occur when you soak seeds for several hours and expose them to an ideal temperature and moisture environment. Allow your seeds to grow for up to a week; the end product will give you sprouts measuring 1-2 inches long.
Where Can You Find Sprouts?

Sprouts are available almost everywhere and readily in grocery shops and farmer markets. In addition, you can also grow your sprouts and reap the benefits of eating raw sprouts. While you can purchase seeds from grocery or health food stores, inexpensive kits are readily available to help you grow your sprouts. 

Moreover, if you don't have the time to grow sprouts, head to your local vegetable market, buy fresh sprouts, and enjoy raw sprout recipes at home.
Types of Sprouts

There are various types of seeds that you can use to produce sprouts. Some of the most common types of sprouts that you will find in grocery shops include:
Sprouted grains

: These include buckwheat, brown rice, Kamut, amaranth, oat, and quinoa sprouts.
Bean and Pea

: Such as adzuki, lentils, soybean, garbanzo, black bean, mung bean, green pea, kidney bean, and snow pea sprouts.
Nuts and Seeds

: These sprouts include radish seed, almond, pumpkin, alfalfa, sesame, and sunflower seed sprouts.
Veggies Leafy Sprouts

: Beet, mustard green, broccoli, radish, cress, clover, and fenugreek sprouts.

While you can reap plenty of benefits from eating raw sprouts, some need slight cooking before consuming them.
Sprouting kits are a game-changer for anyone who loves fresh, homegrown sprouts. Whether you're a seasoned sprouter or just starting out, these kits make it easy and fun. So go ahead, add some homegrown goodness to your salads and sandwiches. #ads #commissionearned
Benefits of Eating Raw Sprouts
While the benefits of eating raw sprouts can vary from sprout to sprout, they are all rich in minerals and vitamins. Despite being low in calories, these little vegetables are rich in beneficial plant compounds. Here are a few proven benefits of eating raw sprouts:
1.  Sprouts are Jam-Packed with Essential Nutrients

According to research, sprouting seeds is an effective way to increase minerals and vitamins, making sprouts wealthier in folate, protein, phosphorus, calcium, magnesium, manganese, and Vitamins C & K. In addition, several studies indicate that sprouts contain higher levels of amino acids, with specific amino acids increasing up to 30%.

Moreover, another study states that sprouting helps reduce antinutrients that can prevent the human body from absorbing nutrients. So, one of the benefits of eating raw sprouts is the protein they contain digests easily. In addition to nutrients, sprouts are an excellent source of antioxidants and beneficial plant compounds.

Furthermore, according to the National Institutes of Health research, it is found that raw sprout recipes have more nutrients than those you cook without sprouted beans. For example, soy milk and tofu from sprouted beans contain up to 13% protein, 24% less fat, and up to 81% fewer antinutrients. These benefits are worth the risks of raw sprouts.
2.  Raw Sprouts Help Improve Digestion System

An improved digestion system is one of the benefits of eating raw sprouts. These tiny yet powerful vegetables have an incredibly high amount of living enzymes. Research also suggests that not only do these enzymes enhance the chemicals in the human body, but they also boost metabolic processes.

Moreover, it is worth mentioning that living enzymes within the human body are responsible for breaking down food while also improving the ability of the digestive tract to absorb. In addition, another study suggests that sprouts are also rich sources of dietary fiber, stimulating digestion by bulking up the stool so it can smoothly pass through the digestive tract.
3.  Sprouts Help Keep Blood Sugar under Control

A controlled blood sugar level is one of the significant benefits of eating raw sprouts. According to various studies, it is found that this might be due to the reduced levels of carbs in sprouts. However, not all studies agree, so more research is needed.

Another concept about sprouts indicates that eating raw sprouts can stimulate the ability of the amylase enzyme. It is worth mentioning that high sugar levels are one of the biggest culprits that trigger abnormal blood sugar levels. The amylase enzyme within our body breaks down and absorbs sugars.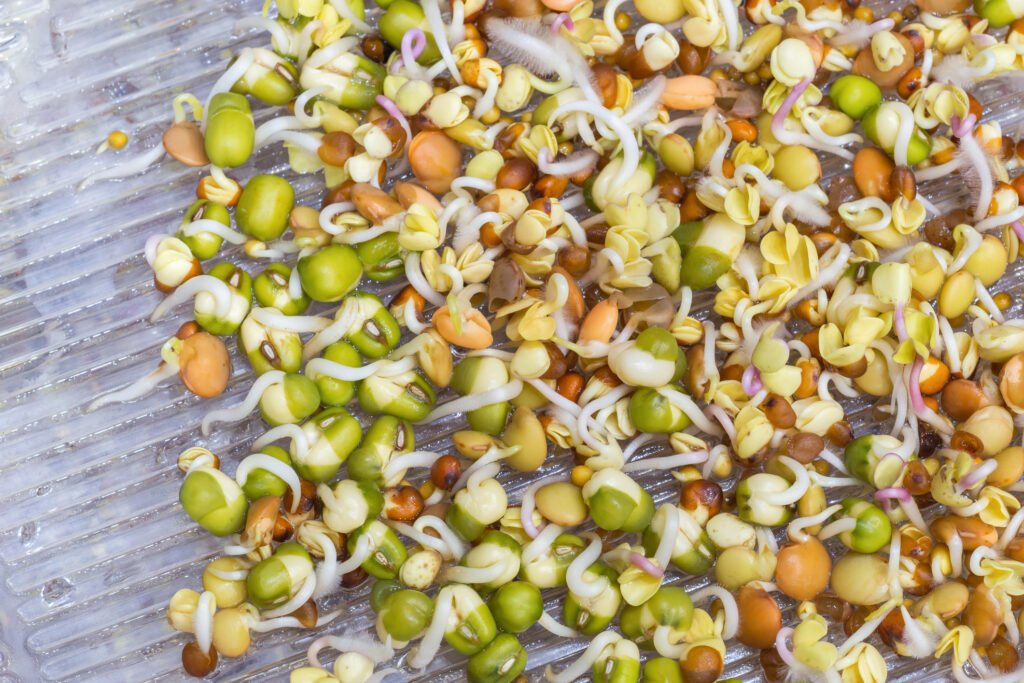 Moreover, another smaller study involving two groups of people with diabetes was carried out to scrutinize the benefits of eating raw sprouts or raw sprout recipes. It was found that participants who ate 60g of lentil sprouts daily along with a regular diet saw a 10% decrease in hemoglobin A1c levels. In contrast, the second group with a standard diet experienced a 12% increase.

Similarly, another study involving people with type 2 diabetes found that powdered broccoli sprouts can effectively resist insulin and significantly reduce blood insulin levels. According to researchers, these effects are the with a high amount of oxidant sulforaphane that sprouts contain.

However, despite all these cheering effects, more research is essential for tackling the risks of raw sprouts.
4.  Raw Sprouts May Promote Heart Health

You may want to adorn your table with raw sprout recipes that could promote heart health. One of the possible reasons why eating raw sprouts is beneficial for your heart is that they reduce heart-related health issues like abnormal cholesterol levels.
Research involving animals indicates that eating raw sprouts can help increase "beneficial" HDL cholesterol while reducing the "harmful" LDL cholesterol levels. In addition, researchers suggest that rats given sprouts showed improved blood cholesterol, similar to those obtained from cholesterol-lowering drugs.

In addition to animal studies, a few studies involving humanssprout produced similar results. One study involving two groups of overweight and type 2 diabetes patients suggests that those who ate 60gm of lentil sprouts gained up to 12% of "beneficial" HDL levels. They also experienced a significant reduction in triglycerides and "harmful" LDL cholesterol levels.

Furthermore, another study reports the benefits of eating raw sprout recipes like broccoli. It indicates that consuming 100g of raw broccoli sprouts daily for a week may decrease LDL levels while increasing HDL cholesterol levels.

However, despite such encouraging results, more study is essential before making an accurate conclusion.
5.  Eating Raw Sprouts is Awesome for Hair

Healthy hair reflects a healthy body; if you want it to shine, you should take care of it. One of the benefits of eating raw sprouts is they help you prevent hair-related problems. For instance, vitamins C and K are essential for long, strong hair. Vitamin C, in particular, helps your body eliminate the harmful properties of oxidation.

Mug bean helps consumption, which is beneficial in preventing hair fall. In addition, eating protein-rich sprouts also help in keeping your hair glossy and smooth. Similarly, vitamin E in sprouts is beneficial for blood circulation in the skull. It helps your hair to gain more nourishment so it can stay healthy.

Moreover, since free radicals are the main culprits for premature gray hair, eating raw sprout recipes rich in antioxidants can prevent the problem. Moreover, these little plants also have vitamin A, crucial in promoting hair growth from follicles.

So, these are a few benefits of sprouts. But are there any risks of eating raw sprouts? Let's take a look!
Risks Associated with Raw Sprouts

Aside from all your benefits, sprouts are often linked with health risks. One of the common risks of raw sprouts is food poisoning. Since we only consume raw or lightly cooked sprouts, it is the main reason sprouts are often associated with food poisoning.

One of the significant risks of raw sprouts is harmful bacteria. The sprouting occurs in a warm, humid environment where bacteria like E.coli and Salmonella thrive. According to US Food and Administration (FDA), raw or slightly cooked sprout consumption caused 48 foodborne illness cases in the last two decades.

Foodborne illness caused by raw sprouts can occur within 72 hours of sprout consumption and trigger symptoms such as vomiting, stomach cramps, and diarrhea. However, while these risks of raw sprouts are not life-threatening, people with weaker immune systems, pregnant women, and children should consume properly cooked sprouts or avoid them altogether.
How to Prevent Foodborne Illness?

It is worth noting that sprouts are susceptible to contamination by harmful bacteria. Here are a few tips that can help you prevent the risks of raw sprouts:
Never use chemical seeds for sprouting.
Make sure to wash your sprouts properly before consuming them.
Buy and consume fresh sprouts or the ones that have been refrigerated properly.
If your sprouts have a slimy appearance or strong smell, avoid consuming them.
It is essential to store your sprouts in the refrigerator at temperatures below 8C (48F).
Are Home-Grown Sprouts Safe?

Remember that growing sprouts at home doesn't mean they are safer than those you purchase from grocery stores. It would be best if you were required to be very careful when growing sprouts to prevent the risks of foodborne illness. In this regard, we highly recommend buying seeds from commercial sources where seeds are available for sprouting only. Retail sources are reliable as they pre-test their stock to eliminate the risk of illness-causing microorganisms.

Moreover, growing sprouts at home also require you to keep all your containers and contact surfaces that touch seeds clean. In addition, it is also essential to keep your growing sprouts away from the food production area in a place where they aren't disturbed.

Furthermore, be careful, keep your seeds away from pets, and ensure the water you use for irrigation is drinkable.
Raw Sprout Recipes

Here are a few raw sprout recipes that will surely make you drool:
Buffalo Cauliflower Salad Bowl
You will love this sprouted lentil salad. Preparing buffalo cauliflower salad is straightforward and perfect for a quick weekend lunch. The recipe contains a rainbow of colorful, yummy veggies with a spicy peanut topping.
Sweet Potato Sprouts Beer Burger

It is another delicious raw sprout recipe you can easily prepare for your family. Since we all love sprouts' earthy and nutty flavor, this sweet potato burger with sprouts is so delicious. In addition to deliciousness, this yummy burger contains beneficial ingredients like sweet potatoes and beets. We also love adding some mung bean sprouts to this burger.
Instant Pot Vietnamese Noodle Soup

This plant-based Vietnamese noodle soup is incredibly delicious. The magic of instant pot offers umami and depth of flavor in a fraction of the time. You can serve this soup with herbs like Vietnamese mint, chopped cilantro, Thai basil, and sliced scallion.
Malaysian Spring Rolls

Also known as popiah, Malaysian spring rolls are famous Malaysian delicacies. These rolls are incredibly flavorsome, delicious, and Jam-packed with cooked veggies, tofu, and raw bean sprouts. While there are many versions of this recipe, this particular version is what we like the most.
Again, let's talk about the magic of sprouting kits. If you're a fan of adding a fresh, homegrown twist to your meals, these kits are your secret weapon. Whether you're an experienced sprouter or just diving in, they bring convenience and delight to your kitchen. So why wait? Elevate your salads and sandwiches with your very own homegrown goodness. #ads #commissionearned
Wrapping Up

There are plentiful benefits to eating raw sprouts. These tiny plants are the surest way to balance acidity and alkalinity. As one of the excellent natural foods, adding raw sprout recipes to your daily diet can help you tackle acidity. However, incorporating sprouts into your daily diet also requires you to take safety precautions to tackle the risks of raw sprouts. Please make sure to buy seeds from commercial sources and consume fresh sprouts.
Why are raw sprouts considered healthy?
Raw sprouts are considered healthy because they are rich in essential nutrients, vitamins, minerals, and enzymes. They are also low in calories and often recommended as a nutritious addition to a diet.
What are the nutritional benefits of raw sprouts?
Raw sprouts are an excellent source of fiber, vitamins (such as C and K), minerals (like folate, manganese, and iron), and antioxidants. They are also low in fat and calories.
Are there any potential health risks associated with raw sprouts?
Yes, raw sprouts can be a source of foodborne illnesses, as they are grown in warm, humid conditions that can promote the growth of harmful bacteria like Salmonella and E. coli. It's important to handle and store them safely.
How can I reduce the risk of foodborne illnesses from raw sprouts?
To reduce the risk of foodborne illnesses, it's recommended to rinse and cook sprouts before consumption thoroughly. Cooking sprouts can kill harmful bacteria. Also, purchase sprouts from reputable sources and store them at proper temperatures.
Are all types of sprouts safe to eat raw?
While many sprouts are safe to eat raw, some, like alfalfa and mung bean sprouts, are more commonly consumed raw. However, it's essential to handle all sprouts with care to minimize the risk of contamination.
Do raw sprouts have any specific health benefits beyond basic nutrition?
Raw sprouts are believed to have certain health benefits, such as promoting digestion, supporting the immune system, and potentially reducing the risk of chronic diseases. These potential benefits are due to their high fiber and antioxidant content.
How can I grow my own sprouts at home?
Growing sprouts at home is easy and requires minimal equipment. You can typically grow them in a jar or a tray with the right seeds and regular rinsing. There are many online resources and guides available for home sprouting.
🌱 Supercharge Your Health with Raw Sprouts! 🌱
Discover the Amazing Benefits of Eating Raw Sprouts and Unleash a World of Wellness!
🌟 Why Choose Raw Sprouts?
👉 Packed with essential nutrients and vitamins
👉 Boost your immunity naturally
👉 Aid in weight management with low calories and high fiber
👉 Enhance digestion and promote a healthy gut
🥗 Elevate Your Plate with Freshness! Are you ready to revolutionize your meals? Raw sprouts are the secret ingredient you've been missing. Their crisp, crunchy texture and vibrant flavors make every dish a culinary delight.
❤️ What We Offer: 🌱 Expert tips for safe sprout consumption 🌱 Mouthwatering recipes for every taste 🌱 Uncover the incredible health benefits 🌱 Join the sprouting revolution today!
🍅 Nutrient-packed, farm-to-table freshness is just a click away. Take control of your health and savor the goodness of raw sprouts.
Don't forget to follow our socials:
Embrace a healthier, tastier lifestyle with every bite. Raw sprouts – the ultimate ingredient for vitality and wellness. 🌞🌿 #RawSprouts #HealthyLiving #WellnessJourney