Vegan Globetrotter is supported by our audience. When you purchase through one of our links, we may earn a small affiliate commission.  As an Amazon Associate I earn from qualifying purchases. Your cost is not affected.
==================
Bk Carbon Steel Skillet is the answer to your nonstick prayers. It offers the same nonstick features as its heavier counterpart at half the weight of cast iron. Also, it comes preseasoned from the factory – ready to use immediately! But is Bk Carbon Steel Skillet better than cast iron? In this review, we'll look closer at this pan and determine whether it's worth buying.
Why You Need to Buy It
It is very affordable yet quality compared to other carbon steel skillets.
You can remove the wax coating without effort.
It has attractive and stylish that is perfect for your kitchen.
It gives the same nonstick features as traditional cast iron.
It has a smooth and high-end surface.
Overview
The BK carbon steel skillet is lighter than the usual cast iron. Even though it is way better than cast iron, they have many similarities in properties.
Specs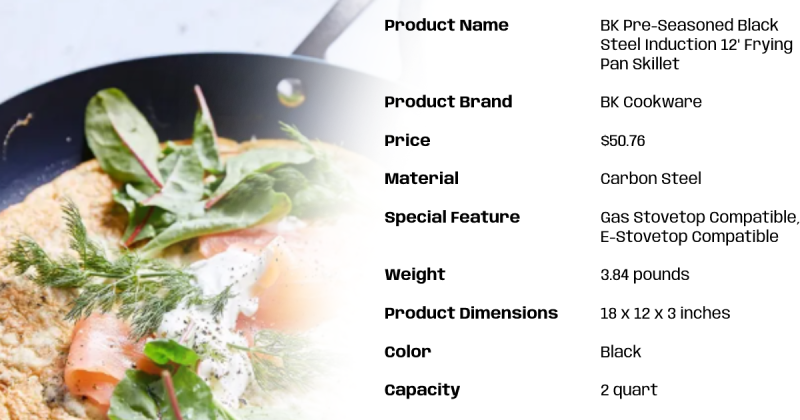 BK Carbon Steel Skillet: Best Cast Iron Skillet Alternative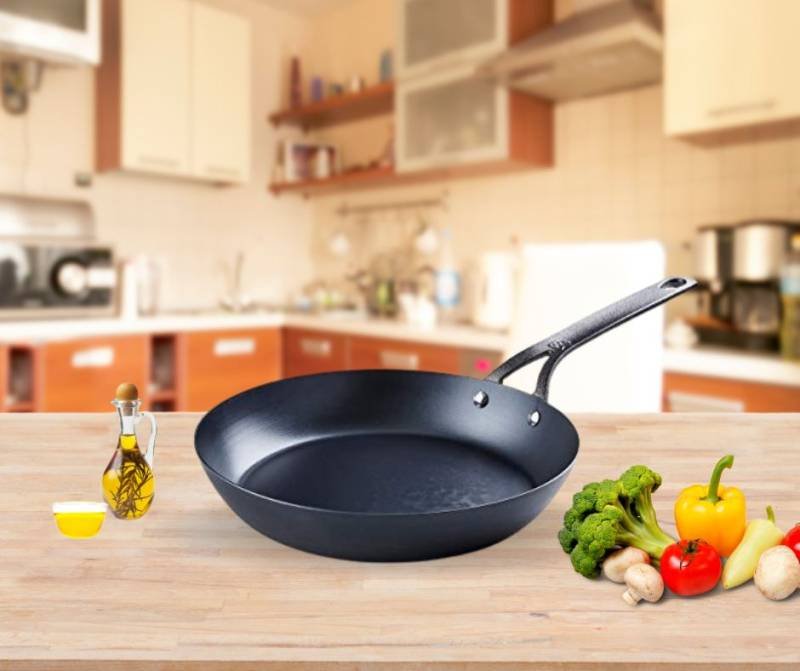 Much like cast iron, carbon steel is renowned for its nonstick properties. It can be used with metal equipment and is versatile enough to cook various foods on almost any cooktop. As someone who owns both pans, I immediately knew what I wanted to use. The BK carbon steel skillet. After setting off the smoke detector and preparing seasoning oil. Then I lined up veggies for searing, noodles to test nonstick resistance, and plenty more food. After using the pan continuously for several weeks, I have my findings. Keep reading until the end to know my thoughts about it.
Attractive Design
I might've mistaken the pan for having a nonstick coating. The glossy surface and attractive dark gray finish give an appealing modern aesthetic. It is appealing even without drawing attention to itself. It is suitable for kitchens of any style – from contemporary to industrial to rustic.
The cast-iron handle of this pan is comfortable to grip. It is also secured with two rivets for extra security. With a hole at the end, it can easily hang on a hook in the pantry or pot rack for convenient reach. Overall, the pan's balance was ideal. I could even flip food as it cooked without fear of spills. At first, I noticed a color shift after repeated usage. At first, it was subtle, but eventually, it darkened more evenly across the pan with continued use. This should occur throughout all layers of paint.
Nonstick Feature
I decided to test out my BK carbon steel skillet for baking some biscuits without oil at the heat my oven can reach. When they came out of the range, they weren't sliding around at all – I had a brief momentary "oh no" moment: was this food item going to stick? To see for sure, I slipped a metal spatula under one biscuit expecting some over-baked; instead, it came right off cleanly! After trying again with another biscuit, nothing stuck clinging onto the pan whatsoever.
High-End Performance
Carbon steel has the same heating capacity feature as cast iron but is more responsive because it is thinner. It heated up as quickly as stainless steel and started smoking hot fast. Cooling time was quicker than cast iron but retained some warmth to keep food in the pan for a short period.
Cast iron typically becomes nonstick with extra seasoning and frequent use. But this pan was so nonstick right out of the gate that I could cook a pan full of vegetables without even the slightest hint of sticking. Without even a moment's hesitation! It truly made cooking effortless.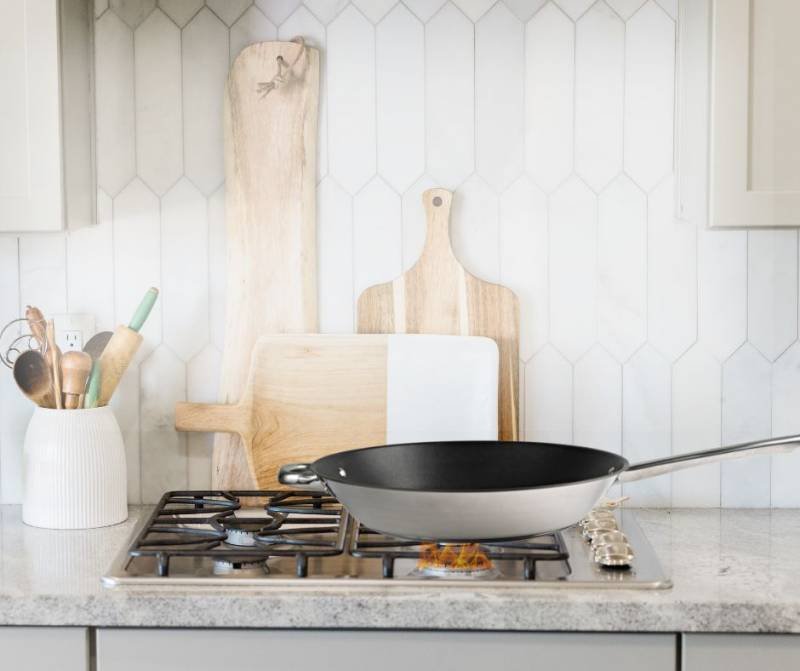 Setting Up
This pan is constructed with black carbon steel and pre-seasoned with oil, so it's almost ready for use when it arrives. Just needing to wash away the protective wax, washing off wasn't any more complicated than usual for me. Once dry, I quickly seasoned it on the stovetop with some olive oil.
Cleaning the BK Carbon Steel Skillet
This pan requires the same type of cleaning as cast iron to maintain its seasoning and prevent rust. It should be washed by hand with hot water, using salt to scrub any stuck-on food away. After being washed, oil should be applied to preserve the seasoning. Acidic foods should also be avoided to prolong their longevity.
Due to this pan's nonstick nature, washing was a breeze. Any food particles left in the pan are simply rinsed away without extra scrubbing or scraping. Even searing vegetables on high heat created an impressive crust but left only minimal debris behind. I didn't need to scrape or scrub – all it needed was a quick swipe with a sponge to remove them.
Seasoning of the Carbon Steel Skillet
These pans come pre-seasoned from the factory with a thin silicone covering to prevent rust. But you can easily wash it off before use for optimal nonstick performance. Things like abrasive soap cannot be used to maintain that nonstick quality. Nor cooking acidic foods in them. Even if you manage to strip away some of the seasonings, simply reapply more before cooking again.
Reasonable Price
While cast iron pans can be affordable, carbon steel tends to be pricier. This pan is reasonably priced at $50.76 compared to some boutique brands that cost much more. Unfortunately, there's no indication of a warranty. Yet, I'm not expecting carbon steel pans to break or need replacing frequently. The cost is small enough for easy replacement if one does break. Overall, the pan is worth its price in performance alone.
BK Cookware
Hendrik Berk Van Kampen founded BK cookware in 1851. He first made milk churns, pots, pans, and cooking utensils before passing the business on to his son, who applied an enamel coating to cookware. Thus beginning BK's fame for enamel cookware. As time passed, they continued inventing new and different pieces of cookware while following the current trends. That trend includes the Bk Wokarang, which makes tossing easier than ever before.
Final Thoughts
This carbon steel is quite good quality and relatively affordable compared to other French brands. I would have preferred a thicker gauge of steel, but I can understand why some might like the thinner option. Furthermore, the handle on this model is designed slightly better than its rival's counterpart. I was quite pleased with the BK Carbon Steel Skillet, particularly its nonstick performance and lightweight quality. While there may not be a warranty, it's inexpensive enough that if it breaks, you can easily replace it quickly and easily.
FAQs
How thick is the black steel

?
Black Steel is denser triple times than aluminum. It is significantly stronger and more durable than regular grey carbon steel.
Is it a heat-responsive design?
Yes, the heat-responsive design of cast iron provides the same great searing results without all the hassles.
The BK carbon steel skillet is made for what?
These pans are built for adventure. No matter where you cook – stovetop, grill, or firepit – Black Carbon Steel Skillet always delivers exceptional performance.