Vegan Globetrotter is supported by our audience. When you purchase through one of our links, we may earn a small affiliate commission.  As an Amazon Associate I earn from qualifying purchases. Your cost is not affected.
==================
Soup is a favorite food for many people, and this cheesy broccoli soup is sure to please vegans and non-vegans alike. The recipe is simple to follow, and the end result is a creamy, flavorful soup that can be enjoyed as an appetizer or a main course. Best of all, it's vegan!
Fall is the perfect time to enjoy broccoli. It is in season from September through November. During this time, the weather is cool enough to make steaming or roasting broccoli a pleasant experience. Plus, plant-based eaters can take advantage of the abundance of seasonal fruits and vegetables to create nutrient-rich meals.
So if you are looking for delicious and healthy plant-based food to enjoy this fall, broccoli is a great option. Well, put on your chef's hat and get started with this delicious recipe. You won't regret it!
Cheesy Broccoli Soup: The Perfect Autumn Cozy Soup!
As the weather gets colder and the days get shorter, we all start to crave comfort foods that warm us up from the inside out. While there are plenty of soups out there that fit the bill, we think broccoli cheese soup is the perfect soup for autumn. Here's why:
1. Hearty Without Being Heavy
While some soups can leave you feeling weighed down, broccoli cheese soup strikes the perfect balance between being filling and being light. It's perfect for a cool fall day when you need something to warm you up without making you feel sluggish.
2. Packed With Nutrients
Broccoli is one of those superfoods that's good for just about everything. It's packed with vitamins A, C, and K, as well as fiber and iron. And when you add cheese to the mix, you're getting, even more, calcium and protein. In other words, this soup is not only delicious, but it's also good for you!
3. It'll Never Go Out Of Style
Unlike some trends that come and go, broccoli cheese soup is here to stay. It's a classic for a reason, and its popularity is only increasing as people become more health-conscious and interested in plant-based diets. Whether you're vegan, vegetarian, or meat-eater, this soup is sure to please.
If you're looking for a comforting soup to get you through the cooler months, look no further than broccoli cheese soup. It's hearty without being heavy, it's packed with nutrients, and it'll never go out of style. Whether you're vegan, vegetarian, or meat-eater, this soup is sure to please. So cozy up with a bowl of broccoli cheese soup next time the temperatures start to drop!
Cheesy Broccoli Soup: FAQs
Do you have questions about our Cheesy Broccoli Soup? You're in the right place! Keep reading to get all of your questions answered about this vegan favorite.
What's in it?
This soup is made with just a few simple ingredients: broccoli, carrots, onion, vegan cheese, vegetable broth, and seasonings. That's it! Just chop up the veggies, simmer everything in the broth until tender, then add the cheese and blend until smooth. Easy peasy!
Is it healthy?
Heck yeah! Broccoli is packed with vitamins and minerals, and carrots are a good source of fiber. This soup is also low in fat and calories, so you can indulge without guilt. Plus, it's vegan, so you know it's kind of automatically healthy, right? 😉
Is there anything else I can add to this soup?
Absolutely! If you want a little bit of protein, you could add some cooked chickpeas or tofu. Or, if you're feeling fancy, top each bowl with some crumbled bacon or sausage. Yum! This soup is also really good with a dollop of sour cream or Greek yogurt mixed in. So good!
So there you have it: everything you need to know about making delicious vegan broccoli cheese soup. Will you be trying it out this season? Let me know in the comments below! And be sure to share this post with anyone who loves cheesy soups as much as I do. 🙂
Time to cozy up!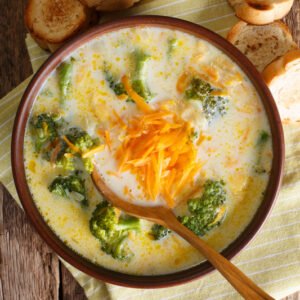 Cheesy Broccoli Soup
The soup is made with broccoli, carrots, and onion, and it is flavored with almond milk and vegan cheddar cheese. It is hearty and filling, and it is also nutritious and high in fiber.
Ingredients
Gather them now!
1

tbsp

olive oil

1

medium

onion

diced

3

cloves

garlic

minced

4

cups

broccoli florets

3

cups

carrots

or potatoes

4

cups

vegetable broth

1

cup

almond milk

1/2

cup

cheddar cheese

vegan, grated

kosher salt

to taste

black pepper

to taste

sage leaves

fresh, for garnish (optional)
Instructions
Time to cozy up!
In an instant pot, add the olive oil and saute the onion and garlic until translucent.

Add the broccoli florets, carrots, and vegetable broth. Cook for 10 minutes with a cover or until the carrots are tender.

Then add the almond milk and grated vegan cheddar cheese. Stir well until combined.

Season with kosher salt and black pepper. Cook for another 5 minutes.

Serve garnished with fresh sage leaves, if desired.
Notes
Vegan Globetrotter Tips and Suggestions
Serving Suggestion
This cheesy broccoli soup can be enjoyed as is, or topped with croutons, chopped green onions, or a dollop of vegan sour cream.
Recipe Notes
For a creamier soup, you may want to puree some or all of the broccoli before adding it to the pot. Simply place the cooked broccoli in a blender and blend until desired consistency is achieved.
To make this soup gluten-free, simply use gluten-free flour in the roux and gluten-free croutons for topping.
Storing Tips
Leftover soup can be stored in an airtight container in the fridge for up to 3 days. Reheat individual servings in the microwave or on the stovetop until warmed through. This soup can also be frozen for up to 2 months. Thaw overnight in the fridge before reheating.
Variations
Heartier soup: add 1-2 cups of cooked diced potatoes along with the broccoli.
Spicier soup: add 1/4 teaspoon of cayenne pepper or red pepper flakes to the cheese sauce.
Swap out the broccoli for another sturdy green veggie like kale or chard. Just be sure to adjust the cooking time accordingly.
Nutrition
Calories:
387
kcal
Carbohydrates:
44
g
Protein:
15
g
Fat:
19
g
Saturated Fat:
7
g
Polyunsaturated Fat:
2
g
Monounsaturated Fat:
8
g
Cholesterol:
28
mg
Sodium:
2423
mg
Potassium:
1310
mg
Fiber:
12
g
Sugar:
19
g
Vitamin A:
34495
IU
Vitamin C:
179
mg
Calcium:
519
mg
Iron:
2
mg
For More Vegan Recipes
I've provided a list of vegan dishes that are all made completely of ingredients from plants. Additionally, they make a wonderful addition to any vegan dish. These are tasty even for meat eaters, and for more vegan recipes subscribe to our newsletter.
Autumn Carrot-Sweet Potato Soup
Luck of the Irish Broccoli Soup
To Wrap It All Up
Fall is the perfect time to cozy up with a big bowl of cheesy broccoli soup. This delicious and easy recipe is sure to become a family favorite. And, if you have any questions about making this soup, be sure to check out our FAQs section. So grab a spoon and enjoy!
Connect With Us
If you tried this cheesy broccoli soup take a ?  and tag us on our social media: Facebook, Twitter, and Pinterest, and subscribed to our YouTube Channel. I'd be delighted to see it!
To make sure you don't miss any recipes, remember to subscribe to our email newsletter which will be delivered to your inbox every week. ? In addition to this, if you are looking for vegan baking recipes visit Best Baking Tips they also published a lot of healthy baking recipes.
Read More