Vegan Globetrotter is supported by our audience. When you purchase through one of our links, we may earn a small affiliate commission.  As an Amazon Associate I earn from qualifying purchases. Your cost is not affected.
==================
Luck of the Irish Broccoli Soup
On a rainy day, this Luck of the Irish Broccoli Soup is ideal. It's creamy and filling while remaining light and nutritious. This soup goes well with your favorite sandwiches and flavourful salads.
Some of the ingredients in this Irish broccoli soup recipe may pique your interest. To begin, it's gloriously creamy with minimal cream—we'll use mostly butter and finish the soup with a drizzle of optional cream.
Second, this soup makes use of broccoli crowns and stems, which is a skillful way to maximize broccoli flavor while minimizing waste.
This cream of broccoli soup isn't a standout dish on its own, but it's a fantastic addition to a springtime meal. I hope you will give it a shot!
Why Does This Recipe Work?
This quick and easy cream of broccoli soup is mouthwatering, creamy, and smooth.  This soup, made with fresh broccoli and a few pantry staples, is one of my favorite weeknight meals because it's simple to prepare and clean up. Plus, this vegetarian soup is a sneaky way for me to sneak some greens into my family's diet. Before serving, garnish the soup with some cream to add an extra layer of richness and flavor.
To enjoy every last bite of my Luck of the Irish Broccoli Soup, You can serve it with our Holiday Bread, Plant-Based Delicious.
Recipe Variations and Suggestions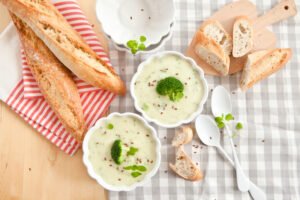 This recipe yields 10 cup servings, making it ideal for St. Patrick's Day.
You can refrigerate leftovers for up to 4 days with a cover.
This soup can make up to 3 days ahead of time and reheat on the stove. Before serving, garnish with your preferred herbs.
Irish Broccoli Soup freezes beautifully! Allow soup to cool completely before dividing into freezer-safe containers and freezing for up to 3 months. Thaw in the refrigerator overnight.
More garnish ideas: Don't be afraid to add on top with herbs. Experiment and have fun!
Comfort your St. Patrick's Day with this Irish Broccoli recipe! I'm sure as you sip this soup you're smiling.
Try Our Luck of the Irish Broccoli Soup:
Luck of the Irish Broccoli Soup
This Luck of the Irish Broccoli Soup is delectable and provides you with the great satisfaction of turning a large amount of broccoli into a creamy and luscious soup.
Ingredients
Ingredients:
1

kg

broccoli

stems and crowns

½

medium

onion

roughly chopped

1-2

small

potato

scrubbed and roughly chopped

1

tsp

garlic

powder

2-3

cups

green peas

fresh or frozen

black pepper

freshly ground, to taste

3-4

tbsp

lemon juice

fresh

2

tsp

dill

fresh, finely chopped

kosher salt

to taste
Instructions
Instructions:
Chop the broccoli into large pieces. Set aside the stems and florets. Eliminate any tough stems.

In a large pot, combine the onion, stems, garlic powder, potato, and 2-3 cups of water. Boil over high heat.

Cook the peas and broccoli florets till the broccoli is soft.

Put the soup into a food processor and blend till smooth. Continuing to blend in batches if needed.

Boil the soup, to taste add the salt, pepper, dill, and lemon juice.

Turn the heat down and serve right away.
Nutrition
Calories:
74
kcal
Carbohydrates:
15
g
Protein:
5
g
Fat:
1
g
Saturated Fat:
1
g
Polyunsaturated Fat:
1
g
Monounsaturated Fat:
1
g
Sodium:
36
mg
Potassium:
472
mg
Fiber:
5
g
Sugar:
4
g
Vitamin A:
847
IU
Vitamin C:
106
mg
Calcium:
58
mg
Iron:
1
mg
If you make this Luck of the Irish Broccoli Soup please leave a comment below and rate the recipe on the recipe card.
Also, please tag us in your photos on our social media pages. I like seeing your recreations!
READ MORE:
Crispy Teriyaki Tofu and Broccoli
What Spices Go Well With Vegetables?
Benefits of eating soup (LiveStrong)