Vegan Globetrotter is supported by our audience. When you purchase through one of our links, we may earn a small affiliate commission.  As an Amazon Associate I earn from qualifying purchases. Your cost is not affected.
==================
Potato Pancake Scones
Making potato pancake scones is a breeze. There are only four ingredients, but they are oh so delicious! They're also known as tattie scones, and they're a Scottish favorite that's great for breakfast or as a snack. Instead of being baked in the oven, potato scones are made on a griddle or in a pan. They have a soft inside and a golden brown outside, similar to a savory flatbread. Their traditional shape is a circle cut into quarters known as 'farls.' Potato scones are one of the most adaptable foods; they can be eaten plain or with savory or sweet toppings. They're great with a cooked breakfast, and I've got some suggestions in the serving section of this post.

Tips on Ingredients
This potato scone recipe only requires four ingredients:
This recipe necessitates the use of starchy potatoes. They're easier to mash and form into dough because they have less water and more starch. Starchy potato varieties include Idaho, Russet, Yukon Gold, King Edwards, and Maris Piper.
Natural Organic Vegan Block is our favorite vegan butter.
Plain or all-purpose flour
Season with a pinch of salt.
Substitutions and Variations
If we're in a hurry or don't want to waste any of our delicious homegrown potatoes, we'll skip the peeling. Simply dice them finely, and the peel pieces will have little impact.
Use a gluten-free flour blend to make gluten-free potato scones. Because gluten-free flour absorbency varies, adjust the amount as needed until you have a workable dough.
You can also use refined coconut oil instead of vegan butter or dairy-free spread. To avoid a coconut flavor, use refined coconut oil rather than extra virgin or raw coconut oil.
Suggestions for Serving
Potato scones are typically served as part of a cooked breakfast, but their soft texture and mild flavor make them an excellent addition to a variety of dishes. Why not serve them with;
Pro-Tips
Even though it may seem enticing, avoid adding extra flour to the dough because it will make the scones more gummy and rubbery in texture.
Roll out the dough gently, pressing out rather than down, and turn it a quarter turn after rolling to get a neat circle. To prevent sticking, add more flour to the board as needed. If you want to tidy up the edges, you can trim them or simply smooth them out with the side of a knife.
Run a palette knife or a thin spatula underneath the scones to transfer them. It will be easier to flip the scones if you cook them in a pan/griddle that is larger than necessary.
Storage and Reheating Tips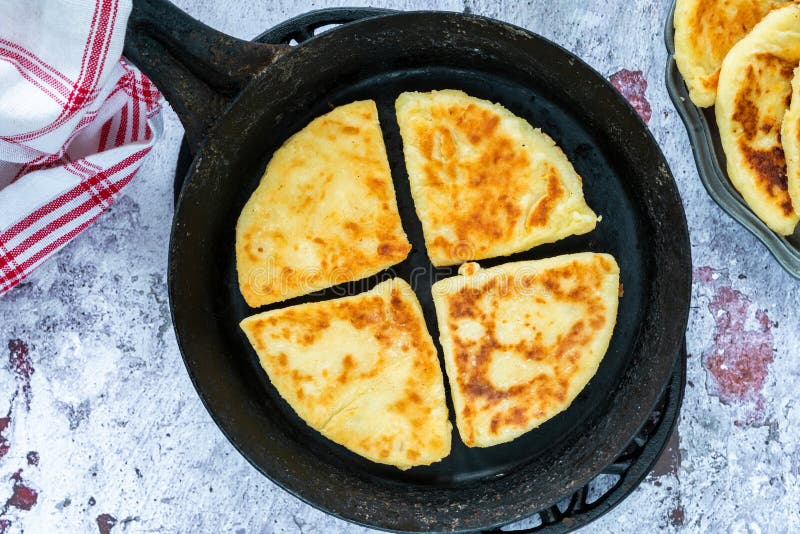 When Freezing: Once the scones have cooled, place them on a tray in a single layer and freeze until solid. Freeze for up to two months in an air-tight container or a ziplock baggie.
When Reheating: Place in a greased frying pan or griddle and reheat over medium heat, straight from the freezer.
Learn how to make these delectable vegan potato scones! If you haven't tried them yet, we strongly recommend you do so!
Try our Potato Pancake Scones Recipe: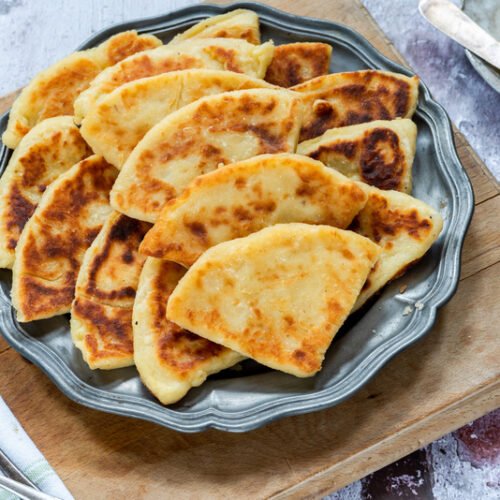 Potato Pancake Scones
Potato scones are a savory griddle scone that only requires four ingredients. In Scotland, they're known as tattie scones, and they're delicious with breakfast or as a teatime snack.
Ingredients
Ingredients:
3-4

cups

starchy potatoes

diced

8

oz

all-purpose flour

kosher salt

to taste

2-3

tbsp

vegan butter
Instructions
Instructions:
Peel and dice the potatoes. We often leave the peel on if we are using organic or homegrown potatoes.

In a saucepan, boil the potatoes for approximately 10-15 minutes until tender.

Drain the potatoes and then mash them with vegan butter.

Next, mix in the salt and flour until you have a smooth dough.

Form three balls with the dough.

Dust a wooden board and rolling pin with flour, and then roll each ball of dough into circles about 18cm / 7 inches wide.

Cut each circle into quarters.

Heat a lightly greased griddle or heavy-based pan, and then cook the scones for 2-3 minutes on each side until golden brown.

Best served warm, store leftovers in the fridge and reheat in a pan or toaster, or freeze.
Notes
When using organic or homegrown potatoes, we often leave the peel on.
If vegan butter isn't available, refined coconut oil will suffice.
Nutrition
Calories:
112
kcal
Carbohydrates:
21
g
Protein:
3
g
Fat:
2
g
Saturated Fat:
1
g
Polyunsaturated Fat:
1
g
Monounsaturated Fat:
1
g
Trans Fat:
1
g
Sodium:
17
mg
Potassium:
177
mg
Fiber:
1
g
Sugar:
1
g
Vitamin A:
89
IU
Vitamin C:
2
mg
Calcium:
8
mg
Iron:
1
mg
Have you ever tried this recipe before?
I look forward to hearing from you. Please leave a rating and a comment, or tag us on our Social Media.
READ MORE:
Favorite Plant-Based Pancakes, 3 Recipes