Vegan Globetrotter is supported by our audience. When you purchase through one of our links, we may earn a small affiliate commission.  As an Amazon Associate I earn from qualifying purchases. Your cost is not affected.
==================
Chocolate Coconut Christmas balls are a healthy and enjoyable dessert option that can be enjoyed by people of all ages. They are made with shredded coconut and coated with dark chocolate. This makes them a naturally sweetened treat that is also gluten-free, dairy-free, and vegan. They are a perfect choice for those who are looking for a healthier alternative to traditional Christmas cookies or Cake.
In addition to being a healthier dessert option, Chocolate Coconut Bounty Balls are also incredibly easy to make. Simply combine all of the ingredients in a food processor and pulse until the mixture is combined. Then roll the mixture into balls and refrigerate until firm. These Chocolate Coconut Bounty Balls are sure to be a hit with your family and friends this holiday season!
A classic dessert for any Christmas party!
Aside from they are healthy and enjoyable desserts. They are also a classic treat for any Christmas party that you won't be able to resist making at your home. So below are reasons why these chocolate coconut Christmas balls are a classic dessert:
1. The classic combination of chocolate and coconut never gets old.
2. These balls are made of shredded coconut, which adds a lovely texture and makes them look extra festive.
3. They are also dipped in dark chocolate, which is richer and more intense than milk chocolate.
Best of all, they can be made ahead of time so you can enjoy the party instead of being stuck in the kitchen. So if you're looking for a festive and delicious dessert to serve this holiday season, look no further than Chocolate Coconut Christmas Balls.
So go ahead save the recipe card and share them with your family and friends! Let me know what you think about this healthy dessert in the comment section below.
Let your Christmas roll with these classic balls!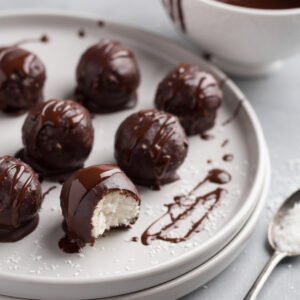 Chocolate Coconut Christmas Balls
These festive Christmas balls are easy to make with 7 plant-based ingredients; dairy-free and vegan. The balls are made with shredded coconut and coated with vegan dark chocolate.
Ingredients
Bliss Balls:
2

cups

coconut

shredded

8

oz.

coconut milk

chilled

1

tbsp

maple syrup

2 1/2

tsp

vanilla extract
Chocolate coating:
6

oz.

dark chocolate

vegan; melted

1/2

cup

coconut

shredded
Instructions
Make the coconut bounty balls!
In a food processor, pulse together the shredded coconut, coconut milk, agave syrup, and vanilla extract until everything is combined.

Transfer the shredded coconut mixture into a bowl with a cover and refrigerate them for 1 hour or until thickened.

Scoop the thickened mixture for about 1 scoop and form them into a ball using your hands. Set them aside.

In a mixing bowl, add the remaining shredded coconut and melted vegan chocolate into a separate mixing bowl.

Dunk the balls into melted chocolate until fully coated and roll them in shredded coconut.

Line them on parchment paper. Refrigerate them for 1 hour. Serve chilled and enjoy!
Nutrition
Calories:
188
kcal
Carbohydrates:
11
g
Protein:
2
g
Fat:
16
g
Saturated Fat:
12
g
Polyunsaturated Fat:
0.3
g
Monounsaturated Fat:
2
g
Trans Fat:
0.004
g
Cholesterol:
0.4
mg
Sodium:
9
mg
Potassium:
207
mg
Fiber:
3
g
Sugar:
6
g
Vitamin A:
6
IU
Vitamin C:
1
mg
Calcium:
18
mg
Iron:
3
mg
For More Vegan Recipes
I've provided a list of vegan dishes that are all made completely of ingredients from plants. Additionally, they make a wonderful addition to any vegan dish. These are tasty even for meat eaters, and for more vegan recipes subscribe to our newsletter.
Gingerbread Crumble (Blackberry & Apple Filling)
Try These Homemade Christmas Balls!
These chocolate coconut Christmas balls are the perfect dessert for any holiday party! With a classic taste and festive appearance, these balls will be a hit with your guests. So let your Christmas roll with these classic balls!
Connect With Us
If you tried these chocolate coconut Christmas balls take a ?  and tag us on our social media: Facebook, Twitter, and Pinterest, and subscribed to our YouTube Channel. I'd be delighted to see it!
To make sure you don't miss any recipes, remember to subscribe to our email newsletter which will be delivered to your inbox every week. ? In addition to this, if you are looking for vegan baking recipes visit Best Baking Tips they also published a lot of healthy baking recipes
Read More