Vegan Globetrotter is supported by our audience. When you purchase through one of our links, we may earn a small affiliate commission.  As an Amazon Associate I earn from qualifying purchases. Your cost is not affected.
==================
Are you looking for a delicious and easy appetizer for your Thanksgiving next party? Look no further than this Spicy Pimento Cheeseball! It is perfect for any occasion, and it's sure to please vegans and meat-eaters alike. Plus, it's super quick and easy to make – you can have it ready in just minutes! So what are you waiting for? Give this recipe a try today!
What Is Pimento?
Pimento, also known as allspice, is a plant-based spice that is commonly used in Jamaican cuisine. It has a sweet and savory flavor that is similar to cloves, cinnamon, and nutmeg. Pimento is often used to flavor meats, stews, and sauces. It can also be used to make plant-based versions of traditional dishes such as jerk chicken and curried goat. Pimento is a versatile spice that can be used to add flavor and depth to any dish. Whether you're looking for a plant-based alternative to traditional spices or want to try something new, pimento is a great choice.
Spicy Pimento Cheeseball Is A Must-Try!
This Spicy Pimento Cheeseball recipe is the perfect appetizer for your next party! It's easy to make and always a hit with guests. Plus, it's vegan-friendly! Here are four reasons why this recipe is a must-try:
1. Super easy to make. The only "cooking" involved is melting the vegan cream cheese, so this dish comes together in no time at all.
2. Perfect for parties. Whether you're hosting a holiday gathering or a casual get-together, this Spicy Pimento Cheeseball will be a hit with your guests.
3. Vegan-friendly. This recipe uses vegan cream cheese, so it's perfect for those who are avoiding animal products.
4. Delicious! The combination of spicy and creamy flavors is irresistible. Plus, the pimentos add a lovely pop of color.
If you're looking for an easy appetizer that will please your guests, look no further than this Spicy Pimento Cheeseball recipe! It comes together quickly, it's vegan-friendly, and most importantly, it tastes delicious. Give it a try at your next gathering – you won't be disappointed!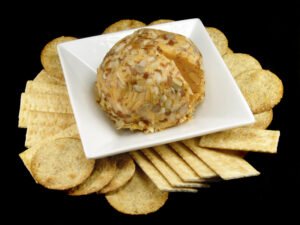 Spicy Pimento Cheeseball: FAQs
Making a vegan cheeseball might sound daunting, but it's actually quite simple! This recipe for a Spicy Pimento Cheeseball is easy to follow, and the end result is a delicious and impressive appetizer that's sure to please vegans and non-vegans alike. Here are some frequently asked questions about this recipe:
Is the recipe difficult to make?
No, this recipe is quite simple and requires no special ingredients or equipment. The most time-consuming part is waiting for the cashews to soak, but other than that, the recipe comes together quickly.
Can I make the cheeseball ahead of time?
Yes, you can make the cheeseball up to 2 days in advance. Simply store it in an airtight container in the fridge until you're ready to serve.
I don't have pimentos. Can I use something else instead?
You can use roasted red peppers in place of pimentos. However, if you do use roasted red peppers, you'll want to reduce the amount of Sriracha sauce since roasted red peppers are already slightly sweet and don't need as much heat.
Whether vegan or not, this Spicy Pimento Cheeseball will surely be a hit at your next party or gathering! It's easy to make, can be made ahead of time, and is always a crowd-pleaser. Give it a try today!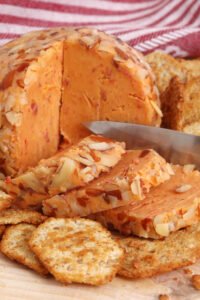 Roll the cheeseballs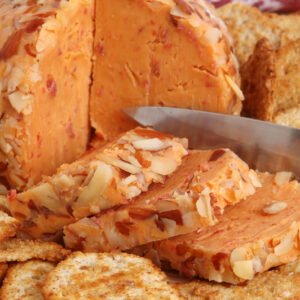 Pimento Cheese Ball
This classic appetizer is perfect for any occasion, especially on Thanksgiving day. It is easy to make and best of all they are dairy-free.
Ingredients
Easy-to-find ingredients:
2 1/2

cups

cheddar cheese

shredded, sharp, vegan

1 1/2

cup

vegan cream cheese

softened

1/2

cup

vegan mayonnaise

1/2

cup

pimento

drained and dried, chopped

1/2

tsp

garlic powder

3/4

tsp

kosher salt

3/4

cup

pecans

chopped

2

tbsp

parsley

chopped
Instructions
Let's make the cheeseballs!
Chop the parsley and pecans and transfer them into a medium mixing bowl.

In a food processor, combine the vegan cheddar cheese, vegan mayo, pimento peppers, kosher salt, and garlic powder. Process them until fully combined.

Form the mixture into a ball with your hands and insert the stick in the middle of the ball. Repeat these with the remaining mixtures.

Dunk and roll the pimento cheese ball into the parsley mixtures until the ball is coated and sprinkled with walnuts.

Wrap tightly the balls using plastic wrap until ready to serve.
Notes
Vegan Globetrotter Tips & Suggestions
Serving Suggestions
Serve with crackers, cut vegetables, or on a sandwich.
Storing Tips
Store in an airtight container in the fridge for up to a week.
Recipe Notes
This recipe can be made ahead of time and stored in the fridge until you are ready to serve. 
Variations
For a spicier version, add more chili flakes or cayenne pepper to taste.
For a sweeter version, add honey or maple syrup to taste. 
Nutrition
Calories:
3404
kcal
Carbohydrates:
66
g
Protein:
96
g
Fat:
320
g
Saturated Fat:
100
g
Polyunsaturated Fat:
20
g
Monounsaturated Fat:
51
g
Cholesterol:
283
mg
Sodium:
5565
mg
Potassium:
770
mg
Fiber:
32
g
Sugar:
18
g
Vitamin A:
6095
IU
Vitamin C:
111
mg
Calcium:
2288
mg
Iron:
9
mg
For More Vegan Recipes
I've provided a list of vegan dishes that are all made completely of ingredients from plants. Additionally, they make a wonderful addition to any vegan dish. These are tasty even for meat eaters, and for more vegan recipes subscribe to our newsletter.
Crispy Potato Vegan Cheese Sticks
To Wrap It All Up
All in all, the Spicy Pimento Cheeseball recipe is a keeper! It's easy to make and only requires a few simple ingredients that you likely already have on hand. Not to mention, it's addictively delicious – your guests will be asking for the recipe before they even finish their first bite! So what are you waiting for? Give this recipe a try at your next get-together or party, and enjoy the satisfaction of impressing your friends and family with your culinary skills!
Connect With Us
If you tried these spicy pimento cheeseballs take a ?  and tag us on our social media: Facebook, Twitter, and Pinterest, and subscribed to our YouTube Channel. I'd be delighted to see it!
To make sure you don't miss any recipes, remember to subscribe to our email newsletter which will be delivered to your inbox every week. ? In addition to this, if you are looking for vegan baking recipes visit Best Baking Tips they also published a lot of healthy baking recipes.
Read More
Hearty Vegan Air Fryer Recipes You'll Satisfy
Chiltomate Salsa, Mayan Original