Vegan Globetrotter is supported by our audience. When you purchase through one of our links, we may earn a small affiliate commission.  As an Amazon Associate I earn from qualifying purchases. Your cost is not affected.
==================
Are you looking for an easy vegan casserole recipe that will please everyone? This easy tortilla casserole is simple to make and perfect for a crowd. It's also vegan, so everyone can enjoy it! Just layer some tortillas with your favorite toppings, bake until hot and bubbly, and serve. Easy and delicious – perfect for the fall season, on Thanksgiving day, and on any occasion.
Why This Tortilla Casserole Is So Comforting?
A warm, hearty casserole on a cold night is the perfect comfort food. This easy vegan tortilla casserole hits all the right notes with its combination of fresh vegetables, flavorful spices, and creamy sauce. Plus, it's packed with protein and fiber to keep you feeling satisfied. Here are 5 reasons why this vegan tortilla casserole is so comforting.
1. Built-In Vegetable Sides
This casserole has everything you need in one dish, including your vegetables! The tomatoes, onions, and peppers provide a refreshing yet hearty flavor that compliments the other ingredients perfectly. And we all know how important it is to get our daily dose of veggies.
2. Spice Mix Adds Flavor Without Being Overpowering
The chili powder, cumin, and paprika give this casserole a kick without being too spicy. If you like your food on the spicier side, feel free to add a little extra chili powder or cayenne pepper to taste.
3. Beans and Rice Make It Both Filling and Nutritious
This casserole is packed with protein and fiber thanks to the black beans and rice. The rice also makes it nice and filling so you won't be reaching for a snack an hour after eating.
4. It reheats well so you can have leftovers for days!
One of the best things about this vegan tortilla casserole is that it reheats beautifully. Just pop a slice in the microwave for a few minutes and enjoy it all over again. It also freezes well if you want to save some for a rainy day.
5. It's Surprisingly Easy to Make!
Contrary to popular belief, vegan food can be just as easy as any other type of cuisine. This particular recipe only takes about 30 minutes from start to finish, which means you can have a delicious home-cooked meal without spending hours in the kitchen.
If you're looking for a comforting vegan meal that is easy to make, look no further than this vegan tortilla casserole. Packed with fresh veggies, flavorful spices, and filling beans and rice, this dish will leave you feeling satisfied without weighing you down. And best of all, it reheats well so you can enjoy leftovers for days! So go ahead and try it – your taste buds will thank you.
Vegan Globetrotter Suggestions and Tips
This dish is easy to follow, flexible, and most importantly delicious! I typically make this for dinner but have also served it as brunch on special occasions. I've found that it reheats well so it's perfect for meal prepping. Keep reading for serving suggestions, storing tips, and recipe tips.
Serving Suggestions
I like to top mine with avocado, hot sauce, and cilantro but feel free to get creative!
If you're looking to bulk it up a bit, you could add black beans or cubed tofu.
This would also be great with a side of rice or quinoa.
Storing Tips
Leftovers can be stored in an airtight container in the fridge for up to 4 days or in the freezer for 2 months.
When you're ready to eat, simply reheat in the oven or microwave until warmed through.
I find that adding a splash of water helps to prevent the casserole from drying out.
Recipe Tips
To speed up the prep time, I use store-bought salsa and pre-shredded cheese.
If you can't find vegan cheese that shreds easily, simply omit it or use your food processor to grate it into small pieces.
You could also swap out the tortillas for gluten-free ones or make your own! Simply combine 1 cup of all-purpose flour with 1/2 cup of water and a pinch of salt. Knead until the dough forms a ball and then let it rest for 30 minutes before using. Roll out into thin tortillas and cook in a dry skillet over medium heat until lightly browned on both sides.
I hope you enjoy this recipe as much as I do! If you try it, please let me know how it turns out by leaving a comment below or tagging me @veganglobetrotter on our social media pages. Happy cooking!
Tortilla casserole for the whole day!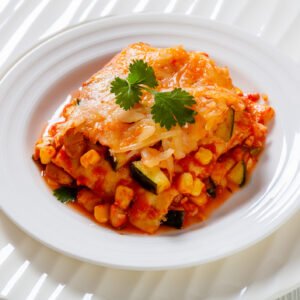 Easy Tortilla Casserole
This dish is perfect for those busy weeknights when you need to get dinner on the table fast. It's packed with flavor and will leave your family satisfied. And the best part? It's all vegan!
Ingredients
Easy-to-f
1

cup

chili beans

or pink beans, drained and rinsed

1

cup

black beans

drained and rinsed

8

oz.

tomatoes

crushed

2

small

green chili

seeded and minced

2/12

cups

corn kernels

frozen, thawed

3

small

scallions

minced

1

tsp

oregano

dried

1

tsp

cumin

ground

10

corn tortillas

1 3/4

cups

vegan cheddar

grated

14 oz.

Marinara sauce
Instructions
Preheat the oven to 400°F and lightly oil the casserole dish.

In a large mixing bowl, combine the pink beans, black beans, chili, tomato, scallion, corn, oregano, and cumin.

In the prepared casserole dish, layer the five tortillas followed by the pink beans mixture, vegan cheddar cheese, and marinara sauce; repeat to the remaining ingredients.

Bake for 20 minutes or until the cheese becomes bubbly; allow them to cool before cutting them into squares.
Nutrition
Calories:
253
kcal
Carbohydrates:
39
g
Protein:
8
g
Fat:
8
g
Saturated Fat:
2
g
Polyunsaturated Fat:
1
g
Monounsaturated Fat:
0.4
g
Sodium:
622
mg
Potassium:
421
mg
Fiber:
8
g
Sugar:
4
g
Vitamin A:
317
IU
Vitamin C:
7
mg
Calcium:
80
mg
Iron:
2
mg
For More Vegan Recipes
I've provided a list of vegan dishes that are all made completely of ingredients from plants. Additionally, they make a wonderful addition to any vegan dish. These are tasty even for meat eaters, and for more vegan recipes subscribe to our newsletter.
Black Bean and Zucchini Casserole
Traditional Mexican Taco Recipe
To Wrap It All Up
This tortilla casserole is the perfect dish for a cozy night in or a busy day when you need something that will last. The vegan globetrotter suggestions and tips are easy to follow and make this recipe even more versatile. With so many options for toppings, fillings, and sides, you can customize this casserole to fit your own taste or dietary needs. So whether you're looking for a comfort food to get you through the week or an easy meal to feed a crowd, this tortilla casserole has got you covered. What's your favorite way to eat tortilla casserole?
Connect With Us
If you tried this easy vegan tortillas casserole take a ?  and tag us on our social media: Facebook, Twitter, and Pinterest, and subscribed to our YouTube Channel. I'd be delighted to see it!
To make sure you don't miss any recipes, remember to subscribe to our email newsletter which will be delivered to your inbox every week. ? In addition to this, if you are looking for vegan baking recipes visit Best Baking Tips they also published a lot of healthy baking recipes.
Read More