Vegan Globetrotter is supported by our audience. When you purchase through one of our links, we may earn a small affiliate commission.  As an Amazon Associate I earn from qualifying purchases. Your cost is not affected.
==================
I Always Loved Grandma's Vegan Pineapple Cake
If you're like me, you grew up eating your family's favorite desserts. One of my fondest memories was of my Grandma's Vegan Pineapple Cake. It was always a special occasion when she made it, and now that I'm teaching these family recipes to my kids, I love being able to make it for my friends and family. This recipe comes together quite easily, but so delicious! Give it a try – your taste buds will thank you.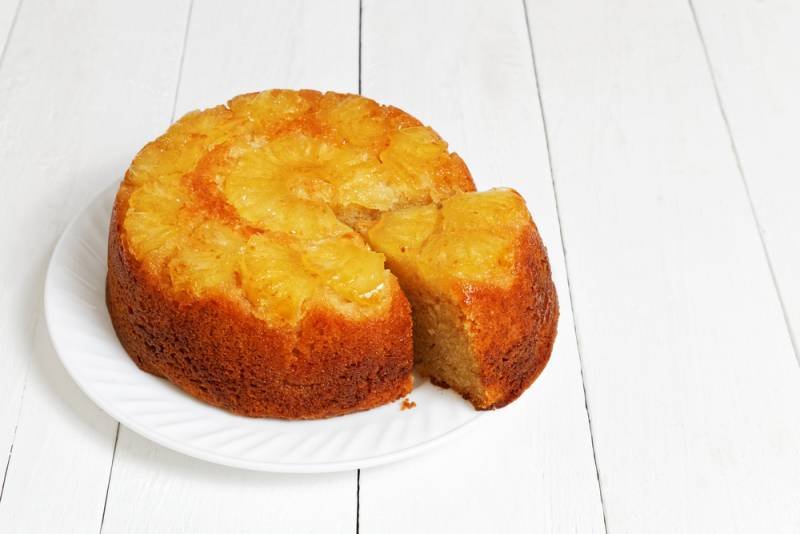 You Might Have Heard of a Pineapple Upside Down Cake
Grandma and my Mom both made these cakes. They make a beautiful display and offer incredible flavor, too. Imagine this one on your next dessert table. To make this version, the pineapple is sliced and put into the pan first. Usually, maraschino cherries are added in the center of each pineapple round. Then the batter is poured over the fruit. Once cooled, the cake is turned over to show the beautiful fruit atop the now "right side up" cake.
This recipe uses the same basic idea, but encases the fruit within, allowing the flavors to meld together quite nicely. In fact, you'll enjoy fruit in each bite.
Honestly, I'm not sure why Grandma made this cake fully vegan.
She cooked with standard American fare and often included dairy and eggs. But for whatever reason, this recipe became one of my favorites. However, I have made a couple of changes. Swerve was not even a thing when Grandma baked. But it replaces sugar in equal amounts and keeps our family from any sugar health issues. And Grandma usually used all-purpose flour. You know, the almost white very finely textured type. She avoided the bleached type, preferring the more natural unbleached version. In fact, I think Grandma would have loved having the choices we have today!
Basic equipment made Grandma's Vegan Pineapple Cake
Also, my Grandma had her trusty Kitchen Aid stand mixer but no food processor. And her blender was not quite a powerhouse. Still, she turned out some incredible food from her basic appliances. Sometimes I wonder how she and others of her time managed. Then my taste buds remind me that they managed quite well.
My kitchen hosts the Pro 600 Kitchen Aid Stand Mixer
and the Vitamix Pro Blender
But for this recipe, your standard blender also works well.
Wondering how long it will take to make such a delicious dessert?
Surprisingly, even with fewer kitchen appliances, Grandma made this Vegan Pineapple Cake quite quickly. She'd put the coffee pot on and begin mixing up the cake while we waited for her old percolator to finish. Then, while we sipped our coffee, the cake would bake. That aroma from Grandma's oven tempted us to forget the cooling time. But this cake does need to cool slightly to avoid falling apart. Patience!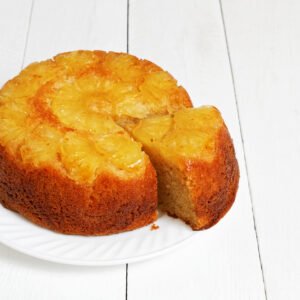 Pineapple Cake
Juicy pineapple pieces make this cake even more moist and decadent. Yet our vegan version offers a good health boost, too! Try it with one of the special additions from our notes below, too.
Ingredients
4

cups

pineapple

diced

¾

cup

Swerve

or preferred sugar substitute

3

tbsp

lemon juice

¼

cup

apple sauce

2

cups

wheat pastry flour

white wheat works, too

1

tbsp

baking powder

1

tbsp

baking soda

½

tsp

salt
Instructions
Preheat oven to 350°F. Line an 8- inch baking dish with parchment paper or, if you prefer, oil and flour the dish.

Sift together the flour, baking powder, baking soda, and salt to mix well and add air to the ingredients. Set aside.

In your blender, add the Swerve, lemon juice, 2 cups of pineapple. Blend.

Fold the blended puree and the remaining pineapple into the flour mixture. Be careful not to overmix or the cake will be tough.

Spread into the prepared baking dish. Bake for 40 minutes or until a toothpick or knife inserted into the center comes out clean.
Notes
Notes:
This recipe can be used to make pineapple muffins instead of a cake, if desired.
We love these as is. However, sometimes we jazz it up a bit by:
folding in fresh blueberries, raspberries, or other berries.
adding a topping of berries or more pineapple
sprinkling on a streusel topping of cinnamon and brown sugar (Swerve)
topping with vegan whipped cream
adding a scoop of vegan ice cream
Nutrition
Calories:
148
kcal
Carbohydrates:
51
g
Protein:
4
g
Fat:
1
g
Saturated Fat:
1
g
Polyunsaturated Fat:
1
g
Monounsaturated Fat:
1
g
Sodium:
716
mg
Potassium:
211
mg
Fiber:
4
g
Sugar:
9
g
Vitamin A:
53
IU
Vitamin C:
42
mg
Calcium:
110
mg
Iron:
2
mg
And That is Grandma's Vegan Pineapple Cake Recipe!
Oh, I should mention that Grandma never referred to it as Vegan Pineapple Cake. Her handwritten recipe card simply stated, "Pineapple Cake" at the top of the card. But it was and remains truly vegan with no animal products needed. And still so easy to put together. Your family and friends will ask for this one again and again!
Have you baked this cake? Please leave us a comment below. And check out our other recipes, too. They are all vegan and healthy!
Read More
Impressive Health Benefits of Pineapple (Healthline)