Vegan Globetrotter is supported by our audience. When you purchase through one of our links, we may earn a small affiliate commission.  As an Amazon Associate I earn from qualifying purchases. Your cost is not affected.
==================
Do you love peanut butter and jelly sandwiches? What about cookies? If you answered yes to both, then you'll love today's recipe: Peanut Butter Jelly Cookies (German Spitzbuben)! These cookies are based on the classic German Spitzbuben dessert, which is made with raspberry jam and a delicious buttercream frosting. In this version, we've substituted the raspberry jam with your favorite flavor of jelly (or jam), and we've replaced the buttercream frosting with a simple peanut butter glaze. So easy and delicious!
Peanut Butter Jelly Cookies are Delicious! Here's Why…
Peanut butter and jelly. It's a classic flavor combination that has stood the test of time. And now, there's a new way to enjoy this timeless combo: in cookie form! These peanut butter jelly cookies are soft, chewy, and full of flavor. Plus, they're vegan, so everyone can enjoy them! Here's why these cookies are so delicious:
1. The Perfect Cookie Texture. One of the things that makes these cookies so great is the perfect balance of textures. The outside is slightly crispy, while the inside is soft and chewy. This contrast of textures makes for a cookie that is truly enjoyable to eat.
2. Amazing Flavor Combination. Another thing that makes these cookies so delicious is the amazing flavor combination. The peanut butter provides a rich, nutty flavor, while the jelly adds a touch of sweetness. Together, they create a cookie that is simply irresistible.
3. Vegan and Delicious! Last but not least, these cookies are vegan and still absolutely delicious! They're made with plant-based ingredients, so everyone can enjoy them. Whether you're vegan or not, you'll love these cookies.
If you're looking for a delicious cookie that is sure to please, look no further than these peanut butter jelly cookies. They have the perfect balance of textures and an amazing flavor combination that will leave you wanting more! So keep reading and you will learn more about this recipe as well as how to make these delicious cookies at your home!
So, What Is German Spitzbuben?
German Spitzbuben is a vegan, plant-based cookie that is popular in Europe. They are made with a variety of vegan ingredients, including flour, sugar, oil, and plant-based milk. Spitzbuben is typically round or oval in shape and has a crisp, flaky texture. They are often decorated with icing or chocolate and can be enjoyed as a snack or dessert. German Spitzbuben is perfect for vegans and those who are looking for a delicious, vegan-friendly cookie.
Peanut Butter Jelly Cookies: FAQS Answered!
You may have seen these cookies making the rounds on social media, and for good reason! They are soft, chewy, and full of flavor. The best part is that they are vegan, so everyone can enjoy them! Whether you are vegan or not, these cookies are sure to be a hit. Here are some frequently asked questions about these scrumptious cookies.
What is the best type of peanut butter to use?
For these cookies, we recommend using natural, unsweetened peanut butter. This will provide the best flavor and texture.
Can I use any type of jelly?
I used chia jam in these cookies, but any type of jelly or jam will work. Just be sure to use a fruit-based preserve rather than something like chocolate hazelnut spread.
Can I substitute the cookie dough for an already-made cookie?
No, we do not recommend this as the dough is what provides the structure for the cookie. Without it, your cookie will likely be a little too flat.
We hope this has answered some of your questions about these delicious peanut butter jelly cookies! If you have any questions that we did not cover, feel free to reach out to us. Happy baking!
Cookies are butter late than never!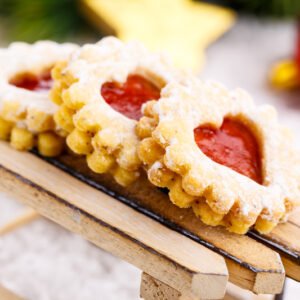 Peanut Butter Jelly Cookies (German Spitzbuben)
Peanut butter and jelly cookies are the perfect way to enjoy this dynamic duo in cookie form. And the best part is that they're vegan, plant-based, and dairy-free!
Ingredients
For the cookie batter:
1 1/2

cups

almond flour

ground and crumbled

12

oz.

old-fashioned oats

ground

4

oz.

almonds

ground

2

oz.

olive oil

1/3

cup

brown sugar

organic

1/4

cup

peanut butter

1

tbsp

flax seed

stir into 3 tbsp of water

1

tbsp

ice water

1

vanilla extract

1

tsp

baking powder

kosher salt
Chia Jam:
1/2

cup

chia

jam; homemade or store-bought
Instructions
It's baking time!
Preheat the oven to 180°F and line the baking sheet with parchment paper.

In a food processor, pulse the old-fashioned oats and almonds until crumbled or ground, then set aside.

Heat the olive oil in a small pot over medium-high heat, then transfer it to a food processor.

Then add the brown sugar, peanut butter, flax seed mix, kosher salt, and vanilla extract. Pulse them until well combined or for at least 20–30 seconds.

Add the ground oats, ground almonds, and almond flour. Mix them well. Add ice water if the dough is too dry, and refrigerate for 50 minutes or 1 hour.

Over the floured surface area, roll the dough using a rolling pin, and then using a round cookie cutter, cut out the dough. Any shape of the cookie cutter is fine.

Transfer the cookies to a lined baking sheet and bake them for 10 minutes or until golden brown. Allow them to cool.

Scoop the chia jam and place it into the center of the cookie, top it with another baked cookie, and gently press until they stick together.
Nutrition
Calories:
3174
kcal
Carbohydrates:
195
g
Protein:
85
g
Fat:
239
g
Saturated Fat:
26
g
Polyunsaturated Fat:
33
g
Monounsaturated Fat:
96
g
Trans Fat:
0.02
g
Sodium:
741
mg
Potassium:
1615
mg
Fiber:
44
g
Sugar:
90
g
Vitamin A:
1
IU
Vitamin C:
0.1
mg
Calcium:
1043
mg
Iron:
17
mg
For More Vegan Recipes
I've provided a list of vegan dishes that are all made completely of ingredients from plants. Additionally, they make a wonderful addition to any vegan dish. These are tasty even for meat eaters, and for more vegan recipes subscribe to our newsletter.
Apple Cinnamon Oatmeal Cookies
Try these peanut butter jelly cookies!
Peanut butter jelly cookies are a delicious combination of two classic flavors, peanut butter, and jelly. They're easy to make and only require a few ingredients that you probably already have in your pantry. German Spitzbuben is a type of cookie that originates from Germany and is made with a shortbread dough. These cookies are usually filled with jam, but can also be filled with peanut butter or chocolate. If you're looking for an easy and delicious cookie recipe to try, we recommend giving Peanut Butter Jelly Cookies a try!
Connect With Us
If you tried these peanut butter jelly cookies take a ?  and tag us on our social media: Facebook, Twitter, and Pinterest, and subscribed to our YouTube Channel. I'd be delighted to see it!
To make sure you don't miss any recipes, remember to subscribe to our email newsletter which will be delivered to your inbox every week. ? In addition to this, if you are looking for vegan baking recipes visit Best Baking Tips they also published a lot of healthy baking recipes.
Read More